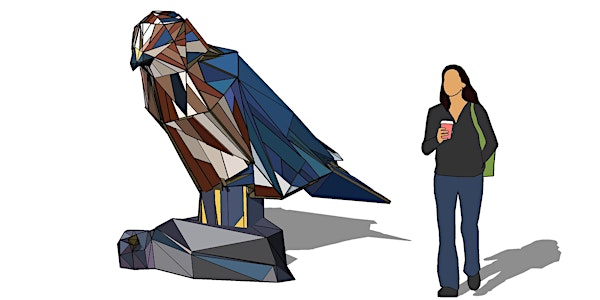 AUDUBON SCULPTURE PROJECT Kickoff Party
When and where
Location
American Academy of Arts and Letters 633 West 155th Street New York, NY 10032
Description
The organizers of the Audubon Mural Project are excited to announce
THE AUDUBON SCULPTURE PROJECT
a new public art initiative brought to you by:
The National Audubon Society, Gitler &_____, NYC Audubon, and the Broadway Mall Association (BMA).
With the Audubon Sculpture Project, artist Nicolas Holiber will build 12 sculptures of birds that the National Audubon Society has found to be particularly threatened by climate change. The dozen sculptures will be crafted in vacant retail spaces along the Broadway corridor over the next year, and in April 2019, these avian artworks will be installed along Broadway from 67th Street north to 168th Street, and will remain until the winter. This will mark the twelfth sculpture show from the Broadway Malls Association.
The birds in this exhibition have been chosen from Audubon's 2014 Bird & Climate Change Report, which warned that half of all North American bird species will be in jeopardy over the coming decades due to shifting and shrinking habitat zones as a result of global warming.
Each sculpture will be built using reclaimed wood sourced from the city itself and left untreated in the changing NYC climate for eight months, highlighting the effects of global warming and habitat destruction experienced by these birds. The Audubon Sculpture Project will include these species, chosen from among the 145 threatened species that live in or migrate through the city: American Bittern, Hairy Woodpecker, Western Tanager, Double-crested Cormorant, Common Goldneye, Hooded Merganser, Wood Duck, Brant, Snowy Owl, Red-necked Grebe, Peregrine Falcon, and Merlin.
TO CELEBRATE THIS EXCITING PROJECT, the organizers invite you to a kickoff party and early bird preview on January 11 from 6:00-9:00 pm.
Live Music!
Tasty Drinks and Delicious Nibbles!
And debuting the newest Audubon Bird Cocktail from the master bartenders at The Honeywell!
Bird Sculpture Previews!
We can't wait to see you there!
FOR MORE INFO AND IMAGES, VISIT: gitlerand.com/asp
Your $120 ticket goes toward construction of 12 bird sculptures: $10 per bird! (And $110 is tax deductible).
Direct donations (non-ticket donations) to the National Audubon Society are 100% tax deductible. The N.A.S. is a not-for-profit 501(c)(3) organization, federal tax ID number 13-1624102