Description
In celebration of Black HERstory Month, please join Councilwoman Lena Gonzalez in partnership with OUT LOUD for "AUDRE LORDE: A Catalyst for Change" on Saturday, February 16, 2019, from 4pm-7pm at Jenny Oropeza Community Center. This free event will feature a screening of a film by Jennifer Abod called, "The Edge of Each Other's Battles: The Vision of Audre Lorde," as well as featured speakers and poets, music, and refreshments.

PROGRAM
4:00-4:30: Reception
4:30-5:30: Speakers and Poets (TBA)
5:30-6:30: Film Screening: "The Edge of Each Other's Battles: The Vision of Audre Lorde"
6:30-7:00: Refreshments and Celebration
LOCATION
Cesar E. Chavez Park
401 Golden Avenue
Long Beach, CA 90802
Free parking in the area. Map attached.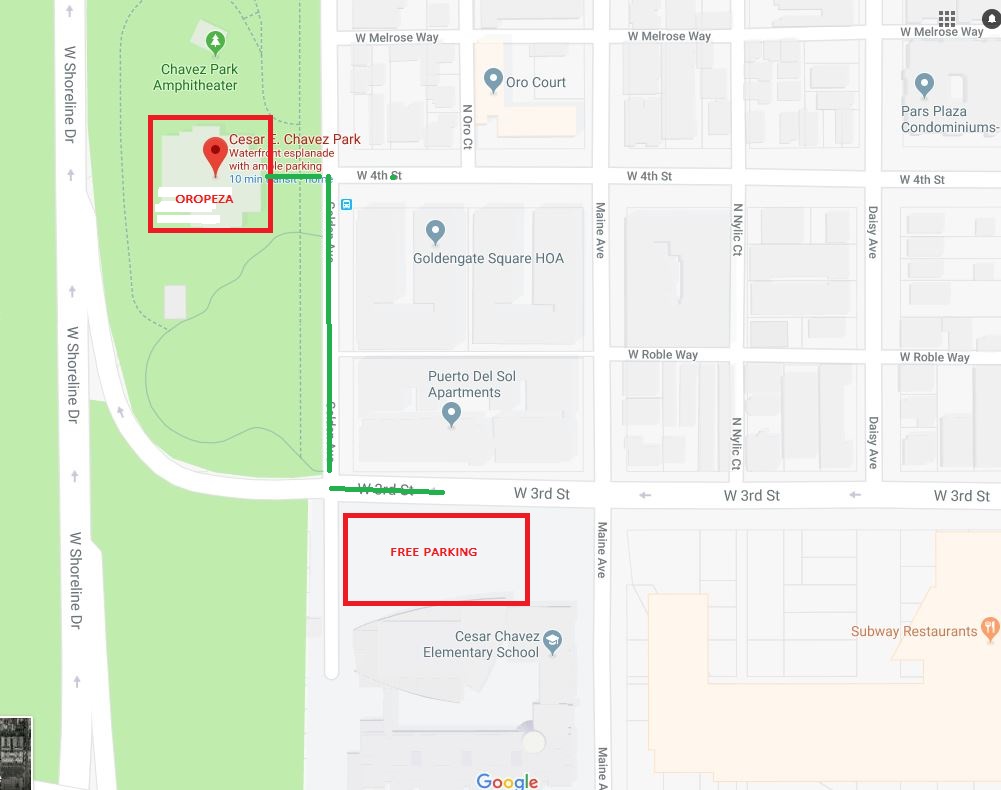 ABOUT AUDRE LORDE & THE DOCUMENTARY FILM
Wherever Audre Lorde stood, she did so as a Black Lesbian Feminist. She insisted on addressing color, class, and race, thereby shaping and expanding Second Wave Feminism, the Black Arts Movement, and Black Lesbian and Gay Liberation.
"The Edge of Each Other's Battles: The Vision of Audre Lorde" is an award-winning film by Jennifer Abod based on a transnational conference, where women, men, and activist youth from 23 countries, celebrated and engagd with Audre Lorde's life and work.
Audre Lorde (1934-1992) was the Poet Laureate of New York State from 1991-1993, and was the author of 15 books of poetry and prose.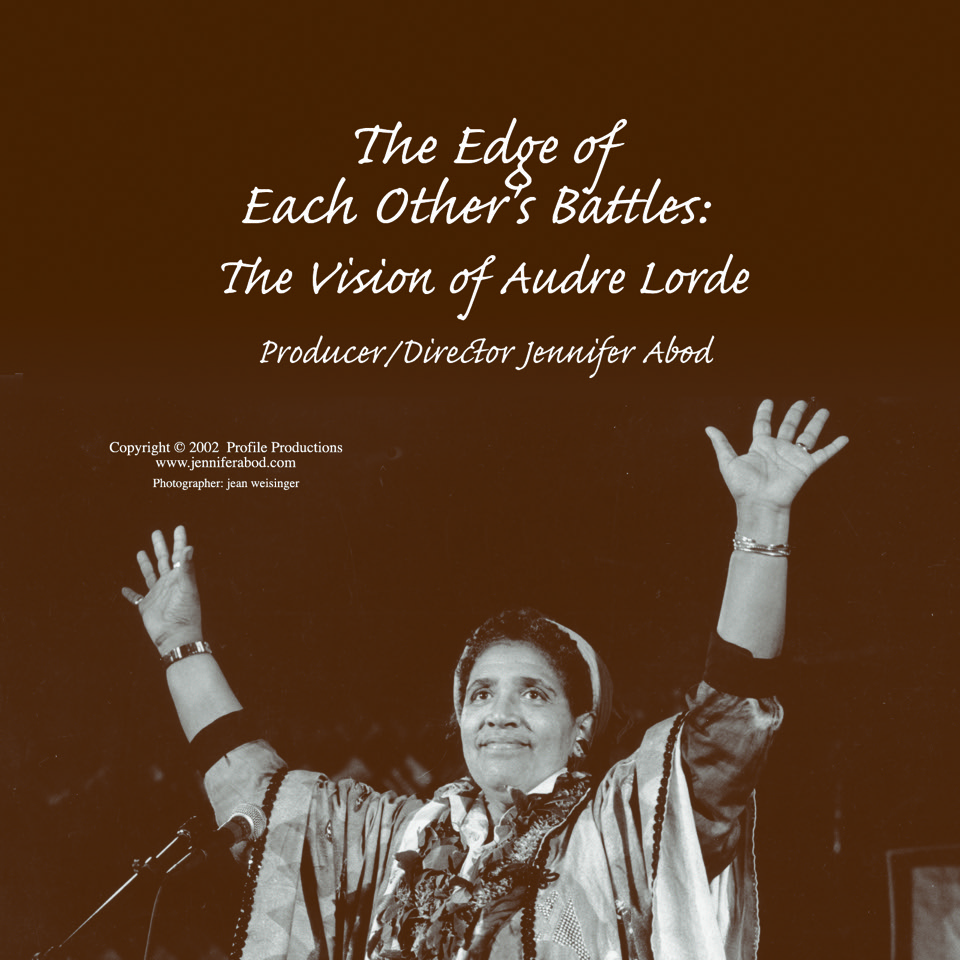 For more information: http://www.wmm.com/filmcatalog/pages/c621.shtml
ABOUT THE FILMMAKER
Jennifer Abod holds a PhD in Women's Studies and Intercultural Media Education from Union Institute and University, and taught at U Mass Boston, Hofstra University, and Cal State Long Beach. Abod is an award winning video documentarian and radio broadcaster. Her films include: "The Edge of Each Other's Battles: The Vision of Audre Lorde," "The Passionate Pursuits of Angela Bowen," and "Look Us in the Eye: The Old Women's Project." Abod is currently raising funds to complete: "Kitty Tsui: Nice Chinese Girls Don't," writing and reading poetry and part of the OUT LOUD team. Abod was a pioneer feminist activist and organizer on the East Coast. From 1970-1976 she was the singer and songwriter in the New Haven Women's Liberation Rock Band. For more information: http://www.jenniferabod.com/

FEATURED SPEAKERS
Councilwoman Lena Gonzalez has represented the First Council District in the City of Long Beach since 2014. She earned her B.A. in Political Science from CSULB, and MBA from Loyola Marymount University. Gonzalez is Vice Chair of the State Legislative Committee where she advocates for Long Beach priorities in Sacramento. She oversees the I-710 Project Committee and the over 100 million dollar Tidelands Fund. Lena grew up in a working-class family and has championed workplace protections for truck drivers and hotel workers. She accomplished banning Polystyrene takeout containers in Long Beach and created the first Digital Inclusion Blueprint ensuring every resident has access to the Internet. She lives in downtown Long Beach with her partner Adam and their three sons.
Roshni Chabra (host) is a Licensed Marriage and Family Therapist with an MA in Feminist Therapy and BAs in Women's Studies and Psychology from CSULB. Chabra worked in the rape crisis movement both locally and in San Francisco for over a decade. She has been providing individual, couples and family therapy to diverse populations for the last fifteen years. She has a private practice in downtown Long Beach.
FEATURED POETS
Dorothy Randall Gray is an award winning artist, best selling author, and transnational activist. Gray was named Poet-in-Residence (2018) by the Los Angeles Department of Cultural Affairs. She inspires both adults and young people at her writing workshops. Her books include: Soul Between the Lines and Sharing The Same Sky. Gray is a board member of the International Women's Writing Guild and executive director of Women Writers & Artists Matrix. She was an Audre Lorde Poet-in-Residence at Hunter College, NY.
Griselda Suarez is the Executive Director of the Arts Council for Long Beach, and advisor for the L.A. County Board of Supervisors' Cultural Equity and Inclusion Initiative council. Suarez is recognized for her leadership in the arts and resiliency in battling cancer. Suarez is a Lambda Literary Foundation Fellow. Her poetry and short stories have been published in Sinister Wisdom: a multicultural lesbian literary & art journal, the Acentos Literary Review and by several independent presses. Griselda teaches Chicano and Latino Studies at CSULB
Jayvien McNeill is a Black-Pilipinx queer and transgender poet and health researcher, and holds a BA in Psychology from CSULB. While interning at the Transgender Research Lab at the University of Wisconsin, Jayvien lodged at the Audre Lorde Co-operative for LGBTQ+ youth and discussed Lorde's work at nightly house dinners.
FEATURED MUSICIAN
Lauren Wakefield was born and raised in Brooklyn, New York. Lauren has been singing her whole life. She moved to Sacramento, CA, in 2006, then to Long Beach, in 2017. She's always had a passion for music and performing. She is a self taught guitarist/singer. She was named one of Sacramento's Best Female Musicians by CBS Sacramento and is a 2017 Sacramento Local Music Award winner.
REVIEWS FOR "THE EDGE OF EACH OTHER'S BATTLES: THE VISION OF AUDRE LORDE":
"Splendid...Abod's imaginative weave of Audre's poetry, commitment to justice and community, and passion for life should be presented in every history, literature, LGBT, and Women's Studies classroom." Blanche Wiesen Cook, historian, and Claire Cook, playwright
"The film balances a celebratory narrative of the conference with an honest portrayal of the difficulty of negotiating race and class privilege in women-of-color feminist settings." Signs Journal of Women in Culture & Society
"Extraordinary...embodies Lorde's words on anger and difference - how these can unite, not divide, when faced squarely and expressed honestly." M. Charlene Ball, Ph.D.
"Captures the essence of Lorde's political vision and also a crucial moment in lesbian feminist history…". Pat Cramer English and Women's Studies, University of Connecticut
"The Edge of Each Other's Battles captures the passion and energy of intellect in action. Even beyond the grave, Audre Lorde inspires diverse audiences to explore their convictions and continue the honest dialogue that is essential among us." Fawn Groves, Utah State University
SUPPORT THIS EVENT
If you would like to support this event with a tax-deductible donation, please help us pay our poets and provide an extraordinary experience at this link: DONATE HERE. For sponsorship opportunities, please email outloudlb@gmail.com.
---
We look forward to seeing you there to celebrate Audre Lorde and Black HERstory Month!
---
FAQs
Are there ID or minimum age requirements to enter the event?
No.
What are my transportation/parking options for getting to and from the event?
Free parking in the area.
Is this event wheelchair accessible?
Yes.
How can I contact the organizer with any questions?
Please email outloudlb@gmail.com with any questions.