Sales Have Ended
Registrations are closed
Thank you for your interest in attending the Women for America First AUDIT the VOTE RALLY in Atlanta. If you have any questions or need additional information, please send a text to 678.495.8271 or send an email to info@womenforamericafirst.org. We look forward to seeing you on Wednesday, November 3rd! Women for America First
Sales Have Ended
Registrations are closed
Thank you for your interest in attending the Women for America First AUDIT the VOTE RALLY in Atlanta. If you have any questions or need additional information, please send a text to 678.495.8271 or send an email to info@womenforamericafirst.org. We look forward to seeing you on Wednesday, November 3rd! Women for America First
Georgia AUDIT the VOTE RALLY presented by WOMEN FOR AMERICA FIRST with Special Guest SETH KESHEL
About this event
Governor Brian Kemp and the Georgia Legislature will convene a SPECIAL SESSION on Wednesday, November 3, 2021 for the purpose of redistricting.
As they kick off the special session, we will convene a PEACEFUL PROTEST outside of the Georgia Capitol for an AUDIT THE VOTE RALLY.
They need to know that WE THE PEOPLE aren't going away and we demand a full FORENSIC AUDIT!
We aren't moving on to 2022 until we deal with 2020!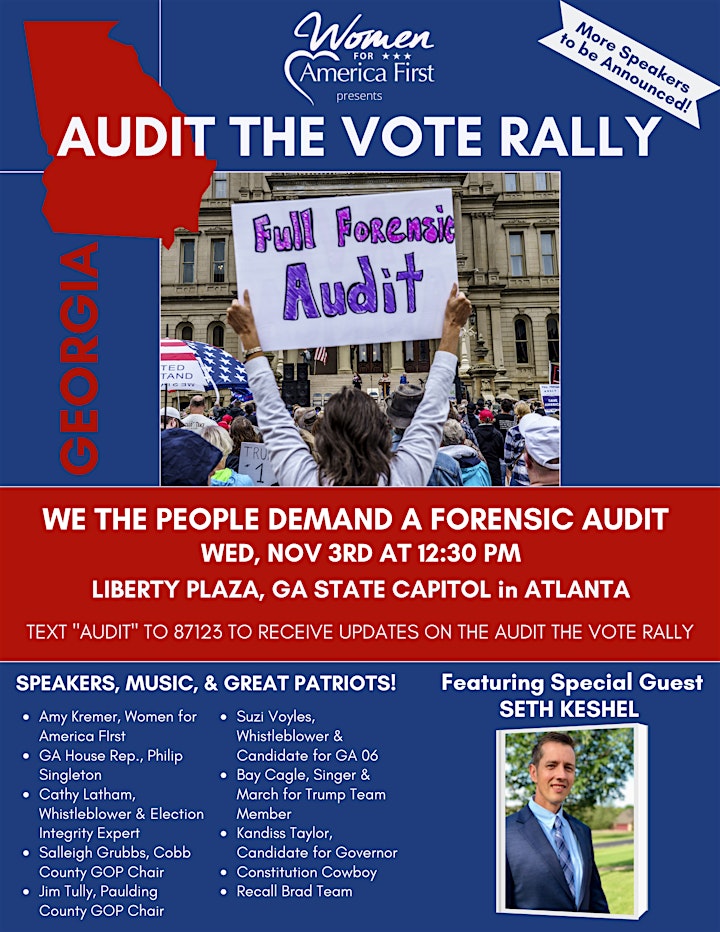 IT'S TIME TO RISE UP!
"We the People" demand a full forensic audit of the state of Georgia. Join us to rally for election integrity and demand that a full forensic audit be done for the entire state of Georgia.
It was called one of the "most secure elections" in history. Now we have proof it was not.
Free and Fair Elections are at the foundation of our nation. If people do not trust in our electoral system, then the future of our nation is at stake, along with our freedom and liberty.
A movement started after election day 2020 when we realized what was happening. For almost one year now, we have rallied in the streets, educated ourselves on the system and process, mobilized to pressure elected officials, and so much more. But it is not enough.
'We the People" demand a full forensic audit in the state of Georgia.
Arizona went first and we know there was massive election fraud there. Now we need to mobilize and apply pressure to Georgia's Governor, Brian Kemp and the Representatives and Senators in GA General Assembly.
On Wednesday, November 3rd, we are hosting an AUDIT the VOTE Rally in Atlanta, Georgia.
Speakers will be added in the coming days, but this is who is already confirmed for Wednesday afternoon:
Amy Kremer, Chairwoman of Women for America First
Seth Keshel, Former Army Intelligence Officer
GA State House Represenative, Philip Singleton
Cathy Latham - Whistleblower, Election Integrity Expert & Recall Brad Co-Chair
Salleigh Grubbs, Cobb County GOP Chair
Jim Tully, Paulding County GOP Chair
Suzi Voyles, Whistleblower & Candidate for GA 06
Bay Cagle - Singer, March for Trump Team Member, Recall Brad Team
Kandiss Taylor, Candidate for Governor
Constitution Cowboy
Recall Brad Raffensperger Team
and others too!
It is time for Americans to get off social media and mobilize to protect freedom and liberty. If we want real change, then we have to be relentless until the powers that be listen to us. They are hoping we will get tired and go away, but we aren't going anywhere.
It is imperative that we restore faith in the election system. Women for America First will continue to push for election integrity and forensic audits in the key states for the 2020 election.
If the powers that be have nothing to hide, then they should want to do audits to prove the results of the 2020 election are accurate. But they won't do that. Why?
I hear every day that people won't focus on 2022 until we deal with what happened on November 3, 2020. Election Integrity and forensic audits have our full attention and we are going to turn up the heat. We hope that you will join our cause / effort and share with others.
The AUDIT the VOTE RALLY will be a funrally with like-minded family, friends, and Patriots. Grab your flag, patriotic gear, and come join us for an afternoon of great speakers, music/performers, swag, and so much.
We need people to join us from across the entire state of Georgia. The only way this audit will happen is if we continue to apply pressure.
If you have any questions or need additional information, please send a text to 678.495.8271. You may also email us at info@womenforamericafirst.org.
See you Wednesday at Liberty Plaza in Atlanta!
This event is free but by registering, we will be able to communicate any changes and additional information that needs to be shared.
For more info, please visit Women for America First.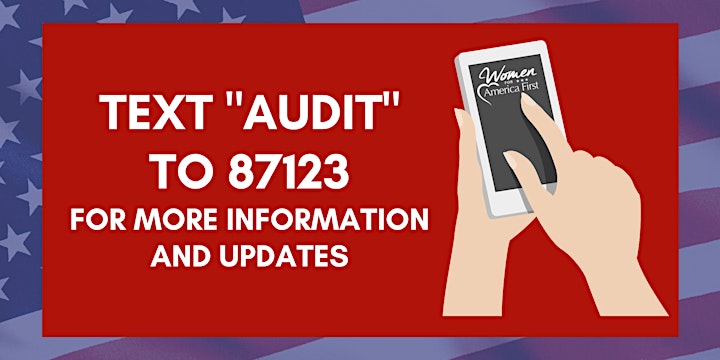 Organizer of AUDIT the VOTE RALLY - Atlanta, GA