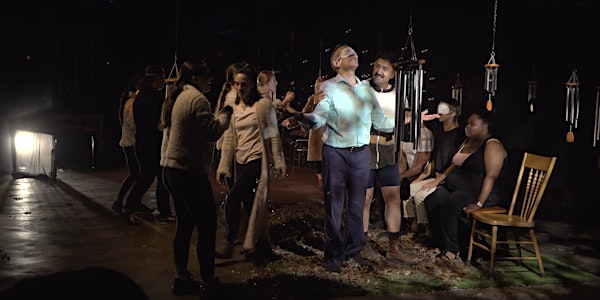 Audio Described Virtual Premieres of enVISION: Sensory Beyond Sight
SDW proudly presents the Audio Described Virtual Premieres of Beyond Sight: The Making of enVISION & enVISION: Sensory Beyond Sight
Date and time
June 9 · 2pm - June 11 · 2pm PDT
Refund Policy
Contact the organizer to request a refund.
Eventbrite's fee is nonrefundable.
Agenda
5:00 PM
Audio Described Virtual Premieres
---
The Audio Described Virtual Premieres of Beyond Sight: The Making of enVISION & enVISION: Sensory Beyond Sight will both premiere virtually on June 9th at 5pm, and be available for 48 hours.
About this event
Last summer, ShaLeigh Dance Works premiered enVISION: Sensory Beyond Sight to live audiences opening the 89th American Dance Festival's Season with five sold-out performances at The Fruit in Durham, North Carolina. Talented videographer Palani Mohan captured the show with high-quality multi camera shoots of the live performance. While creating this collaborative dance-theatre work, filmmaker Michael Washington of Argyle Rebel Films added another layer of collaboration: he documented the process.
We invite you to join us both onstage and behind the scenes through this double premiere to take a closer look at what went into its making and to experience the virtual premiere of enVISION: Sensory Beyond Sight.
Chatham Life & Style called it "a new evolution in dance." IndyWeek praised it as "astounding" and a "bold, immersive performance." CVNC described it as "a sensational and poetically eye-opening performance," and Beltline to Broadway chronicled it as "a new sensorial way to experience dance and theater."
We're thrilled to premiere the audio described documentary and performance virtually.
Screening Details
Virtual Premiere of enVISION: Sensory Beyond Sight, filmed by Palani Mohan with audio description by Jan Tu, is an immersive interdisciplinary performance that does not solicit the viewer's sight but rather all their other senses. Specifically conceived with and for individuals who are low-vision and blind, the work proposes a new sensorial experience of dance and theater. The work was presented to a live audience who could choose to experience the show blindfolded and invited six audience members to join the experience onstage.
When: Friday, June 9th 5pm, Online Virtually with 48 hour access.
—-----------------------------------------------------
Virtual Premiere of Beyond Sight: The Making of enVISION, a Michael I. Washington Film audio described by Jan Tu "is a one of a kind documentary that showcases the creative process behind ShaLeigh Dance Works' newest masterwork. Told by the artists themselves, 'Beyond Sight' is an unflinching look at what it takes to push boundaries and change the landscape of live performance forever. - Michael Washington, Filmmaker.
When: Friday, June 9th 5pm, Online Virtually with 48 hour access.
—-----------------------------------------------------
Accessibility
Premieres will be screened Globally as a YouTube Watch Party. To enable closed captions if you are on a desktop, click the "CC" icon at the bottom of the video. This will turn on the captions. If you are on a mobile device, then at the top of the video, tap "CC" to enable closed captions.
Click the links below to access our pre show materials:
If you have questions about accessibility or would like to request an accommodation, please contact shaleigh@shaleighdanceworks.com
—-----------------------------------------------------
—-----------------------------------------------------
Free Tickets
Free tickets are available to individuals who identify as queer, transgender, non-binary and/or intersex, Black, Indigenous, and other LGBTQI+ people of color (QTIBIPOC) as well as individuals who live with disabilities or financial hardships. No one is turned away for lack of funds.
—-----------------------------------------------------
Image Description
A smiling, blindfolded man stands on a pile of leaves and looks up with arms reaching out while surrounded by a group of performers, bubbles, and wind chimes.
—-----------------------------------------------------
Special Thanks
enVISION: Sensory Beyond Sight by ShaLeigh Comerford is co-commissioned by the American Dance Festival with support from the Doris Duke/SHS Foundations Award for New Works and is supported in part by The National Endowment for the Arts, MAP Fund, the Mary Duke Biddle Foundation, the Durham Arts Council's Annual Arts Fund and the North Carolina Arts Council, a division of the Department of Natural and Cultural Resources. www.NCArts.org
—-----------------------------------------------------
Land Acknowledgement:
"We want to respectfully acknowledge the Lumbee, Cheraw, Catawba, Occaneechi, Shakori and Tuscarora People, who stewarded the land on which we rehearsed and performed throughout the generations and pay our respect to elders both past and present."
Frequently asked questions
Will both events begin at the same time?
How long will I have access to the videos?
What platform will be used to stream the events?
Who do I contact if I would like to request accessibility accommodations or need an extended viewing
Where can I learn more about ShaLeigh Dance Works?
Who can I reach out to if I would like to get involved?