Description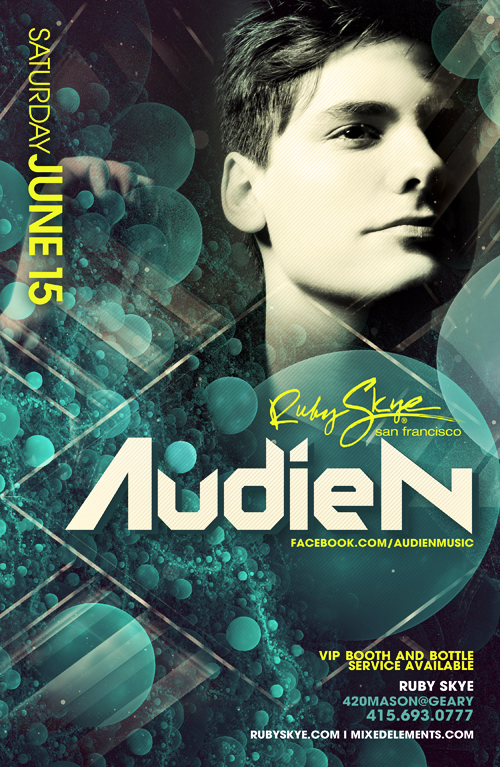 In the middle of a global explosion of Electronic Dance Music, a genre that thrives in the most exclusive nightclubs of the world's cosmopolitan cities, a prodigious producer has emerged from the unlikeliest of places. The small seaport town of Mystic, Connecticut, has been the home of Audien (AKA Nate Rathbun) for his entire life, and it's in a small apartment in Mystic where Audien began creating music in 2008. Using a very basic set up, and a secret cocktail of plug-ins, Audien worked diligently to hone his craft. By age 17, while his friends were either preparing college applications or teeing up jobs, Audien began to test the waters by sending his unsolicited music out to producers, labels & bloggers. Though confident in his sound, Audien carefully managed his expectations, suspecting it was unlikely that he'd hear back from a random demo submission. An enthusiastic response came, however, from Flashover Recordings, the trance label owned by beloved Dutch Producer/DJ Ferry Corsten. Audien's single "Rise & Shine" was released, and soon thereafter he was off to the races.
Over the next two years a slew of renowned labels came calling, gravitating to Audien's stunning melodies & innovative sonic landscapes. Audien worked meticulously, but prolifically, churning out anthems & remixes for labels including Enhanced, Perceptive, Armada, Black Hole, Nervous, with tracks routinely charting on Beatport. Audien's tracks also began to appear on compilations assembled by some of the genre's giants, including Corsten's Countdown, Tiesto's Club Life, Above & Beyond's Trance Around The World, and Armin Van Buuren's A State of Trance. A particularly exciting opportunity presented itself in May of 2011, when Audien had the opportunity to open for Van Buuren at New York's Roseland. In just 3 years, Audien had gone from idolizing Van Buuren to sharing a stage with him.
With his ability to create fresh tracks in auto-pilot, Audien has turned his attention to performing live, a craft he takes just a seriously as his production. Audien recently performed at some of the hottest clubs in the US including L.A.'s Exchange & Lure, San Francisco's Ruby Skye & Harlot, New York's Pacha, XS in Las Vegas, and Miami's LIV. With more big shows forthcoming, Audien is ready to continue his rapid rise out of Mystic, and around the world.
Terms and Conditions:
This event is 21 and over. Any Ticket holder unable to present valid identification indicating that they are at least 21 years of age will not be admitted to this event, and will not be eligible for a refund.
Support lineup subject to change. No refunds will be issued for lack of identification or invalid identification.
Fashionable Attire is required, no sneakers, shorts, tank tops, baseball hats or gym clothes.
By purchasing a ticket, you will also receive weekly email blasts from Ruby Skye about upcoming events, guest lists and more.
Ruby Skye is San Francisco's premiere Nightclub and Special Event Venue. It is conveniently located in the heart of downtown San Francisco just off of Union Square and the famed theatre district. Whether you are a seasoned nightclub enthusiast, looking to go out for the memorable evening, or wish to host a private event, Ruby Skye is available for all your entertaining needs.