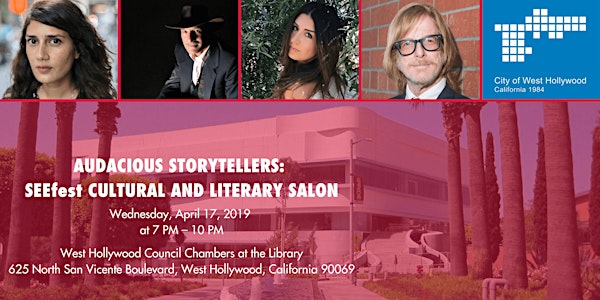 AUDACIOUS STORYTELLERS: SEEfest CULTURAL AND LITERARY SALON
When and where
Location
WEST HOLLYWOOD LIBRARY CITY COUNCIL CHAMBERS 625 N. San Vicente Blvd. West Hollywood, CA 90069
Description
AUDACIOUS STORYTELLERS: SEEfest CULTURAL AND LITERARY SALON
A historian, a literary critic, and an author come together for an evening of scintillating cultural exchange. These dynamic panelists draw on their knowledge, experience, and anecdotes to contemplate the theme of audacity in all of its forms.
The SEEFest Cultural and Literary Salon will explore audacity in the literature, history, and cinema of South East Europe, where geopolitical borders act as audacious protagonists in sociocultural affairs.
Fatma Aydemir, Author
Fatma Aydemir is a Turkish-German author. Her novel Ellbogen (Elbows) received numerous awards. She is also a fellow at the Villa Aurora in Pacific Palisades, an artists' residence supported by the German government.
Thomas Harrison, UCLA Professor
Thomas Harrison is a professor in the UCLA Department of Italian. He is the author of the seminal book 1910. His research focusses especially on Italy and Austria, and the region of Trieste and northern Adriatic from 1860 to the present.
David Shafer, CSULB Professor
David Shafer is a specialist in modern French history, with an emphasis on cultural history and a secondary interest in the history of former Yugoslavia. His most recent book is a biography of Antonin Artaud.
Nina Bjekovic, UCLA Ph.D. Candidate: Moderator
Nina Bjekovic specializes in 19th and 20th-century Italian culture and literature, with an upcoming doctoral dissertation, The Triestine Other: Negotiating Alterity in Claudio Magris, Boris Pahor, Giuliana Morandini, and Giorgio Pressburger.
In conjunction with the 14th Edition of the South East European Film Festival
Free Event. Includes Reception prior to event for all Attendees. RSVP Required.
NOTE: The venue is at the West Hollywood City Council Chambers (adjacent to the West Hollywood Library)
Presented with the support of the City of West Hollywood's Arts Division.
#SEEfest2019