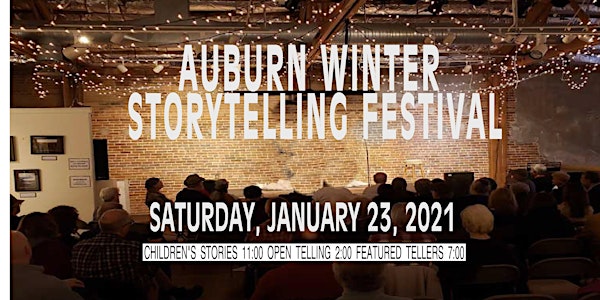 Auburn Winter Storytelling Festival
The one day storytelling event has children's stories, Open Telling where anyone can sign-up and tell a story and five PROFESSIONAL tellers
About this event
The Foothill Storytelling Guild is a group of volunteers from Northern California who bring the art of storytelling to the community as a free event thanks to our sponsors and donations from our public. A childhood development professor starts the day with children stories at 11 am. The afternoon is given to Open Telling where anyone can sign-up to perform a five-minute story for the audience. In the evening from 7:00 to 9:00 PROFESSIONAL tellers will have 20 minutes each to deliver a fairy tale, tall tale, funny story or something inspirational and unforgettable. Our tellers:
Noa Baum - Multi-cultural traditional folktales including Jewish heritage
Eric Hurtt - Sacramento and Gold Country stories of the California Gold Rush
Cynthia Restivo - Storyteller who spent many years with the International Theatre
BZ Smith - Award winning teller of true life tales & stories from her indigenous roots
Linda Yemoto - Asian folktales and favorite nature stories for the whole family
The photo shows the venue we have used for five years, General Gomez Event Center in Auburn, California. This year our event will be online at zoom.us on Saturday, January 23, 2021, one day only.