Event Information
Location
471 Maidu Dr
471 Maidu Drive
Auburn, CA 95603
Refund policy
Contact the organizer to request a refund.
Eventbrite's fee is nonrefundable.
Auburn Ukulele Festival 2020: Concert, Workshops, Community play, Open-Mic, Raffle & FUN!
About this event
9th Annual Auburn Ukulele Festival
Friday (July 31) & Saturday (Aug 1, 2019)

Auburn, California
Take in the majestic California foothills at this 2-day event with insightful workshops, concerts, open mic and jamboree! The festival kicks off with a Friday evening concert at the historical State Theater featuring folk music from Grammy award winning artists Marcy Marxer & Cathy Fink, along with performances by Dani Joy & Perry Stauffer. Workshop sessions by musician-instructors Marcy Marxer, Cathy Fink, Dani Joy, Alissa Hunnicut, Julie Holloman, Marianne Smith, Leonard Kauffer, Steve Quan, Michael Bremmer, & Perry Stauffer. Sessions are devoted to right hand techniques, chord/melody solo, songwriting, and fingerpicking, along with friendly introductory classes for new recruits.
On Saturday evening let your hair down at the Jamboree in the Park as Leonard Kauffer guides you through an evening of jamming, open mic, group performances & relaxation! BYOB.
Profits from the Saturday RAFFLE support the Ukes for Schools non-profit program benefiting local children.
More info at www.AuburnUkuleleFestival.com
Festival locations vary by event:
Friday concert: State Theater 985 Lincoln Way Auburn Ca 95603
Saturday workshops: Canyon View Community Center 471 Maidu Dr Auburn Ca 95603
Saturday evening Jamboree: 123 Recreation Dr Auburn Ca 95603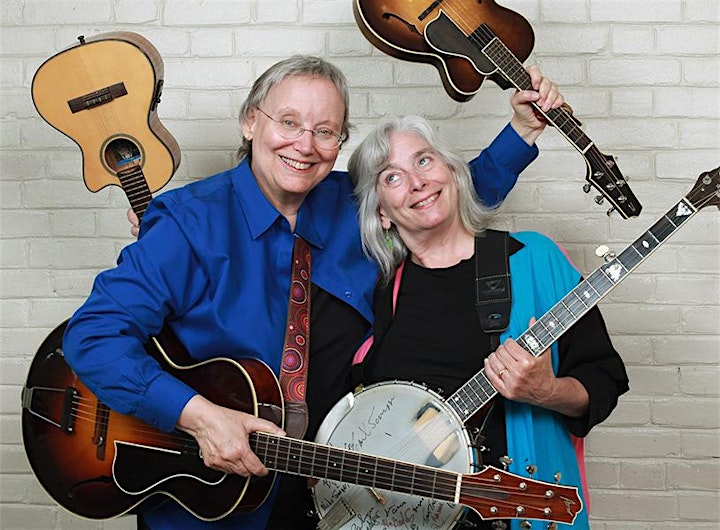 Uke styles- Folk, swing, jazz, clawhammer ukulele, fun!
GRAMMY WINNERS, Cathy Fink & Marcy Marxer are consummate entertainers, master musicians and trailblazers in multiple genres of folk, country, swing and family music. They are also two fun loving gals of the ukulele.
Cathy & Marcy's ukulele worlds began many years ago. In 1974, Cathy was gifted a vintage Gibson soprano ukulele by an elderly student. At about the same time, Marcy began strumming on the uke in Michigan, around the corner from where uke luthier David Talsma now lives. Uke accompaniment has been gracing their GRAMMY winning family music for over 25 years. And now, golly gosh, it's popular!
Veteran instructors and performers at the best-known music camps, they have enjoyed teaching at Puget Sound Guitar Workshop, The Augusta Workshops, Steve Kaufman's Acoustic Kamps, Swannanoa Gathering and California Coast Music Camp. They are also amongst the most prolific and popular instructors with Homespun Tapes. In 1993, Marcy released a 2 Video set, now 2 DVD's, "Ukulele for Kids". It has been a BEST SELLER for Homespun Tapes. Can you believe she even teaches Ginger the Dog, a loveable puppet! Now, Marcy's YouTube lessons on ukulele have made fans around the world, both young and old! She has both online lessons and a course called "UKULELE FOR GUITAR PLAYERS" at www.truefire.com/Marcy.
The duo organizes and performs in the UKEFEST at THE MUSIC CENTER at STRATHMORE, drawing 2300 fans. This 5 day camp and free community concert pulls together players of all levels and fans to fuel them! They have also taught/performed at Ashokan Uke Festival, Lil Rev's Milwaukee Uke Fest, Uke Ceiliedh of Nova Scotia, Port Townsend Uke Fest & Camp, Steve Kaufman's Acoustic Kamp and Swannanoa Gathering. As keynotes for the American Music Therapy Association, Cathy & Marcy brought the uke to hundreds of music therapists and as a result, there are university level music therapy courses in ukulele!
As performers, Cathy & Marcy have spent 35 years on tour worldwide from Japan to New Zealand, Vancouver to New York, China, Malaysia, and everywhere in between. Recent shows include the GRAMMY Museum (LA), Smithsonian Folklife Festival (Washington, DC) and Wolf Trap Theater in the Woods (VA), Tuscon Folk Festival and Chicago's WFMT Folk Festival. They are master musicians on ukulele, five string banjo, cello banjo, acoustic & electric guitar, mandolin, percussion and a world of other instruments.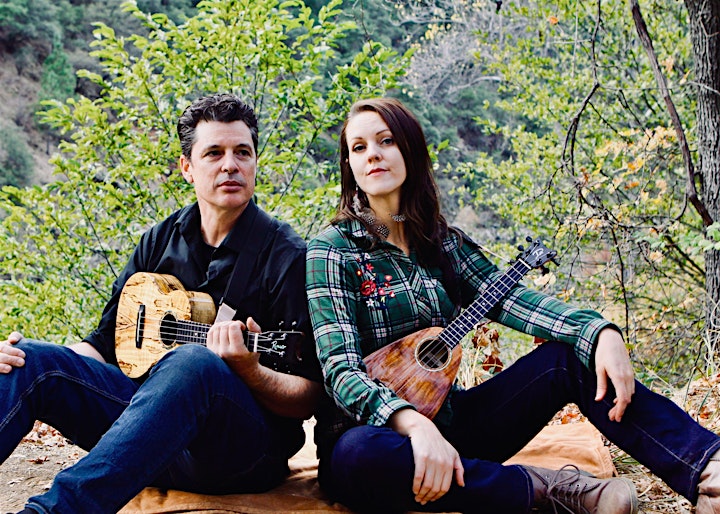 Opening Act: Dani Joy & Perry Stauffer
Blending classic jazz expressions with original songwriting, multi-instrumentalists Dani Joy & Perry Stauffer will charm your socks off! Singing songs inspired by world travels, you're sure to be swept away by the ornate lyrics and memorable melodies of this dynamic duo.
Date and time
Location
471 Maidu Dr
471 Maidu Drive
Auburn, CA 95603
Refund policy
Contact the organizer to request a refund.
Eventbrite's fee is nonrefundable.