ATX Youth Summit 2015: "A Celebration of Teen Creativity"
When and where
Location
George Washington Carver Cultural Center Classroom/Boyd Vance Theater 1165 Angelina Street Austin, Texas 78701
Description
ATX Youth Summit 2015
Program-At-A-Glance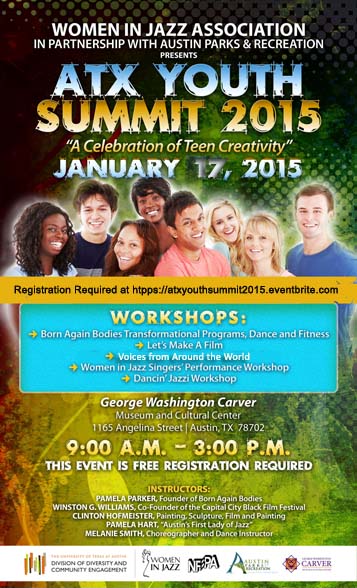 Saturday, January 17, 2015
Who should attend? Youth ages 8 to 17
8:00 – 9:00 a.m. Location: George Washington Carver Foyer
Registration Open
Continental Breakfast and Networking

9:00 – 9:15 a.m. Opening General Session Location: Boyd Vance Theater
Welcome and Summit Overview
Pamela Hart, Co-Founder
Women in Jazz Association, Inc., Austin, Texas
Sponsors:
City of Austin, Parks and Recreation Department
National Forum for Black Public Administrators
University of Texas, Division of Diversity and Community Engagement
Women in Jazz Association, Inc.
SPECIAL SESSION 9:15 a.m. – 9:45 a.m.
Born Again Bodies Transformational Programs, Dance and Fitness
Location: Boyd Vance Theatre
Health and fitness is the entry point for being successful in all walks of life. Learn how you can be better at anything you do by first taking care of you!
Instructor: Pam Parker, Founder Born Again Bodies
MORNING CONCURRENT WORKSHOPS 10:00 - 11:30
Voices from Around the World
Location: Boyd Vance Theatre
Hartt and Nada take kids on a fun and interactive musical adventure from India to Brazil, Japan to Africa with beautiful costimes and songs.
Instructors: Hartt and Nada Stearns, Co-Founders, One World Theatre
Dancin' Jazzi
Location: Dance Studio
Learn a dance routine from Choreographer Melanie Smith and see how the pros get started in tap, jazz, ballet, hop hop and modern dance!
Instructor: Melanie Smith, Choreographer and Dance Instructor
Dancin' Jazzi & FLAVA Dance Company
Let's Make a Film
Location: Carver Classroom
Lights… Camera… Action!!! Learn how to make a short film. Get ready for this fast paced session! There will be a short script. Attendees will be assigned roles such as actors, camera operator, set designer, script supervisor, lighting technician, boom operator and more… We will rehearse, film, edit and view a short film. Attendees are asked to provide an email address to which the link for the short film will be sent to share with others.
Instructor: Winston G. Williams, Co-Founder and Executive Team Member
Capital City Black Film Festival
11:30-12:30 Lunch Break
AFTERNOON CONCURRENT WORKSHOP
12:30 – 2:00 pm
Women in Jazz, Inc. Singer's Performance Workshop
Location: Boyd Vance Theatre
This dynamic and interactive session will focus on effective communication and performance techniques in music. Sing with a live band and learn how to direct them to play the song the way you want to sing it. Sing jazz, Gospel and soul or perform spoken word. Learn how to move on the stage and capture your audience as you sing in your own style!
Instructor: Pamela Hart, Co-Founder
Women in Jazz Association, Inc.
WOMEN IN JAZZ YOUTH CONCERT
2:00 – 3:00 p.m.
Location: Boyd Vance Theatre
Pamela Hart and students will showcase vocal jazz with the James Polk Trio. This session is open to summit participants, parents and guests.
Contact Women in Jazz: 512-258-6947