ATX Startup Crawl 2014 Registration for Startups and Sponsors

Thursday, October 9, 2014 from 5:00 PM to 10:00 PM (CDT)
Event Details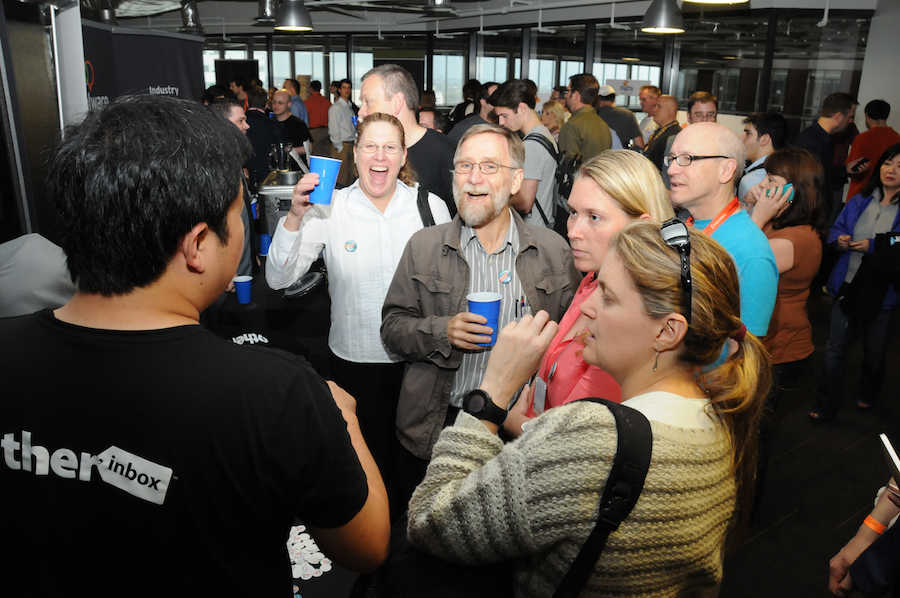 It's Austin Startup Week – four full days dedicated to showcasing the best in talent, startups, and more that this city's technology community has to offer. Tomorrow kicks off the Austin City Limits music festival's final weekend. You've had an awesome week and are still eager to explore...now what?
Stop by for a free beverage, drop off a resume, 
check out some office space or just kick back before
the Austin City Limits music festival from 5 p.m. to 10 p.m.!
This is the ultimate opportunity to give visitors a glimpse into local businesses, provide companies with a recruiting tool, and help interested participants navigate the noise of Austin's tech and startup scene.    

Last year at SXSW we had more than 70 companies and thousands of crawlers. Although this crawl will not be as large in numbers as SXSW, we still anticipate hosting a few thousand attendees. Capital Factory has reserved the entire 1st Floor Atrium of the Omni Hotel in order to accommodate all of our startups and crawlers.

This year we will have a single path for crawlers to follow that will take them by every startup table in the same order. This will be similar to how the Trail of Lights works. Crawlers will enter the building, grab a drink from the bar, and then they will go up the elevator to the 16th floor and follow a path that takes them by every startup, then go down to the 1st floor and follow a similar pattern, before exiting the building to get on the shuttle for the next stop. We believe this will create more "flow" of traffic, less crowding, allow everyone to reach the 16th floor, and cause more crawlers to visit all of the stops.

How will you travel from startup to startup? Our free shuttle will run from 5 p.m. to 10 p.m. Pick your starting point, hop off at each stop, and end up right back at the beginning. It's just that easy!
This crawl is presented by Google
---
Interested in participating as a crawler? Sign up and receive the 2014 crawl map here.
Interested in being a host stop or table participant? You can have a party at your downtown office or you can join us at Capital Factory. Each option is listed at the top of this invite and deadlines are listed below.
Do you qualify as a startup? If you have raised more than $10 million in funding or if you have more than 100 employees then you must register as a sponsor.
If you have questions about participating, please email

startupcrawl@capitalfactory.com

.
---
DEADLINES

September 14 - Last day for HOST STOPS to be included in the bus route schedule. The City of Austin must approve the bus route and requires a permit from the City of Austin. Capital Factory will handle this process and costs incurred. Unfortunately, we will not be able to offer the ability to any last minute changes.  
September 19 - Last day to be added to creative materials - printed maps and signage. If you choose to sign up after this date, you can still be included on both the website and mobile app.

October 1 - Last day to be included in social media campaigns, the website and mobile app.

Please note - ALL RESERVATIONS ARE NON-REFUNDABLE
---
Confirmed startups and sponsors:
Aceable

Affiliate Summit

AT&T  

*SILVER SPONSOR

Athenahealth  

*SILVER SPONSOR

Atlassian

 *SHUTTLE SPONSOR

BlackLocus

 *GOLD SPONSOR

Boxer

Caboh

Chiron Health

Comnio

Continuum Analytics

Curb

Datafiniti

Dell

 *GOLD SPONSOR

DreamIt Ventures

Eagle Eye Networks

Entrepreneurs Foundation

FitChimp

GasPedal.com

Goodybag

Google for Entrepreneurs

 *PRESENTING SPONSOR

Help.com

Hrvst

Indeed.com  

*GOLD SPONSOR

JamFeed

Local Plant Source, Inc.

Luna Data Solutions, Inc.  

*BRONZE SPONSOR

Lynx Laboratories

MakerSquare

ManagerComplete

Marketing Clique

MyTennisLessons.com

NIMBOXX  

*GOLD SPONSOR

Obsidian

Ordoro

OutboundEngine

Peddle

PenPal Schools

Pingboard

PostUp

Pristine

Rappora

Remote Garage

ReviewPush

RideScout  

*GOLD SPONSOR

Rightside

ROIKOI

School of Invention

Signpost

Smart Picture Technologies

SoftLayer

 *GOLD SPONSOR

Spanning  

*GOLD SPONSOR

Square Root

StructuredDomains.com

Techstars 

Texas Bitcoin Association

The Kompanee

Umbel

Union Metrics

uShip  

*GOLD SPONSOR

V-Chain Solutions

VaultSwap.com

Veradox

Visa  

*GOLD SPONSOR

Weeli

Weeva, Inc. 

WigWag Inc.

WP Engine

 *GOLD SPONSOR

XOXCO
Attendee List
Sort by:

Date

|

First Name

|

Last Name
Organizer
Capital Factory
Capital Factory is the center of gravity for entrepreneurs in Austin, the number one startup city in the U.S. Last year more than 100,000 entrepreneurs, programmers and designers gathered day and night, in-person and online for meetups, classes and coworking. We meet the best entrepreneurs in Austin and introduce them to their first investors, employees, mentors and customers. According to Pitchbook, Capital Factory has been the most active investor in Texas since 2013. 
ATX Startup Crawl 2014 Registration for Startups and Sponsors