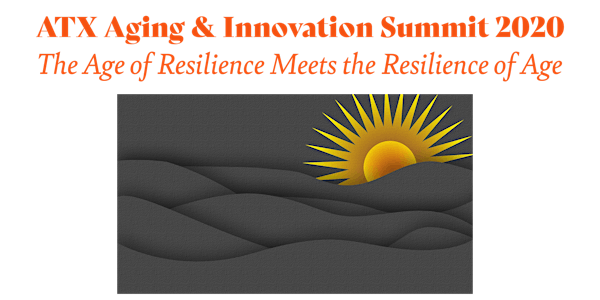 ATX Aging & Innovation Summit: Day Two
The Age of Resilience Meets the Resilience of Age
Refund Policy
Refunds up to 7 days before event
Eventbrite's fee is nonrefundable.
About this event
This virtual event hosted by AustinUP, featuring multiple sessions held over two days, will explore Covid-inspired innovation and insight that could improve the lives of older adults as we emerge from this devastating pandemic. Our speakers and panels will take a closer look at how the events of 2020 are changing the way we think about aging especially in the areas of technology, equity and access.
DAY TWO: Wednesday, October 21, 2020
Register for DAY TWO of our Summit via this Eventbrite page! With plenty of break time in between sessions, attendees may log in and out as their schedules allow. Tickets are $25/day. Note: We want this program to be accessible and inclusive to all. If you'd like to join us and cost is a barrier, then please use the promo code austinup upon checkout. When registering, be sure to hit the APPLY button for the discount to go into effect. Questions? Email teresa@austinup.org. (Click here for registration and details about DAY ONE.)
Expanding Access: How to Provide Technology, Tools and Training for Older Adults, 9 – 10 a.m.
DeAnne Cuellar, State Director, Texas Older Adults Technology Services (OATS) / Senior Planet San Antonio; Kami Griffiths, Executive Director/Co-founder, Community Tech Network; and John Speirs, Program Manager, City of Austin Telecommunications & Regulatory Affairs will discuss access to technology for older adults as it relates to workforce equity, telehealth, social isolation and more.
Startup Innovation: Protecting Older Adults from Loneliness and Isolation, 10:30 a.m. – 12 noon
Allen Zhou is the CEO and co-founder of Big & Mini, a 501(c)(3) nonprofit organization that connects young adults (Minis) with seniors (Bigs) through virtual communication to foster intergenerational understanding and combat social isolation. Founded in April 2020 by three college students, Big & Mini now has thousands of volunteers from 50 states and 22 countries and has been profiled in more than 40 media outlets, including The Today Show. Allen will be joined by a Big & Mini match to talk about their individual stories.
Lindsay Faeder is CEO of WayWiser, a mission-driven startup with the goal of protecting the financial independence and dignity of older adults and elders. Founded in 2019 by a team of people who have all experienced watching a loved one get scammed or exploited, WayWiser makes it easier for older adults to get connected and stay protected by offering a comprehensive platform focused on bringing families together and helping them maintain their independence and freedom. Lindsay will be joined by Tiffany Tomasso, founder/partner of Kensington Senior Living, to discuss how the innovative use of an existing technology, unlikely partnership and a willing community reconnected families to their loved ones who were isolated due to stay-at-home orders. Kensington Senior Living (KSL) is an assisted living owner-operator with six operating communities and several future locations in Northern and Southern California, the metropolitan Washington D.C. area and Greater New York.
Closing Keynote Presentation: "Can Advertising Grow Up? Or Is 'Oldvertising' Here to Stay?" 2 – 3 p.m.
Wednesday's keynote speaker is Lori Bitter, a nationally recognized marketing and development consultant, speaker, author and founder of The Business of Aging. She will discuss marketing to older adults and why common strategies miss the mark. Only five percent of U.S. advertising is aimed at people over 50. Yet through 2030, older adults are expected to generate more than half of all consumption growth. And the world will have more 55-year-olds than 5-year-olds. So is advertising and marketing to older adults so bad? In study after study, more than 80% of older adults say they don't see themselves in today's communications. We will look at why ordinary communication strategies miss the mark and what has to happen to engage older adults, and also explore the role of ageism, technology and stereotypes.
About Wednesday's Keynote Speaker:
Lori K. Bitter provides strategic consulting, research and development for companies seeking to engage with mature consumers at The Business of Aging. Named one of Next Avenue's Influencers in Aging, Lori's book, The Grandparent Economy, is a National Mature Media Award winner. She is a co-producer of the What's Next Boomer Business Summit and The Silicon Valley Boomer Venture Summit.
She was president of J Walter Thompson's Boomer division, JWT BOOM, the nation's leading mature market advertising and marketing company and led that firm's annual Boomer marketing event for five years. Prior to that she led client service for Age Wave's agency, Age Wave Impact. Lori is also the former president of her own agency, Continuum Crew, and Crew Media, owner of Eons.com. Lori has more than 35 years of advertising, public relations and strategic planning experience.
Lori and her research team lead large studies for companies and associations focused on aging consumers and their product and service needs. Her current research project, Hacking Life Shifts, is focused on a three-generation view of the five key shifts of caregiving, moving, grandparenting, becoming single, and career encoring. It follows the Hacking Longevity study from 2018. From complex quantitative studies and segmentations to creative qualitative methods, the team has delivered projects on-time and on-budget for clients as diverse as Del Monte, AARP, and Comcast Corporate. Lori is a trained and skilled facilitator, who recognizes the key insights that drive a firm's growth. She delivers insight-driven strategy to C-suite initiatives.
She is the contributor to five books on aging consumers and is a leader in research on topics relevant to the senior and boomer population. A frequent guest and expert in the media, Lori was featured on American Marketing Association's blog, AARP Magazine, in the Los Angeles Times, on CNBC, Forbes magazine and was named to Entrepreneur Magazine's 100 to Watch List. She holds a MS in Advertising and is a former Associate Professor of Advertising and Public Relations. She serves on the Leadership Council of the College of Media for the University of Illinois, and on the advisory board of several start-up companies.
A sought‐after speaker, Lori has presented research, trends and analysis about mature consumers and the longevity marketplace to more than 200 conferences and events in the United States, the United Kingdom and Europe, most recently the Longevity Colloquium in Madrid, Spain.
She has served as a judge and panelist for numerous award and business competitions, including the American Advertising Federation (AAF) and the North American Effie awards. Lori enjoys mentoring and coaching encore entrepreneurs.
Thank you, sponsors!
AARP Texas, Art Spark Texas, Be Well MD, Buckner Villas, Cummings Home Team, Oasis Senior Advisors, Optimal Research, Pi Architects, Ryan Companies, SendaRide, Senior Resource Guide, St. David's Foundation, United Healthcare, WellMed, Westminster