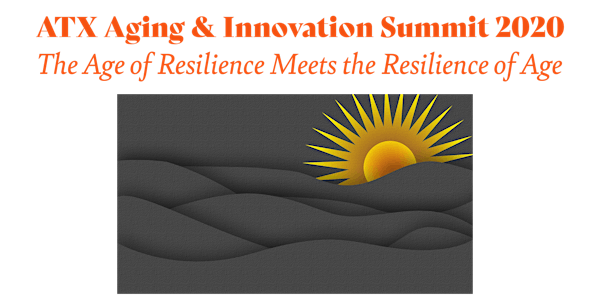 ATX Aging & Innovation Summit: Day One
The Age of Resilience Meets the Resilience of Age
Refund Policy
Refunds up to 7 days before event
Eventbrite's fee is nonrefundable.
About this event
This virtual event hosted by AustinUP, featuring multiple sessions held over two days, will explore Covid-inspired innovation and insight that could improve the lives of older adults as we emerge from this devastating pandemic. Our speakers and panels will take a closer look at how the events of 2020 are changing the way we think about aging especially in the areas of technology, equity and access.
DAY ONE: Tuesday, October 20, 2020
Register for DAY ONE of our Summit via this Eventbrite page! With plenty of break time in between sessions, attendees may log in and out as their schedules allow. Tickets are $25/day. Note: We want this program to be accessible and inclusive to all. If you'd like to join us and cost is a barrier, then please use the promo code austinup upon checkout. When registering, be sure to hit the APPLY button for the discount to go into effect. Questions? Email teresa@austinup.org. (Click here for registration and details about DAY TWO.)
Opening Keynote Presentation: Reconfiguring Life's Third Age, 9 – 10 a.m.
Robert Morison, Senior Advisor at AgeWave, the nation's foremost thought leader on issues relating to an aging population is Tuesday's keynote speaker.The traditional concept of retirement is being transformed by the massive influx of Baby Boomers, their attitudes and aspirations, and their collective economic clout. Enlightened organizations recognize what's happening and are learning to serve "third agers" in innovative ways. Robert Morison will share findings and insights from the recently published What Retirees Want: A Holistic Guide to Life's Third Age along with new research showing how circumstances and resilience have enabled this population to thrive – even during a pandemic.
Virtual Care Management – Fast-forwarding the Process of Technology Adoption, 10:30 - 11:30 a.m.
Panelists include Amir Bozorgzadeh, CEO of Virtuleap; Char Hu, PhD, CEO of The Helper Bees; Raj Shah, CEO of CareSafely; and Michael Wang, CEO/Founder of Inspiren Inc. They will discuss the role of innovation and technology in the future of elder care and how we can bridge the critical gap in terms of labor, care standards, life enhancement, safety protocol and remote monitoring.
Diversity and Inclusion in Philanthropy, Employment and Civic Engagement , 2 – 3 p.m.
Rawle Andrews Jr., Esq., Vice President of AARP's Mega 7 Region, will explore these important issues from a national perspective and offer insight about their impact on older adults. Tabitha Taylor, City of Austin Age-friendly Program Coordinator, will moderate the discussion.
More About Tuesday's keynote speaker:
Robert Morison, Senior Advisor at Age Wave, is a researcher, writer, speaker and consultant and an authority on what happens at the intersections of business, technology and people management. He has been leading breakthrough research for more than 30 years, collaborating with eminent academics, thought leaders, and management innovators. He has written on topics ranging from business innovation, reengineering and analytics to workforce management, demographics and retirement.
Bob has been collaborating with Dr. Ken Dychtwald and Age Wave for twenty years, including managing – on behalf of a consortium of major corporations –the research projects "Demography is De$tiny" and "The New Employee/Employer Equation." He coauthored two books with Ken Dychtwald including the latest, What Retirees Want: A Holistic View of Life's Third Age. Together with Ken Dychtwald and Tamara Erickson, he coauthored the McKinsey Award-winning Harvard Business Review article "It's Time to Retire Retirement" and the book Workforce Crisis: How to Beat the Coming Shortage of Skills and Talent. He is also coauthor, with Thomas Davenport and Jeanne Harris, of Analytics at Work: Smarter Decisions, Better Results.
About the book:
Based on a decade of breakthrough research on the many facets of life in retirement, What Retirees Want: A Holistic View of Life's Third Age, by Ken Dychtwald, PhD, and Robert Morison, is the authoritative guide for organizations seeking to provide the retirees of today and tomorrow with informed, innovative, and valued products and services. And it's a guide for retirees, pre-retirees, and eventual retirees who want to anticipate and explore the opportunities, choices, and challenges ahead.
Thank you, sponsors!
AARP Texas, Art Spark Texas, Be Well MD, Buckner Villas, Cummings Home Team, Oasis Senior Advisors, Optimal Research, Pi Architects, Ryan Companies, SendaRide, Senior Resource Guide, St. David's Foundation, United Healthcare, WellMed, Westminster