Description
The Inevitable:
Understanding the 12 Technological Forces That Will Shape Our Future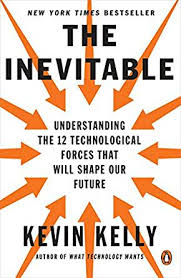 Book Synopsis Meeting:

Join us Thursday, August 10th -Randy Mayeux will summarize and tell you:

Why is this book worth our time?
Key excepts and quotes from the book
Significant stories and lessons from the book
An outline/overview of the key content of the book
And, lessons and takeaways from the book
---
About our Speaker – Randy Mayeux
Randy Mayeux is a professional speaker and writer, and a doctoral candidate in Communication from the University of Southern California. He gives more than 450 public presentations annually to various business and government audiences, non-profit groups and associations, and professional conferences.
He is the Founder and a former Vice-President of Creative Communication Network, a full-service communication company offering speeches and presentations, training and custom consulting and meeting facilitation for individuals, groups and organizations.
After graduating from Abilene Christian University with a B.A., where he lettered four years in tennis, he earned his M.A. from Pepperdine University, where he later served as Chairman of the Chancellor's Council. He has appeared as a guest on numerous local and national radio stations. He appears monthly before audiences at upscale Dallas-area retirement centers, and has authored articles in professional journals, guest columns in the The Dallas Morning News, and a book on spiritual growth. His monthly First Friday Book Synopsis at the Dallas Park City Club attracts capacity crowds of business professionals from throughout the metroplex, and is now in its eighth year of existence.
Randy is a former member of the Board of Directors of the National Speakers Association of North Texas.
---

BravoTECH
Heritage Square I
4835 LBJ Freeway,
10th Floor, Suite 1000
Dallas, Texas 75244
Map of Location
BravoTECH is located on the northwest side of the intersection of the North Dallas Parkway and LBJ Freeway.
The building says "Imprimis" on the east & west sides and C-Beyond on North and South - just west of the Oxy building.


---

DFW*ATW Membership
Membership for ATW is $125 for an individual membership and $50 for students and those in-transition. Click here to join ATW today!

Corporate Sponsorships Available
ATW provides a unique gateway to companies by providing business opportunities that are mutually beneficial to the technology community. If your company is interested in sponsorship, email sponsorships@dfwatw.org.
---
The Alliance of Technology and Women ("ATW") Dallas , is a dynamic non-profit organization that supports women and men worldwide who share the common interests of empowering women in technology, increasing the number of women in executive roles and encouraging women and girls to enter technology fields. Visit www.dfwatw.org for more information.