Description
Attracting Your Ideal Relationship accelerates your personal growth.
Here is what clients are saying about the course:
"I felt loved and held, I'm with my people."
"In just the first session, we were able to to share and be vulnerable. This is not common! It warms the heart."
"I got the feeling of alignment that brought me back to focus."
"Today was the biggest step I've taken in my life today: taking care of myself, making a decision ... Before I would have beaten myself up."
Our final session starts on August 6.

Here's what we cover in the course:
Session 1: Developing Value and Self-Worth as a Foundation (Sundays in June 2017)

Week 1: Self-Awareness
Week 2: Self-Care
Week 3: Limiting Beliefs: Desires and Deservability
Week 4: Tapping into Spirit and Your Higher Self
Session 2: Manifesting from Abundance" (Sundays in July 2017)

Week 5: Harnessing the Law of Attraction
Week 6: Visualization and Imagination
Week 7: Grounded in Gratitude
Week 8: Life Design and Love
NOW ENROLLING: Session 3 Integrating into Dating & Relationships (Sundays 5-6:30pm PST in August 2017)
Week 9: Being in Integrity with Yourself First
Week 10: The Sexiest Word to a Man-"WANT"
Week 11: Triggers and Staying in the Vortex
Week 12: Fine-tuning your Vision
*Dates and times subject to change

Joanna and Lisa have lived this journey and are passionate about sharing the path of growth.
They have worked with affirmation and coaching tools for years. Tools that appear throughout the course, include meditation, visualization, affirmations, gratitude practices, partner-sharing, journaling, daily rituals and exploring the Law of Attraction.
Joanna manifested her dream relationship with her inspiring and loving husband. In less than one year, they fell in love, got married, and built their dream home in Costa Rica. During that year, she travelled around the world (and still travels after a month-long Europe honeymoon!), became financially independent, and quit her job to pursue her life's calling and creative passion. She and her husband co-founded Madre Tierra Foundation to support world-changing causes. Life is a dream, and it's because of the tools Joanna learned to use.
After years of feeling like she was on a dating rollercoaster, Lisa has finally learned to harness her personal power, creating joy and fulfillment in the dating process. By applying the tools and wisdom that she has acquired over the years, she feels blessed attracting the quality of men she desires and deserves in her life.
Joanna and Lisa look forward to sharing the growth and joy with more clients. Could that be you?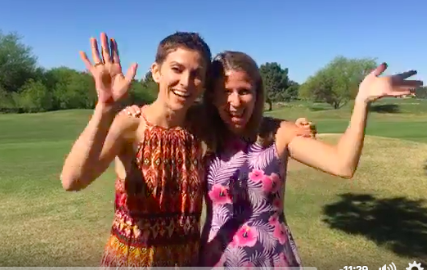 Frequently Asked Questions:

When is the class?

We meet online on Sundays 5-6:30pm PST (8-9:30pm EST).

What if I need to make up a class?

Each workshop is audio recorded for internal purposes. You can review class via the recording if you missed it!

What is Zoom and how does it work?
Classes are held on Zoom, an online platform using video, audio and chat. When you register, you receive the link to our "Meeting Room." Download the free app and sign on via video or phone (video is not required).
More questions?
Email us at attractyourideallove(at)gmail.com.
Better People Company & Expect Good Things bring you Attracting Your Ideal Relationship:

Better People Company trains people in social- and emotional self-awareness and communication. We use theatre-based techniques, dialogue, and emotional intelligence exercises to create a greater connection and meaning in work and life. BetterPeopleCompany.com

Through Expect Good Things, Lisa guides clients to tap into self-care, spirit and intuition so they can enjoy more fulfillment in relationships, leadership and life. For more information visit: www.LisaLang.com