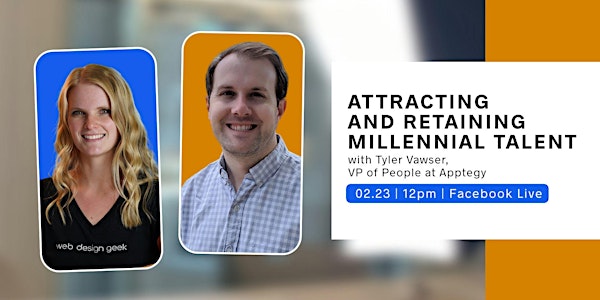 Attracting and Retaining Millennial Talent
Ready to learn how not only to get millennial talent in your business but retain them as well? This workshop is for you!
About this event
Calling all business owners, hiring managers, and team leaders! Let's face it, the makeup of our workforce is changing. No, we're not talking about the pandemic; we're talking about millennials! They bring a lot to the table: they're digitally-savvy, loyal, and aren't afraid to think outside of the box -- and yes, they can still create that PDF for you. Join Kait, our Chief Geek, as she chats with Tyler Vawser, VP of People at Apptegy, about the importance of workplace culture in our next workshop, "Attracting and Retaining Millennial Talent."
More about Tyler:
Tyler Vawser is the VP of People at Apptegy. He and his team are the reason why Apptegy has been able to expand teams so successfully. When he isn't strengthening Apptegy's interview and selection process, he ensures an exceptional employee experience, serves as a culture champion, and works with senior leadership to ensure we maintain and scale our culture of Thoughtfulness and High Performance. Prior to Apptegy, Tyler worked in NYC in higher education and for startups including Museum Hack and Sticker Mule. On weekends, you can find him playing Rummikub with his kids, reading about personal finance, and/or eating too many cookies.