ATTIC & BAKE SALE benefiting youth POSTPONED
About this Event
IMPORTANT UPDATE:
Hello neighbors.
Thank you so much for your interest in the Attic Sale. Unfortunately, we will be postponing the Attic Sale until further notice.
Kindly please continue to hold onto your donations until further notice, if you have the space and are able to keep them.
We do plan to still have the Youth Attic Sale & Bake Sale when it is safe to do so. As always, thank you for supporting the Youth Missions.  
_______________________________________________
Youth Attic Sale Fundraiser Saturday, March 28, 2020
7AM to 2 PM
at Avondale Presbyterian Church2821 Park Rd, Charlotte, NC 28209​FIND: Furniture, Clothing, Toys, Appliances, Tools, Books & lots of GREAT Stuff! AND a Bake Sale!_______ A HUGE ATTIC SALE and Bake Sale will be held Saturday, March 28 by the Avondale Youth Group. All proceeds go to support the 2020 Peru Mission trip where the youth will be helping build a seminary.
When winter/spring cleaning - please keep the youth in mind! Donations are needed!
Donation drop-offs will be March 22-27.This event is open to all! Please spread the word.More details: https://www.avondalepresbychurch.org/atticsale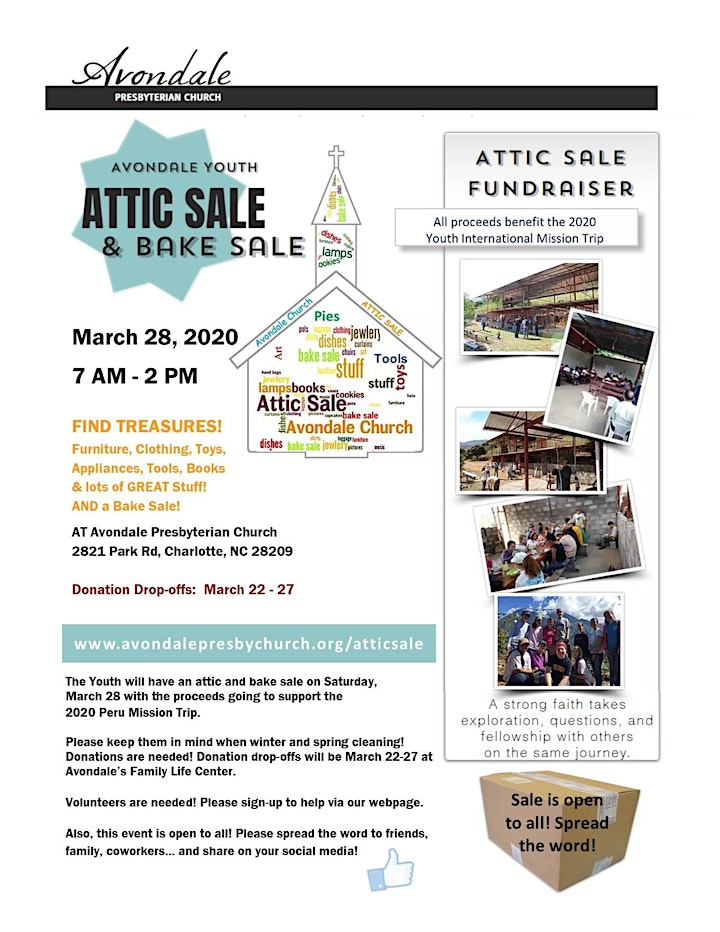 Attic Sale has been postponed!