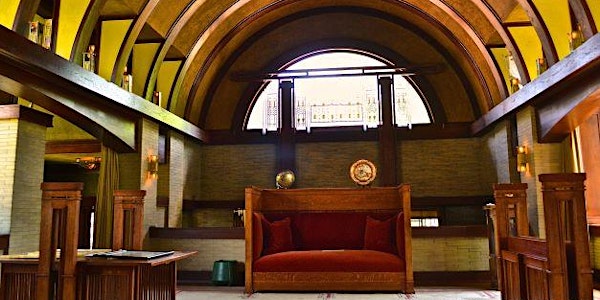 Attention to Detail: A Dana-Thomas House Specialty Tour
Join us for an in-depth tour of the Dana-Thomas House, focusing on the details of Frank Lloyd Wright's design.
By Illinois Department of Natural Resources State Historic Sites Springfield
Date and time
Saturday, April 1 · 10am - 12pm CDT
Location
Dana Thomas House 301 East Lawrence Avenue Springfield, IL 62703
About this event
Expert volunteer Frank Marchant will lead you on this in-depth tour of the Dana-Thomas House. The tour, which is twice as long as a general tour, includes entering rooms that are not seen on other tours. You'll get a detailed look at the house from an architectural perspective, including some colorful stories related to the Dana House.
The tour will last approximately 2 hours, depending on guest questions and discussion. There is no cost for the tour, but donations to support the site are suggested. Cash donations are accepted on-site, or you may donate electronically at https://historicspringfield.dnr.illinois.gov.
This tour is recommended for teens and adults with an interest in Frank Lloyd Wright architecture, and guests who have toured the house before, who would like a more in-depth experience. If you are interested in a more general/introductory tour of the home, you can make a reservation at https://danathomashousetours.eventbrite.com
Important Notes:
1. The tour will begin at the front door of the home, on Lawrence Avenue.
2. Photos/video recording are limited to the exterior of the house only; photography and video recording are not permitted indoors.
3. The house contains 12,600 square feet of architecture, split over 16 elevations connected by stairs. Please keep this in mind when reserving your tour.
About the Site
The Dana-Thomas House was designed and built between 1902-1904 by renowned American architect Frank Lloyd Wright. It was constructed for Susan Lawrence Dana, a Springfield socialite, philanthropist, and activist who offered Wright his first "blank check" commission to design a home in which she could advance her ideas about democracy and education. At 12,600 square feet, with 35 rooms and over 100 art glass windows, when completed in 1904 it was the largest and most extravagant home Wright had designed thus far in his independent career as an architect. Today it is managed by the Illinois Department of Natural Resources; with most of its original furnishings and art glass still intact, it is one of the most complete of Wright's Prairie style homes in the United States today.
Parking
The Dana-Thomas House is located at 301 East Lawrence Avenue in Springfield, Illinois. A free parking lot is located directly across the street from the house, at the northeast corner of Fourth Street and Lawrence Avenue. A second parking lot is located off of Cook Street, just west of the house and across the railroad tracks.