Sales Have Ended
Registrations are closed
Advanced registration for the TierPoint Chicago Polk Street Open House is now closed; you are welcome to register in-person at the door. We hope to see you there!
Sales Have Ended
Registrations are closed
Advanced registration for the TierPoint Chicago Polk Street Open House is now closed; you are welcome to register in-person at the door. We hope to see you there!
Description
Get Ready for a Grand Slam Event...
Join TierPoint, Hewlett Packard Enterprise and Schneider Electric for an open house, complete with networking and seminars on security and hybrid IT.

Complimentary parking is available for guests at the Maxwell Street Lot (enter from West Polk Street or South Desplaines), or free meter parking is available in front of the facility on West Polk.
There's a full lineup planned, with a schedule to accommodate those who can stop by for a short while or those who are able to stay a little longer.
Join the Conversation:
Meet TierPoint's Chairman and CEO, Jerry Kent, and SVP & Chief Strategy Officer, Andy Stewart.
Attend a Seminar:

Terry Morrison (TierPoint) and Greg Griffiths (Windstream) present, It's a Hybrid IT World: Key Insights for the Journey to Multi-Cloud Environments (12:15, 1:00, 2:00 PM)
TierPoint's Chief Security Officer, Paul Mazzucco, presents Buckle Up: Dealing with the Dark Web and DDoS (12:15, 1:00, 2:00 PM)
Grab a Bite:
Enjoy a complementary catered lunch by local favorite, Harry Caray's.

Take a Tour:
Experience our newest Chicago data center at Polk Street, featuring the latest in enterprise-class cloud computing and managed hosting solutions; tours every 30 minutes.
Win Big:
Score giveaways and prizes, including a chance to win a Family Four Pack of Cubs' Club Level tickets.
---
About the Speakers:


As Chief Technology Officer for TierPoint, Terry Morrison is responsible for leading TierPoint's technology initiatives in support of hybrid IT solutions, including cloud computing and managed services, as well as managing the organization's IT, network design, and engineering architecture teams. Terry has more than 20 years of industry engineering and management experience, including as a co-founder of Perimeter Technology Center, which was purchased by TierPoint in 2011. Previous positions include TierPoint Senior Vice President Technology; Senior Vice President, Engineering and Facilities; and management roles for Williams Communications, iBeam Broadcasting, Webcast.com and Rock Island Group. Terry graduated from Southern Nazarene University with a Bachelor of science, Network Management, and is a resident of Oklahoma City.

Greg Griffiths is Vice President of Vertical Marketing and Strategic Alliances for Windstream, where he's responsible for driving the company's go to market initiatives for key industry verticals. Greg was previously VP of Marketing for EarthLink prior to their merger with Windstream, as well as VP of Marketing for New Edge Networks, a leader in IP-based WAN network services acquired by EarthLink in 2006. At New Edge, Greg led the company's retail industry strategic focus, and had overall responsibility for all aspects of marketing, including branding, communications, demand generation, and channel strategy. Prior to that, Griffiths held executive positions with Eschelon Telecom and Enhanced Telemanagement. Griffiths is a graduate of Washington State University with a degree in marketing and has served as an adjunct instructor.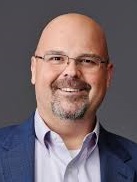 Paul Mazzucco is responsible for all TierPoint corporate standards regarding physical, information, and network security; and he leads the charge in acquiring and maintaining all industry-specific compliance certifications, including PCI DSS, FISMA, and the FedRAMP/NIST Cloud Security standards. Paul joined TierPoint through its 2014 acquisition of Xand, where he served in a similar role.
While at Xand, Paul created information security policies, information security best practices, and DR/BC plans and testing for over 70 clients representing multiple verticals. A veteran of the IT security market, his background includes security entrepreneur and defense contractor; and he is the principal in Hacker Holdings, Inc.
Paul completed his undergraduate work at Lehigh University, studying Human Behavior and Cyber Security. He is a Certified Information Systems Security Professional (CISSP), Microsoft Certified Systems Engineer (MCSE), and Certified Ethical Hacker (CEH) answering to the FBI, the United States Secret Service, Pennsylvania Electronic Crimes Task Force (PAECT), and the United States Computer Emergency Readiness team (U.S. CERT).