Description
GRAND Business Networking Affair
Monday, January 7, 2013
Let's face it... the art of business success is making the connection, following up, building a relationship, learning all you can about business, and providing an optimal performance.

If increased sales, and profitability is what you seek start by attending the GRAND Business Networking Affair. Make major connections, build business relationships, and grow your network of potential clientele at the Queens, NY-GRAND Business Networking Affair.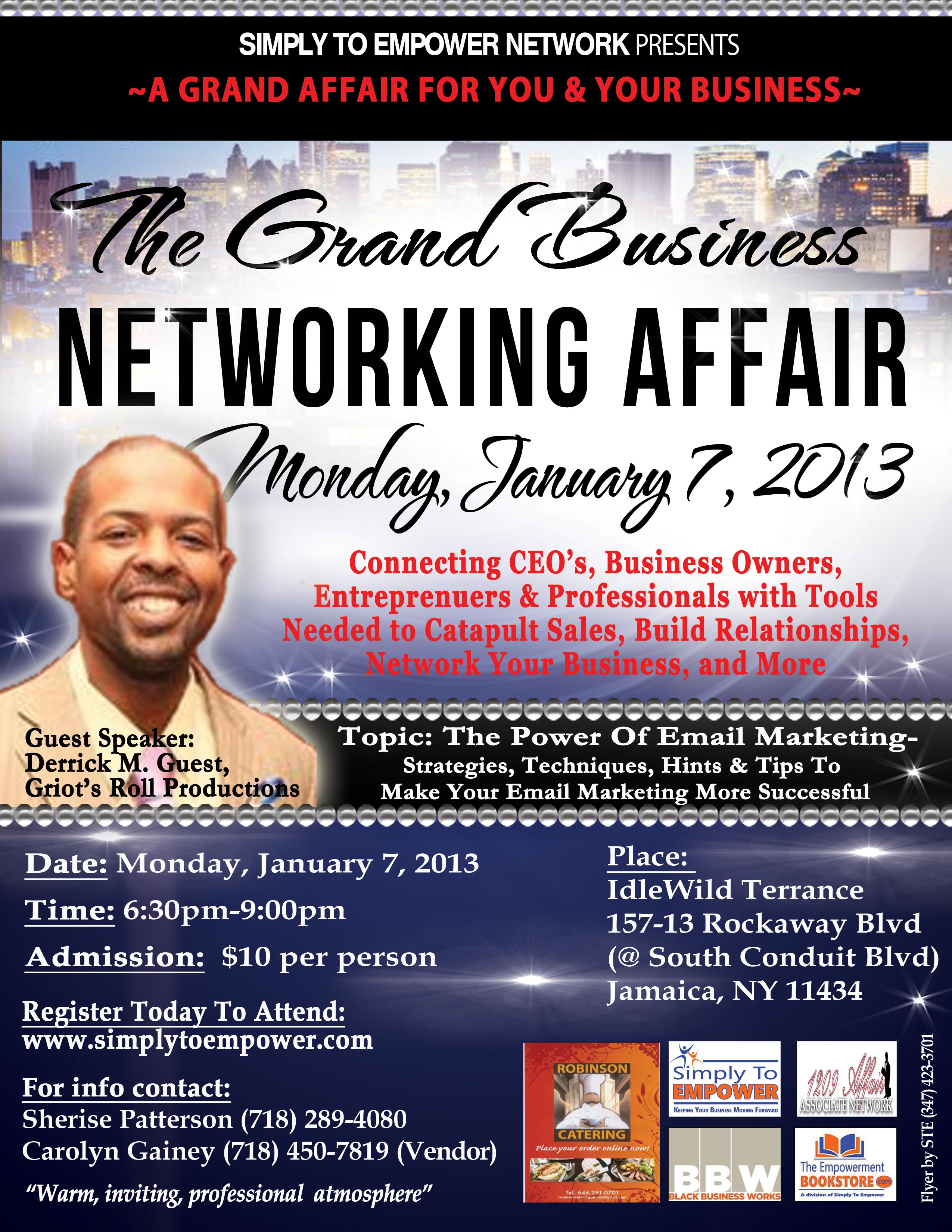 The GRAND Business Networking Affair guest speaker Derrick M. Guest, CEO of Griot's Roll

Film

Production & Services Inc. powerful message will enable you to walk away with valuable tools that can be applied to your business right away. Tools that will add value, and perhaps double your sales. Great for you, your sales team, and associates.
The Simply To Empower Network is a warm, inviting, and professional atmosphere offering GRAND monthly affairs that bring like-minded people together.
Testimonials:
"Every networking event takes you and your business to the next level.
Positive, friendly, productive environment"
Bonetta Lynch- Author & Founder, Destined for Greatness NY
"This was my second time being at this networking event. Great people are
here who are willing to network, collaborate, and grow both their business and yours!"
Craig Williams, Blu Midnight Event Services
"Amazing connections and relationship building exercises!"
D. Shakespeare-Turner
***********************
Details:

Date: Monday, January 7, 2013
Time: 6:30pm-9:00pm

Place:
Idlewild Terrace Inc.
157-13 Rockaway Blvd
Jamaica, NY 11434
Admission: $10 per person


*******************************
Vend With Us at the GRAND Business Networking Affair in Jan.-
http://www.simplytoempower.com/empowerment-vend-with-us-services.html
SPONSOR the January 2013 Grand Business Networking Affair,
Build Your Brand and Connect With Small Business Owners:
http://www.simplytoempower.com/sponsor-empowerment-event.html


Get your message in front of 3000 Website Visitors a Month, place a Print Ad, or Enhance Your Exposure at the January 2013 GRAND Business Networking Affair:
http://www.simplytoempower.com/empowerment-print-ad-services.html


Let's stay connected, join our email family to find out date, time,
and place of future GRAND Business Networking Affairs:
http://www.simplytoempower.com/lets-stay-connected.html
Do you need travel directions to locate the event venue?