Description
Hello All :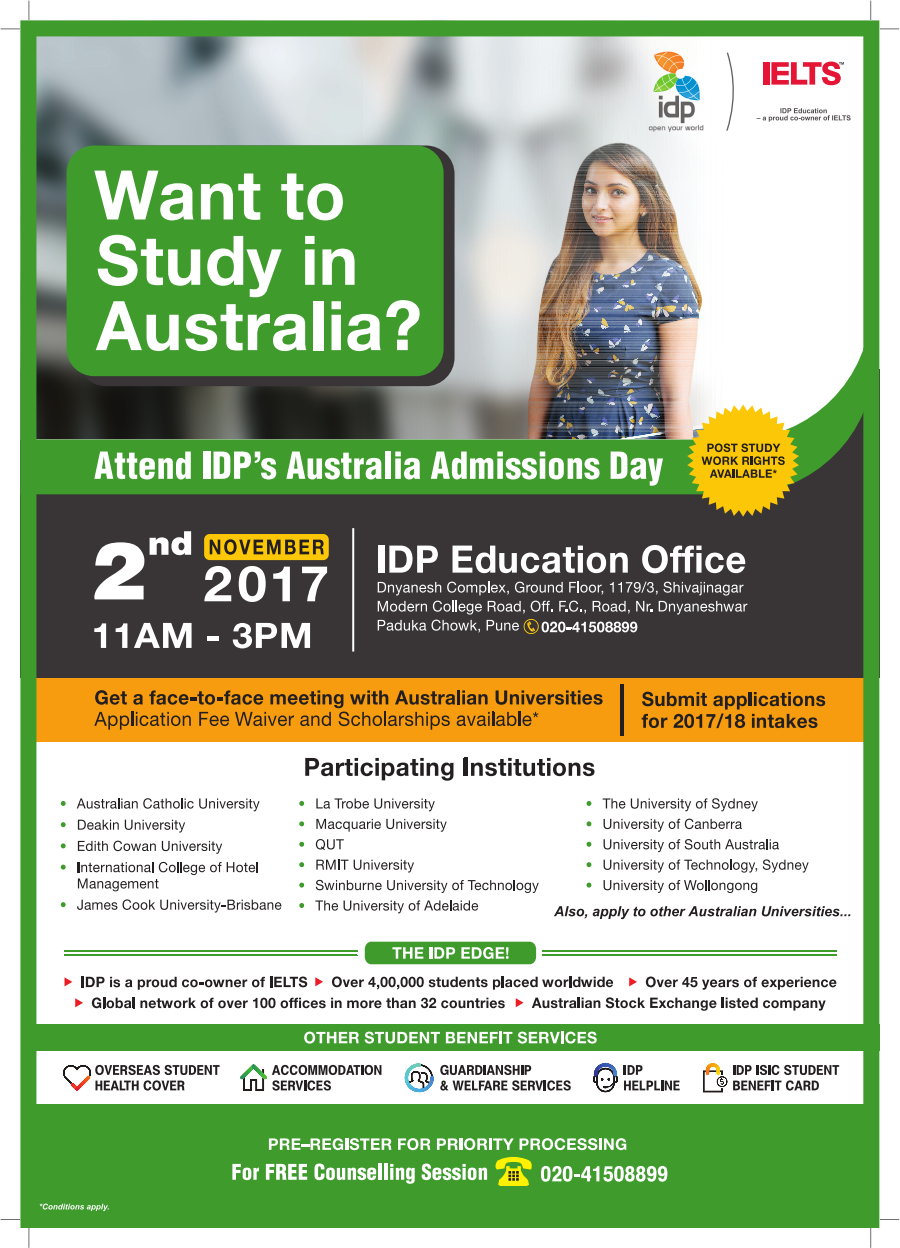 We would like to invite you, your last year students & Alumnus to come and attend Australia Admission Day organized by IDP India.
Date: Thursday , 2nd November 2017
Time: 11:00 am-3:00 pm
Venue: IDP Education India _Pune, Office No.1, Ground Floor and Mezzanine Floor, CTS No. 1179/3, Dnyanesh Complex 103, Shivajinagar, Pune, Maharashtra 411005
About the Education Fair
IDP's Education Fair is being organized across 15 cities in India .IDP seeks to provide an all-inclusive platform for students aspiring to study abroad to meet & interact with representatives from over 16 top universities from Australia like International College of Hotel Management ,The University of Sydney, etc.
It is a FREE platform for all students to gauge their prospects of studying in Australia apply directly to the institution of their choice and get firsthand information on courses, application fee waiver* , scholarships* etc.
Limited appointment ,For Free sign up for students please share below details to sandeep.patil@idp.com :
Student Name
Email address
Mobile
Qualification
Interested Destination
About IDP Education
IDP Education is the world's leading student placement company and proud co-owner of IELTS Examination - the world's leading English proficiency test along with the British Council and the University of Cambridge (ESOL Examinations). In India IDP has presence with 27 counselling centres across 24 cities. IDP is co-owned by 38 Australian universities.
IDP places one student every 20 minutes across the globe & is partner to over 200 universities worldwide.
We would be delighted to have the opportunity to meet with you & students at our upcoming event.
Best Regards
Sandeep M Patil
IDP Education India Pvt. Ltd.
Office No.1, Ground Floor, Dnyanesh Complex,
Modern Eng. College Road, Nr. Dnynaeshwar Paduka Chowk, Shivajinagar, Pune 411005 India.
Mobile : 8983087773
Phone: 91 020 44118888
Email: sandeep.patil@idp.com
LinkedIn Activity : https://goo.gl/rqrLbN
IDP India website: www.india.idp.com
IELTS India website: www.ieltsidpindia.com
IDP co-owns IELTS – the world's leading English proficiency test
*Condition apply
Date and Time
Location
IDP Education India Pvt Ltd
Dnyanesh Complex 103
Ground Floor and Mezzanine Floor, CTS No. 1179/3, Shivajinagar, Pune, Maharashtra
pune, Maharashtra 411005
India