ATTEND - 2018 3rd ANNUAL MARITIMES NATURAL HAIR & BEAUTY SHOW
Description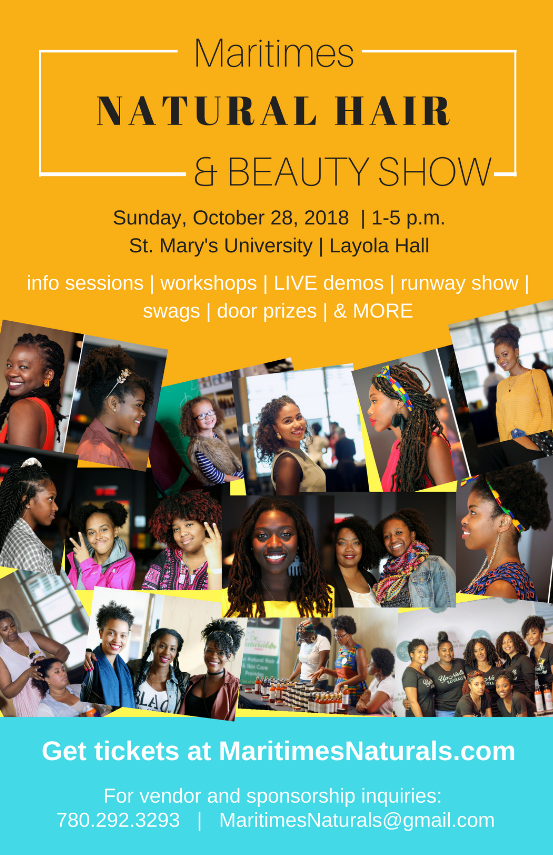 The Maritimes Natural Hair & Beauty Show (MNHBS) inspires people of all ages to embrace their natural hair as part of what makes them uniquely beautiful.
MNHBS builds and strengthens the natural hair community in Halifax, Dartmouth, and surrounding areas through events and activities. We collaborate with local businesses and individuals in the industry, such as natural hair specialists, salons, hair stylists, and natural hair bloggers and DIY-ers to bring you the show.
The event provides an enjoyable atmosphere where anyone interested in natural hair can:
Connect and share ideas, tips, and advice with like-minded people.
Get hands-on knowledge through DIY workshops, hair demonstrations, and information sessions.
Engage in meaningful panel discussions about natural hair.
Get a swag bag with natural hair and beauty products. (Swag bags will be given on a first come first serve basis.)

Buy natural hair products, fashion, accessories, and other goodies.
Enjoy local talents (singers, spoken word artists, dancers, and fashion show models).
Be a part of a community that encourages positive body image (from hair to toe).
Everyone is welcome regardless of your background or the type of hair on your head.