AT&T: Free "Intro to 360 Video and Virtual Reality" workshops, May 2 & 3, LA - afternoon & evening sessions

Tuesday, May 2, 2017 at 12:00 PM (PDT)
Event Details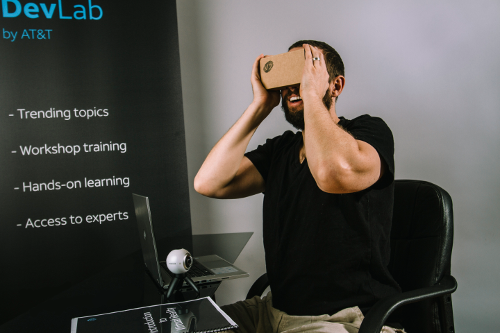 See why over 4,000 people have attended AT&T Workshops!
You must register to attend the workshop.
360 video and virtual reality are two of the hottest topics in entertainment right now, and what better way to get an overview of them than a free, 3-hour, hands-on AT&T workshop. Whether you are involved in filmmaking or video content creation, are a developer that wants to know about VR, or are just curious to know more about immersive 360-degree worlds, then this intro is for you!
These workshops are designed to be hands-on, with the instructor showing you the steps needed to take a 360 image and transform it so that you can view it with a VR headset. Then we will give you time to do this yourself by following the step-by-step instructions in the lab book we give you while experts walk around to help anyone that is having problems. We'll also give you a cardboard VR viewer so you can look at your results, then it's yours to keep.
To do the labs you will need to bring either a Windows or Mac laptop. 
The workshop will explain the types of 360 experiences, whether virtual or not, and how they differ from regular video. We will then give you an overview of the equipment and techniques needed to capture 360 video. 
The hands-on labs will cover 1) adding interactive elements to a 360 image, 2) distribution of a 360 video, and 3) using the Unity platform to create a simple VR application with drag-and-drop elements.
When you walk out of the workshop you will understand the elements and the workflow needed to create a virtual world yourself.
Put on by AT&T and NextGen Interactions, the 3-hour, hands-on Intro to 360 Video and Virtual Reality workshop is free, but attendance is limited so register soon. We will provide snacks.
In Lab 3, the instructor will walk through how to add interactivity to a 360 image in Unity. Attendees will have the option to do the lab on their own laptops or to just observe the instructor as he steps through the lab. If you want to do the full lab yourself, you will be required to install Unity PRIOR to arriving for the workshop. Instructions are at the bottom of this page.
WE ARE HOLDING 4 IDENTICAL SESSIONS, so choose the one that works best for you. Since we expect to fill all of the workshops we ask that you only register for one session.
AFTERNOON: Tuesday, May 2 
Registration: 12 – 1
Workshop: 1 – 4 
EVENING: Tuesday, May 2
Registration: 5 - 6
Workshop: 6 - 9 
AFTERNOON: Wednesday, May 3
Registration: 12 – 1
Workshop: 1 – 4 
EVENING: Wednesday, May 3
Registration: 5 - 6
Workshop: 6 - 9 
Join the AT&T Los Angeles Tech & Entertainment - Workshops & Competitions meetup or the OC Coding Tech & Entertainment - Workshops & Competitions meetup to stay up to date on future AT&T events.
Venue

Join us at AT&T's DirecTV campus.
AT&T DirecTV - The Conference Center in LA5
2260 E. Imperial Hwy


El Segundo

, 

CA

 90245
PARKING: if you are planning to go to the AT&T 360/VR Workshop then you should park in the P1 parking structure, which is the visitor's parking lot. It is free whereas the other parking decks will cost and we are not able to reimburse attendees.
Previous AT&T Los Angeles Workshop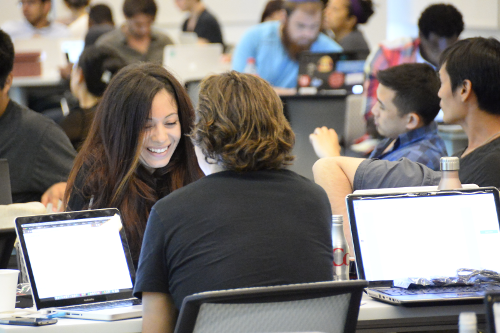 Installing Unity
We will not be walking through the Unity installation during the workshop.  Unity install is entirely OPTIONAL and only required if you want to repeat the instructor steps during the lab. It must be done PRIOR to the workshop if you want to do the lab.
If you wish to just observe the instructor, then you do not need to install Unity.
To install Unity, go to this link: https://unity3d.com/get-unity/download/archive

Look for Unity 5.5.2. To the right of Unity 5.5.2, click on the dropdown menu for Downloads (Win). Then click Unity Installer.
Doing this will redirect you to a download link, click Save File.

Once the download is complete, go to the download location and run the installer.
To do the lab in the lab exercise book, the minimal install is Unity and Standard Assets.  Installing other components is at your discretion and may significantly increase install space required and time to install.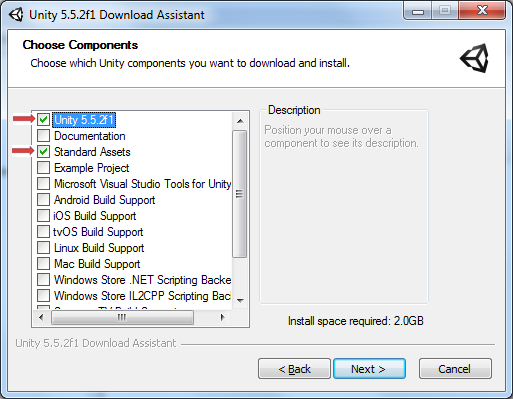 Follow the instructions it gives until completed.
When & Where

AT&T DirecTV - The Conference Center in LA5
2260 E. Imperial Hwy
El Segundo, CA 90245


Tuesday, May 2, 2017 at 12:00 PM (PDT)
Add to my calendar
Organizer
AT&T Developer Program 2017
AT&T hosts both developer and creator competitions, as well as workshops.  Please join us at one of our free events listed here.  The full event agendas are in the Eventbrite description.  Also, check out the AT&T Developer Program for more information about our platforms.  See you soon!
AT&T: Free "Intro to 360 Video and Virtual Reality" workshops, May 2 & 3, LA - afternoon & evening sessions