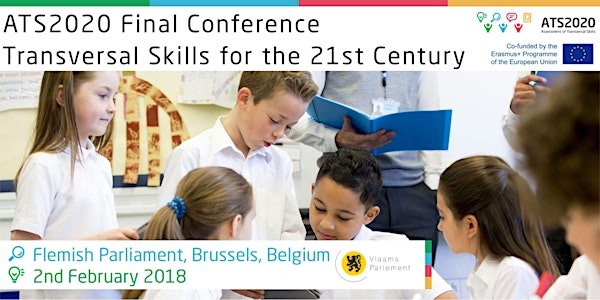 ATS2020 Final Conference - Transversal Skills for the 21st Century
When and where
Location
Vlaams Parlement - De Loketten IJzerenkruisstraat 99 1000 Bruxelles Belgium
Description
The ATS2020 consortium and GO! CVO Antwerpen are pleased to invite you to the ATS2020 final conference: Transversal Skills for the 21st Century
Watch the conference live: http://www.ats2020.eu/live-stream
Be inspired by the ATS2020 learning model supporting the development of student transversal skills for the 21st century and listen to presentations from leading speakers in the field of education in the 21st century. Learn about new approaches and innovative tools to foster the development and assessment of these skills during practical workshops and meet teachers involved in the ATS2020 pilot implementation in 10 European countries.
---
8:30 - 9:30 Registration
9:30 - 9:55 Opening Remarks: Danielle Van Ast, General Director of GO! Scholengroep Antwerpen and Conference Opening: Prof. Costas Kadis, Minister for Education, Cyprus
9:55 - 10:15 Introducing the ATS2020 Learning Model: a Process and a Product: Anastasia Economou, ATS2020 Project Co-Ordinator, Head of Educational Technology Department at Cyprus Pedagogical Institute
10:15 - 11:00 Key Note Address: Know Thyself: ePortfolios and Reflective Stories of Deep Learning: Dr. Helen Barrett, retired from University of Alaska, Anchorage. Awarded EIFEL Lifetime Achievement Award for her contribution to ePortfolio research and development.
11:00 -11:15 Stories from Pilot Implementation Schools: Borut Čampelj, Secretary at the Ministry of Education, Science and Sport, Republic of Slovenia
11:15 - 11:35 Coffee break
11:35 - 12:00 Capacity Building for Digital Age Learning and Transversal Skills: Digital Competence Frameworks for Learners, Educators and Educational Organisations: Dr. Yves Punie, European Commission – DG JRC – Directorate Innovation and Growth
12:00 - 12:15 ATS2020: An Insight into the Project Evaluation Findings: Dr. Plamen Mirazchiyski of Educational Research Institute, Slovenia and Dr. Yiasemina Karagiorgi of Centre for Educational Research and Evaluation, Cyprus
12:15 - 12:45 What Does "Being Digital in Learning" Mean?: Prof. Deirdre Butler, DCU Institute of Education, Dublin City University, Ireland
12:45 - 13:45 Lunch and Guided Tours of ATS2020 School Showcases
13:45 - 15:05 Parallel Workshops
15:10 - 15:50 Panel Discussion: ATS2020 and its Impact on Policy and Practice, facilitated by Dr. Lieve Van den Brande, Directorate General Employment, Social Affairs and Inclusion, European Commission
15:50 - 16:00 ATS2020 Policy Recommendations: Anastasia Economou, ATS2020 Project Co-ordinator, Head of Educational Technology Department at Cyprus Pedagogical Institute
16:00 - 16:10 Closing Remarks: Ruben Plees, Department of Education, Flanders
16:10 Reception
---
Parallel Workshops
Workshop 1: ePortfolios: Pedagogical Contexts and Choosing an ePortfolio Platform.
Workshop 2: Using Digital Tools in the Classroom.
Workshop 3: The ATS2020 Model: Guidance for Practitioners and Policy Makers.
Workshop 4: Using Reflection to Support Student Learning.
Workshop 5: Using ePortfolios to Support Formative Assessment.
Workshop 6: ePortfolios in Practice: Designing Learning Cycles and Supporting Assessment.
Workshop 7: The ATS2020 Model and ATS2020 Toolkit: a Step by Step Guide on how to Implement ATS2020
Workshop 8: Using Non-Digital Tools in the Classroom.
Workshop 9: Guided Tours of International Showcases.
For more information on the conference programme, speakers and workshops please visit the conference website at http://www.ats2020.eu/final-conference