Description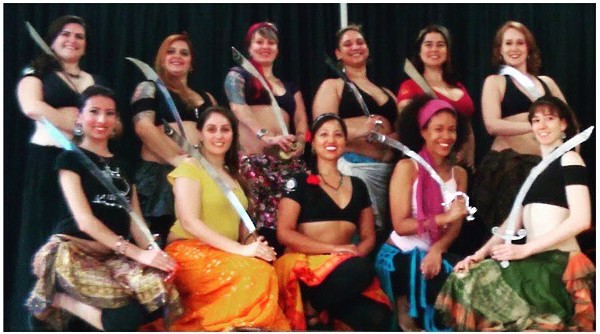 What is it that is so enticing about dancing with a sword? Mystery, danger, thrills, and SKILLZ. Yes, skills with a 'z'! Let's take our love for ATS®, and our intrigue with swords, and unite them together to develop our skills in performing improvisational sword for ATS®. The focus of this workshop is to empower you to smoothly present ATS® in a small space, while balancing a sword on your head, and wearing zils... just like you've seen in those Old School FCBD® videos! You will be in formation, and what you learn here will also strengthen your solo or group stage game as well.
Minimum requirements: (Level 1.5+) For intermediate to advanced students/teachers. Strong knowledge of the Classic ATS® steps, and the flock of birds concept.
What to wear and bring:
Your usual ATS® class wear outfit (choli & skirt, or yoga/gym outfit--essentially, clothes you can move in)


Zills
Sword (or a friend who has a sword so you can share)

Ballet-flat dance shoes or socks (unless you want to dance barefoot)

Appropriate sword-balancing headgear: Non-slip scarf with bobby pins, assuit headband, or turban

A full water bottle

A willingness to experience joy and connection


Please note: Pre-registration is required for this workshop if you want to use a CC, as I am only able to accept cash on the day-of.
Additionally, a portion of the proceeds will go towards supporting the OACC, and I will be donating some of my personal earnings from this workshop to charities that support civil liberties for all (and like-minded causes).


American Tribal Style® with Kelsey is a great fit for you if:
You'd like to learn practical ATS® tips, tricks, and techniques that have been passed down directly from Carolena and other FCBD® teachers you know and love

You're looking for exercise that is fun!

You thrive in community or are craving community

You wanna shake shake shake it!

You want to connect with and trust your body more

You'd like to be challenged in a new way

You have something primal and powerful within you wanting to be expressed