Sales Have Ended
Ticket sales have ended
Walk-In Registration begins at 0730 at ATS-2018.
Sales Have Ended
Ticket sales have ended
Walk-In Registration begins at 0730 at ATS-2018.
Description


AIAA Rocky Mountain Chapter Annual Technical Symposium
---
The Annual Technical Symposium, brings together the regional leaders, technical experts, and academia in the aerospace and aeronautics industry. ATS is a forum to help shape the future of the industry, a place for people in all stages of their career to gather, network, and collaborate. It is a place to learn a new process, gather inspiration, and make the connection to turn that inspiration into reality. Submit your abstract today! HERE
We are pleased to announce our luncheon keynote, Salvatore T. "Tory" Bruno.


Tory Bruno is the president and Chief Executive Officer for United Launch Alliance (ULA). Bruno serves as the principal strategic leader of the organization and oversees all business management and operations.
Prior to joining ULA, he served as the vice president and general manager of Lockheed Martin Strategic and Missile Defense Systems. The business is a leading provider of ballistic missile and ballistic missile defense systems, supporting U.S. Department of Defense customers, as well as the U.K. Royal Navy and Ministry of Defence. Programs included the Navy's Trident II D5 Fleet Ballistic Missile (FBM), the Air Force's Intercontinental Ballistic Missile (ICBM) Reentry Systems, and the Missile Defense Agency's Terminal High Area Altitude Defense (THAAD), Targets and Countermeasures and CommonExoatmospheric Kill Vehicle (EKV) Concept Definition. He also managed the corporation's responsibilities in Atomic Weapons Establishment (AWE) Management Limited, a joint venture that produces and safely maintains the U.K.'s nuclear weapons. He is a former member of the board of directors of Lockheed Martin U.K. Ltd.
Bruno has been invited to be a member of the National Space Council Users' Advisory Group chaired by Vice President Pence. In addition, he is an American Institute of Aeronautics and Astronautics (AIAA) Fellow, a companion of the Naval Order of the United States, a member of the Navy League and a former member of the Board of Directors of the Silicon Valley Leadership Group. He served on the National Blue Ribbon Panel for Bettering Engineering & Science Education and as Chairman of the Diversity Council of Lockheed Martin Space Systems.
He is the author of two books that explore the organization of the medieval Knights Templar from the perspective of modern business management: "Templar Organization: The Management of Warrior Monasticism" and "Templar Incorporated." He is a recipient of the Order of Merit of the Sovereign Military Order of the Temple of Jerusalem.

This day-long symposium is in its seventh year and will be held on Monday, October 29th at the University of Colorado, South Denver.
SYMPOSIUM AGENDA:
---
SYMPOSIUM AGENDA
7:30 AM – 8:00 AM:
Bear Atrium – Exhibitor and Attendee Check In
8:00 AM – 9:00 AM:
Great Hall – A Welcome, a Breakfast, and Panel 1: Space and Global Security
Welcoming Remarks
Jay Lindell, Major General (Ret), USAF
Jay Lindell is a retired Air Force major general and is currently serving as the Aerospace and Defense Industry Champion, Colorado Office of Economic Development and International Trade. In this role, Jay promotes aerospace and defense industry economic development for Colorado. He has been in his current position since November 2013.
Maj Gen Lindell is a 1978 graduate of the Air Force Academy and went on to serve over 33 years in the Air Force retiring 1 January 2012. His graduate education includes a Master's Degree in Public Administration from Troy University and numerous professional military and executive education programs.
Panel: The Role of Space in Global Security
moderated by Shane Deichman, Teledyne Brown Engineering, Inc
Panelists:
Panelist Bios coming soon
9:00 AM –10:00 AM:
Bear Atrium – Exhibitor Market Place
Breakout Room 1 – Unmanned Aircraft Systems Presentations
Presentation 1

Presentation 2

Presentation 3

Breakout Room 2 – Advanced Manufacturing Presentations

Presentation 1

Presentation 2

Presentation 3
10:00 AM – 11:00 AM:
Great Hall – Panel 2: Commercialization of Space
Moderated by Brian Gulliver, Kimley Horn
Panelists:
Dr. Adam Dissel, President – Reaction Engines Inc.
Adam heads the US-based subsidiary of Reaction Engines, Reaction Engines Inc. located in Castle Rock, Colorado. For the past two year, Adam has led the expansion of the company's development efforts with the US government and potential industry partners.
Adam has over 15 years' experience in the design of advanced hypersonic and launch vehicle systems with particular emphasis in the improvement of system affordability, responsiveness, and reusability.
Adam was previously System Architect for Responsive Space at Lockheed Martin Space Systems in Colorado. He holds a PhD and master's degree in Aerospace Engineering from the University of Maryland and a bachelor's degree in Mechanical Engineering from Utah State University.
Kevin J. Clinton, Program Manager, Gateway Power and Propulsion Element (PPE), Sierra Nevada Corporation
Kevin Clinton leads development and program execution for the first element of NASA's Lunar Gateway. He was the Program Manager for the NextSTEP PPE study, which SNC successfully completed in April 2018, and is responsible for the continued development of a flexible lunar spacecraft to meet a broad set of of commercial and government objectives. Kevin previously served as the Director of Systems Engineering for Dream Chaser, a commercial space plane designed to take cargo and crew to the International Space Station and other desinations in LEO. He led development of launch vehicle systems and control centers, as well as vehicle subsystems for the Dream Chaser flight test at Edwards AFB.
Prior to SNC, Kevin held engineering and management roles at NASA's Kennedy Space Center (KSC). His most recent assignment was as NASA's Lead for Nuclear Launch Approval, where he was responsible for hardware development and analysis, operations planning, incident response, and interagency coordination of launch activities for NASA missions involving nuclear power sources. He was appointed to the executive staff of the KSC Center Director, and also worked as an electromagnetics engineer on NASA's flagship robotic exploration missions.
Kevin holds a BS in Electrical Engineering from the University of Detroit, a MS in Electrical Engineering from Stanford University, and a Certificate in Entrepreneurship from the Stanford Graduate School of Business. He was awarded the Kennedy Graduate Fellowship and the NASA Superior Performance Award for his service to the Agency.
More Panelists to come!!
11:00 AM -12:00 PM
Bear Atrium – Exhibitor Market Place
Breakout Room 1 – Aeronautics Presentations
Presentation 1

Presentation 2

Presentation 3

Breakout Room 2 – Astronautics Presentations

Presentation 1

Presentation 2

Presentation 3
12:00 PM – 1:00 PM:
Great Hall – Luncheon Keynote, Tory Bruno President & CEO, United Launch Alliance
1:00 PM – 2:00 PM:
Bear Atrium – Poster Presentations and Exhibitor Market Place
2:00 PM – 3:00 PM:
Great Hall – Panel 3: Space Weather
Moderated by Edgar Johansson, LASP
Panelist bios coming soon!
3:00 PM –4:00 PM:
Great Hall – Afternoon Keynote Presentation (TBA)
4:00 PM – 5:00 PM:
Art Gallery – Sponsor Recognition Reception
SPECIAL THANK YOU TO OUR SPONSORS: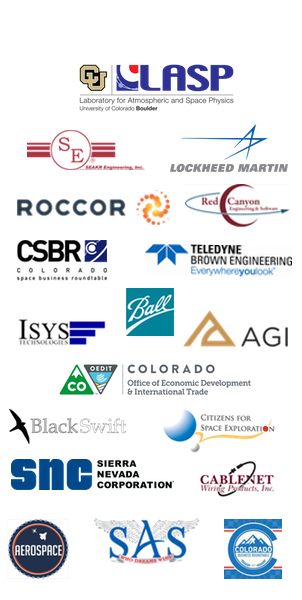 For more information contact: ats2018@aiaa-rm.org