Sales Have Ended
Registrations are closed
Please check your inbox (including spam/junk mail) one day before the event for the Zoom link. Thank you and looking forward to having you at our Atomy Singapore Learning Conference! 请在活动前一天检查您的收件箱(包括垃圾邮件/垃圾邮件)以获取 Zoom 链接。感谢您并期待您参加我们的艾多美新加坡学习研讨会!
Sales Have Ended
Registrations are closed
Please check your inbox (including spam/junk mail) one day before the event for the Zoom link. Thank you and looking forward to having you at our Atomy Singapore Learning Conference! 请在活动前一天检查您的收件箱(包括垃圾邮件/垃圾邮件)以获取 Zoom 链接。感谢您并期待您参加我们的艾多美新加坡学习研讨会!
Join us for a day of learning with our Leaders from all over the world!
About this event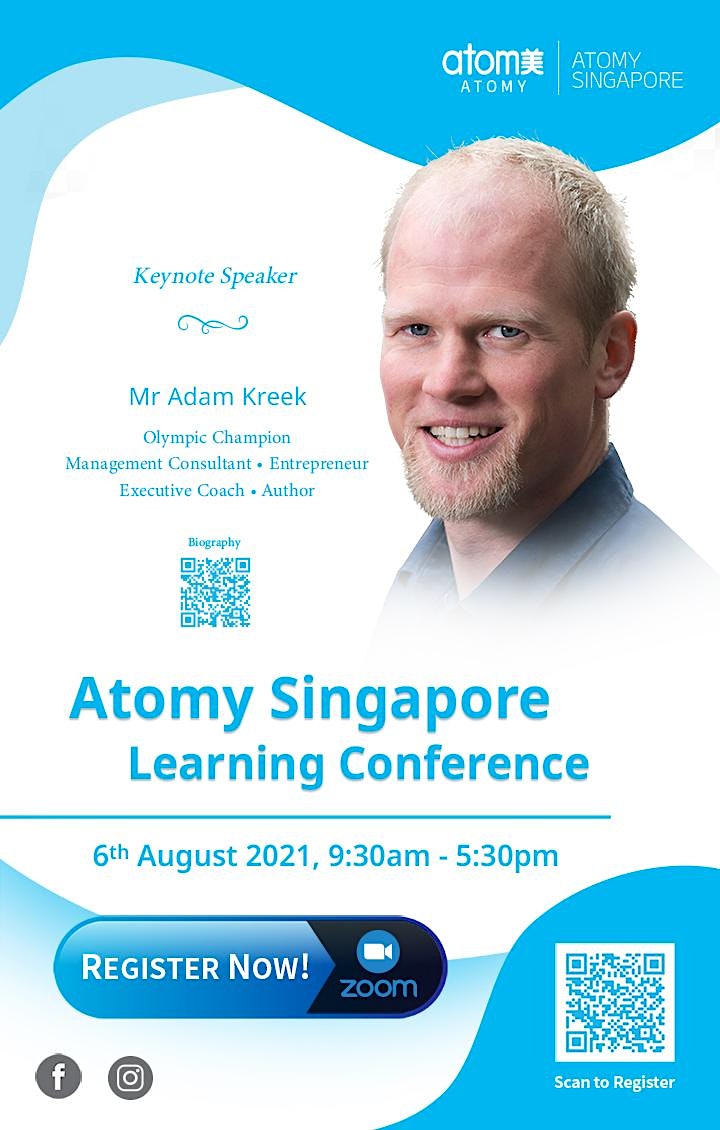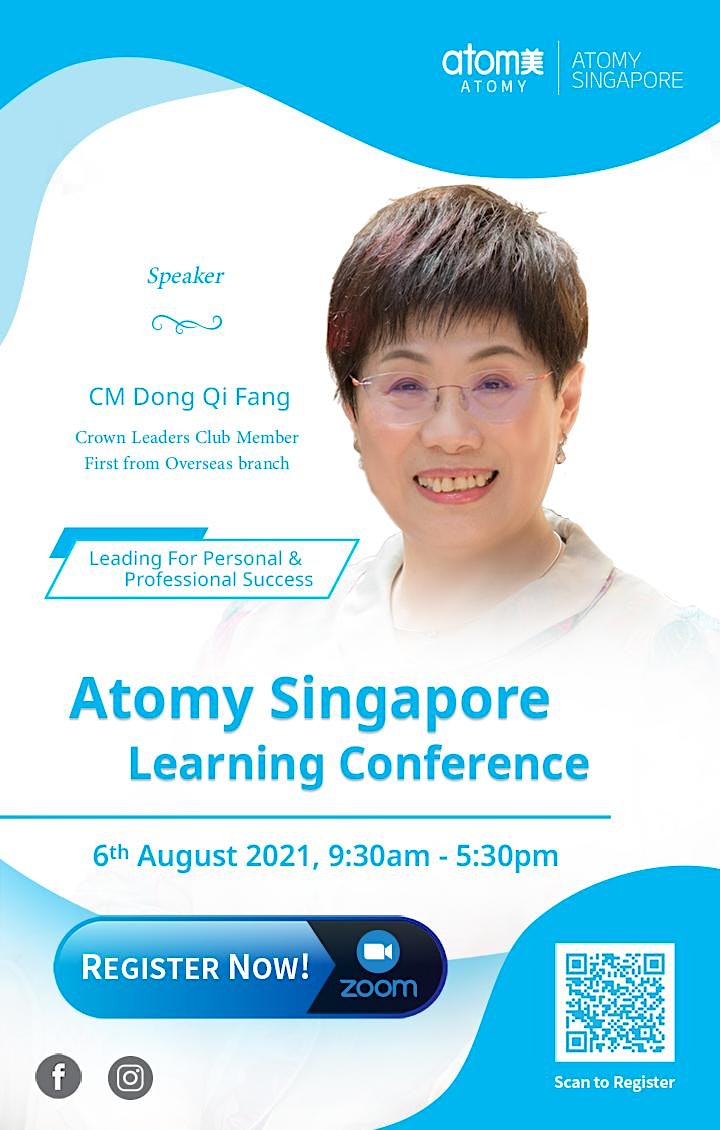 We are excited to announce that our Atomy Singapore Learning Conference will be happening next month!
Our keynote speaker will be Olympic Champion, Adam Kreek. He is two-time Olympian having competed in the 2004 Athens Olympic Games and winning the gold medal in rowing at the 2008 Beijing Olympics. He has won six world cup gold medals and more than 60 international medals.
We have also invited our Taiwan Crown Master Dong Qi Fang to share more on "Leading for Personal and Professional Success".
More global Atomy speakers will be announced via our website.
Here are the details:
Date: 6 August 2021, Friday
Time: 9.30am to 5.30pm
Venue: Online Zoom
Translation will be provided for the conference.
Click here to find out more about our Keynote Speaker, Adam Kreek.
Stay tuned for more details and speakers line-up!
------
我们很高兴宣布我们的艾多美新加坡学习研讨会议将于下个月举行!
我们的主讲者将是奥运冠军 Adam Kreek。他是两届奥运选手,曾参加 2004 年雅典奥运会,并在 2008 年北京奥运会上获得赛艇金牌。他曾获得六枚世界杯金牌和60多枚国际奖牌
我们也邀请了台湾王冠大师董綺芳 来分享 《引领个人与职业成功》。
更多全球艾多美演讲者将通过我们的网站公布。
日期:2021年8月6日,星期五
时间:上午 9.30 至下午 5.30
地点:线上Zoom会议
我们将会提供普通话翻译。请邀请伙伴,家人和朋友们来参加!