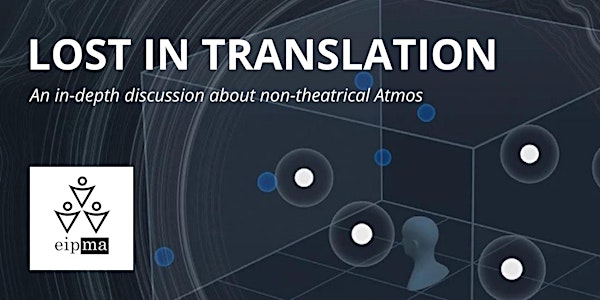 Atmos Music - Translation from Studio to Consumer
What did the manufacturers envision and what kind of gear do you need to listen to it at home?
About this event
Lost in Translation
An in-depth discussion about non-theatrical Atmos
Presented by EIPMA
Webinar 2 – Atmos Music - Translation from Studio to Consumer
Moderator: Andrew Scheps
Saturday, October 1, 2022
10:00 a.m. - 12:00 p.m. PDT
What exactly is Dolby Atmos Music and how is it different than stereo? How does the immersive sound format translate into the home environment? What did the manufacturers envision and what kind of gear do you need to listen to it at home?
Moderator:
Andrew Scheps — Andrew Scheps has engineered and mixed some of the biggest rock bands ever, from Kaleo, Green Day, Red Hot Chili Peppers, and Metallica to U2. Among others he's worked with are legends Johnny Cash and Iggy Pop, country artists Zac Brown Band and Natalie Maines, and indie artists from Manu Chao to My Brightest Diamond and Low Roar. Andrew has received three GRAMMY Awards for his work with Adele, the Chili Peppers and Ziggy Marley, and has garnered more than 20 GRAMMY nominations overall. Since setting up his mixing studio with a 9.1.4 PMC rig, Andrew has mixed Dolby Atmos projects for, among others, Hozier, The Black Keys, The 1975 and Shinedown.
Panelists:
Richard Chycki is a multi-platinum mixer and engineer whose clients include Rush, Aerosmith, Dream Theater, Mick Jagger, Alice Cooper, Pink and many more. Known for his pioneering work in multi-channel audio, prog icons Rush entrusted Richard with remixing much of their catalog in 5.1 surround, including the multi-million selling 2112, their career pinnacle Moving Pictures, and A Farewell to Kings. He also mixed Moving Pictures in Dolby Atmos as well as releases for Evanescence and The Tragically Hip. Although known for his immersive work with rock acts, other genres have caught word, most notably for his projects with P. Diddy, Tyrese, Shaggy, and Sean Paul.
Steve Genewick is a three-time GRAMMY nominee and the recipient of a Pensado Award for Best Recording Engineer. At his original home base, the Capitol Records Studios in Los Angeles, he worked with countless artists from Elton John, Diana Krall, Neil Young and Quincy Jones to Paul McCarney, Trisha Yearwood and Bastille. Steve was also among the first studio engineers to begin mixing in Dolby Atmos, working with artists from Beck and Gregory Porter to LL Cool J. More recent Dolby Atmos Music mixes by Steve include recordings by Aerosmith, Miles Davis, Jhene Aiko, Public Enemy, Norah Jones, REM and many more.
Ann Mincieli is a renowned engineer, mixer, collaborator, and album project manager for Alicia Keys. She's also worked with some of music's other biggest acts, from Mariah Carey to Jay-Z. A three-time GRAMMY winner—most recently in 2022 for Best Immersive Audio Album—she's the owner of the prestigious Jungle City Studios in New York City. The versatility of Ann's talents seamlessly bridge the creative, technical, business and strategic sides of the music industry. Notably, she and Keys were two of the original founders of the She is the Music (SITM) initiative. Powered by creators, publishers, record labels, talent agencies, industry groups, media companies and streaming services, SITM's goal is to create change for women and build an equal future for music.
Jimmy (The Senator) Douglass's wide ranging and long running career of engineering, producing, and mixing is unparalleled. His hard work and immense talent keep him in demand, and he's accrued 11 GRAMMY nominations and four GRAMMY Awards. The artists he's worked with range from Timbaland, Missy Elliott, Justin Timberlake, Foreigner, Bjork, Roxy Music, the Rolling Stones, Aretha Franklin and Grimes to Jay-Z, AC/DC, Snoop Dog and Kanye. His recent Dolby Atmos Music projects include Justin Timberlake's entire catalog, and projects for Calvin Harris, Dua Lipa, Willow Smith, Chaka Khan, Slave, Q and D-Train.
EIPMA is proud to produce this much-needed discussion on the state of Immersive Sound for the home consumer. Much has been discussed about theatrical releases, but there hasn't been a lot of conversation about non-theatrical Atmos, from home theatres to sound bars and single units that distribute sound around a room.
Previously for films, mixing and playback were accomplished in controlled environments. In this new era of audio, we work with files that will be decoded by numerous technologies. Post-production is now encountering the challenges that music has faced for decades, from listening on multiple speaker systems, to grabbing a cassette and running out to the car to listen. Must we now build secondary mix rooms that reflect sound off the ceiling and walls? What about phantom center? How do we hear how our work translates to the vast array of technologies that consumers now use?
This series will span five sessions. We'll cover mix rooms that support consumer technologies, how the music industry is adapting, and how music and post-production are coming together. We'll also cover post-production and how that differs from Atmos theatrical. Our fourth session will be about how designing and preparing for Atmos in the editorial world differs creatively, and what can be done on a non-theatrical budget.
Our final panel will encompass what we've learned from this series, the challenges that face us, and solutions we have in common. We're learning together! Let's dig in!This webinar series will begin September 17th, 10am to 12 noon Pacific Time and consist of five sessions between September 17 and November 5.