ATL/SE Insights Association - Market Research Panel & Networking
Description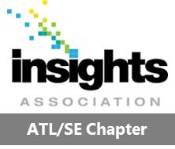 Join us for this great opportunity to network and have fun with Charlotte-area research and insights professionals and Insights Association Chapter Members from across the southeast. This FREE event will include drinks, hors d'oeuvres, and an interactive panel discussion on:
Journey Mapping Careers in Marketing Research
Journey Mapping is all the rage in research and insights these days. We thought, "what would it be like if we turned the attention on MR professionals, themselves, and had them describe their own career journeys as members of our industry's community?"
We have assembled an esteemed panel of speakers that will describe the various stages that they have experienced on their journeys, and share some of the life lessons they have learned along the way.
Our panel will consist of:
Brooks Deaton: Senior Director, Consumer Insights at NASCAR

Brett Townsend: Head of North America Insights at Electrolux

Erin Patel: Shopper Insights Manager at Clorox

Ted Pulsifer: Partner at Market Cube

Jill Miller: Director of Enterprise Strategy at Lowe's Home Improvement

…plus other speakers to be announced
The panel discussion will be moderated by:
Paul Rubenstein, PhD: President, CEO at Accelerant Research
A special THANK YOU to our Presenting Sponsors Accelerant Reserach and Market Cube who made this event possible!
Date and Time
Location
Industry Co-Working inside the NC Music Factory
1000 NC Music Factory Blvd
Charlotte, NC 28206