Description
INSIRATIONAL YOGA RETREAT
You are tired and burned out?
You need to reconnect with nature's energy?
You want to get a hold on better nutrition & better health?
You need to exercise, resource and find your inner self?
JOIN US FOR A ONE WEEK ESCAPE FROM THE WORLD!
PRICES: shared triple room 1 138€, shared double room 1 200€, single room 1350€
INCLUDED IN THE PRICE:

- BEAUTIFUL AUTHENTIC MOROCCAN LODGE
- 3 HEALTHY MEALS A DAY, FRUITS & TEAS
- TWICE A DAY YOGA SEANCES WITH DAILY WORKSHOPS, TEACHING, MEDITATION & COACHING
- SWIMMING POOL, HAMMAM, OUTDOOR TERRASSES
- TRANSFERS AIRPORT
NOT INCLUDED:
- FLIGHT TICKET
- TREKKINGS AND EXCURSIONS
- MASSAGES AND AYURVEDIC TREATMENTS
- ALL EXTRA FOOD AND BEVERAGE
- ALL PERSONAL PURCHASES
Take a Break and Be Inspired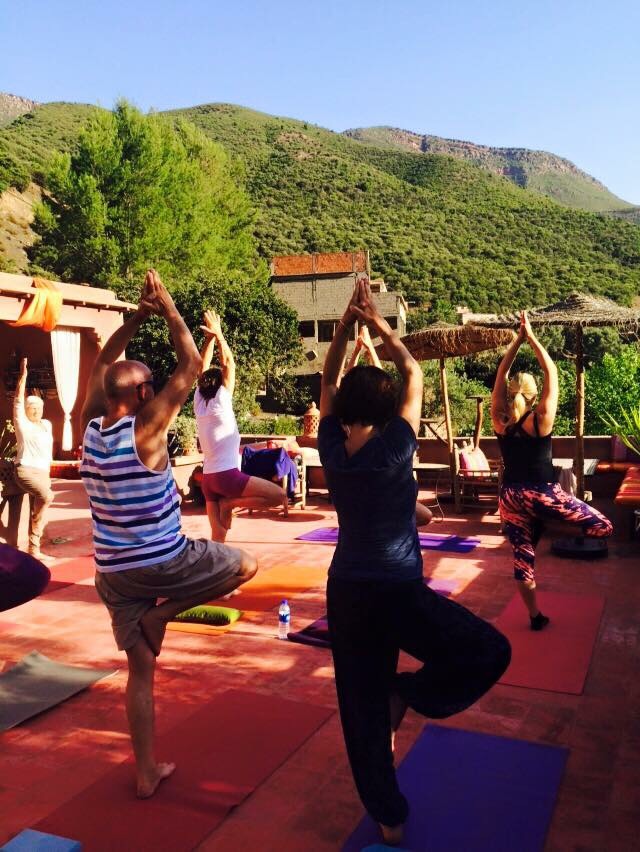 In the heart of the Ourika Valley in Morocco, you will enjoy calm, nature, peace and wellness in order to make space for inspiration

When you are taken from the turmoil of your daily life, you are able to find inspiration for yourself

Only one hour away from Marrakech, you wil be immersed in a haven of peace.
With daily yoga, Pranayama and Meditation, as well as your own excursions, you will come back relaxed, rejuvenated and full of beautiful images to feed your inspiration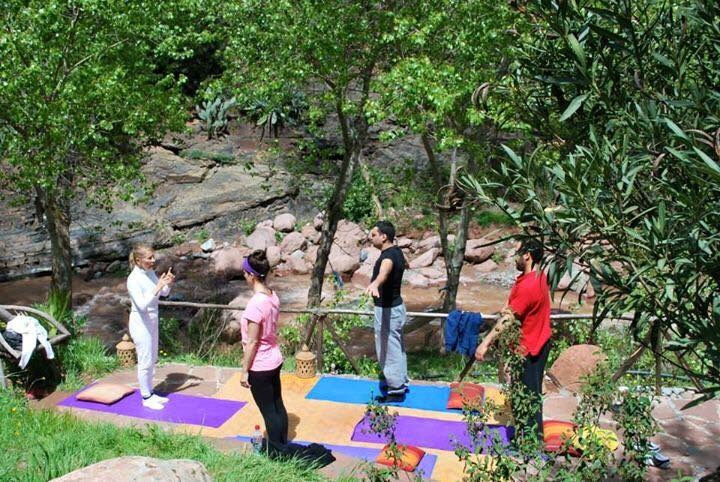 The mornings will begin by practice of Asanas and Pranayama immersed in the exquisite nature surrounding us at Salama Ayurveda
The rest of the day you will be free to enjoy this beautiful place, have a Ayurvedic massage or treatment, join our organised excursions : day trekkings to surrounding sites (see suggestions below) and a visit to Marrakech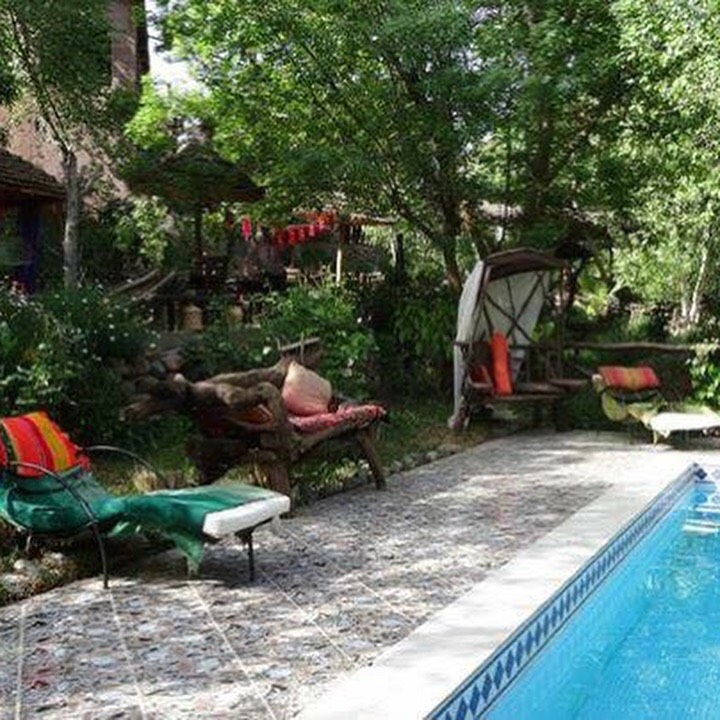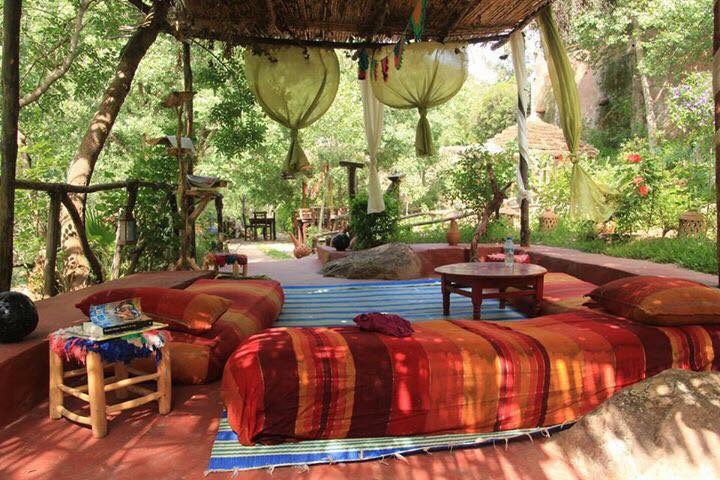 The late afternoon yoga class will focus on breaking down some specific postures, working on more restorative practice, Pranayama, meditation and chanting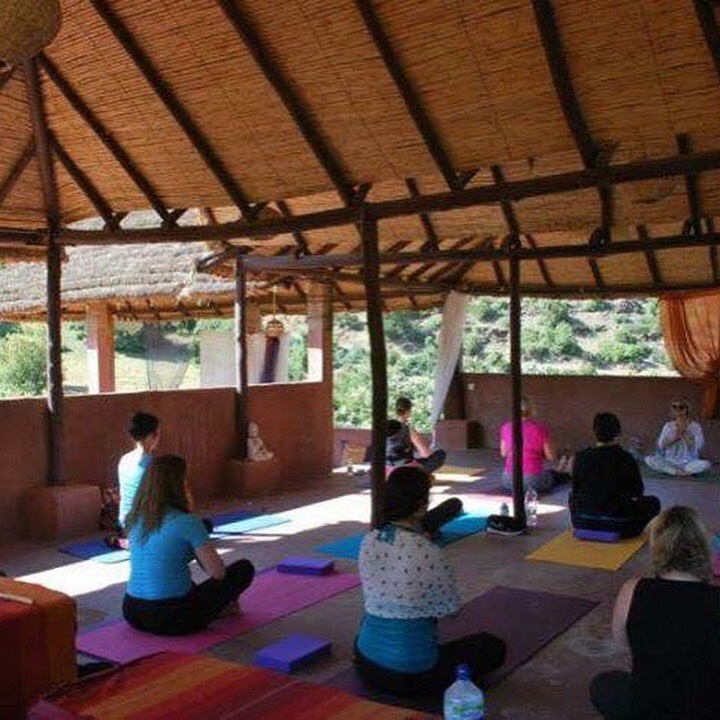 Yoga Retreat Program:
Sat May 5th:
Travel and arrival at Salama Ayurveda, welcome dinner
Sun 6th:

2 hr. morning session, 2 hr. evening session, organisation of the week
Mon 7th:
2 hr. morning session, (Excursion), 2 hr. evening session
Tues 8th:

2 hr. morning session, 2 hr. evening session
Wed 09th:

1h Morning Pranayama and Meditation,

(Excursion), 2,5 hours evening Session
Thurs 10th:
2 hr. morning session, 2 hr. evening session
Fri 11th:

2,5hr. morning session followed by breakfast & check out
The final excursion program and scheduling are open to minor modifications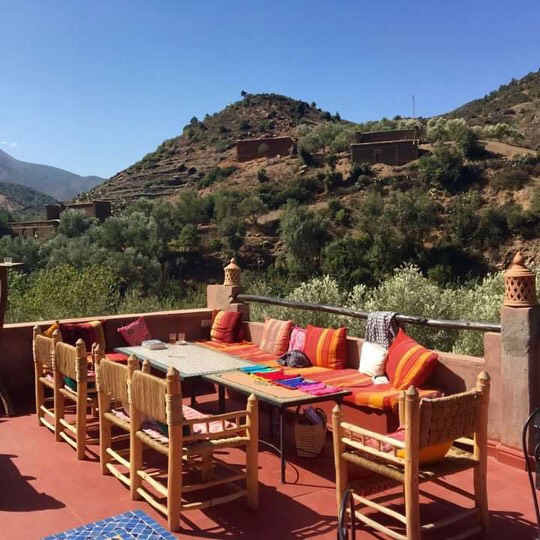 RETAINER for retreat is 350€ which can be Paid to EVENTBRITE or contact Rebecca for Wire transfer information.
The remainder of your balance due must be paid by check or wire transfer directly to Stephanie Sayegh, not EVENTBRITE. We will get these details to you after your reservation.
The RETAINER is used to reserve the lodge AND IT IS NOT REFUNDABLE.
Have questions? CONTACT : rebecca.luxmore@yahoo.com or +33 640 969 465

*1138€ is the Price for Triple room
Double room : 1200€
Single room : 1350€
What are the transportation options and are airport transfers included?
You must purchase your airline tickets to Marrakech or Casablanca.
Airport transfer is included, we will pick you up at the airport and take you back for departure.
Transportation to all other sites will be your optional choice as an excursion.
What should I bring to the retreat ?
We recommend light comfortable clothing as well as some warmer clothing for the evenings. We will stay extremely casual, so bring your feel good clothes, that's what's important here.
If you are planning to do some hiking, remember your high tops, hat, cantine and any other outdoor equipment necessary.
Sunscreen, yes definitely!