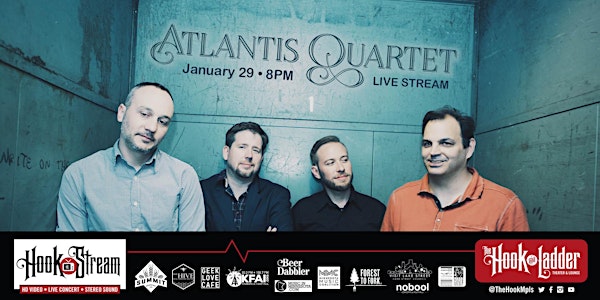 Atlantis Quartet - Live Studio Audience
Summit Brewing, City Pages, KFAI, The Beer Dabbler & Nobool Presents
Location
The Hook and Ladder Theater
3010 Minnehaha Ave
Minneapolis, MN 55406
Atlantis Quartet - Live Studio Audience
About this event
LIVE STUDIO AUDIENCE - TABLES
Join us for this intimate in studio performance. There are a VERY limited number of Live Studio Audience spots available for each HookStream. We have 12 spots (6 tables or 4% of our capacity) available in the MPLS Summit Lounge for safe viewing of these concert productions.
The money raised goes directly to supporting the production of these HookStreams and ensures the success of the fundraiser.
2 Tickets (1 Table) = $80
Atlantis Quartet
Friday, January 29
Doors 7:15pm ::Seated by 7:45pm :: Live Stream at 8pm
If you would like to still join us for the online stream the info is below.
-----------
Live Stream from The Hook and Ladder Theater
Show at 8pm:: $20
BUY LIVE STREAM TICKET -> https://www.crowdcast.io/e/atlantis-quartet
—-
Formed in 2006, Atlantis Quartet is at the forefront of the twin cities modern jazz scene, having toured the Midwest and East Coast while releasing five albums to critical acclaim. JazzTimes' Bill Milkowski calls the band "startlingly original" and both the City Pages and Star Tribune have named them Best Twin Cities Jazz Artist (2011, 2012). In 2015, the group was awarded the McKnight Fellowship for Performing Musicians. Featuring four of Minnesota's most exciting improvisors and composers, saxophonist Brandon Wozniak, guitarist Zacc Harris, bassist Chris Bates, and drummer Pete Hennig, Atlantis Quartet is a band whose music "defies labels" (MPR).
—-
"Twin Cities jazz renegades shift nimbly from a punk-jazz aesthetic to an ECM-ish sensitivity. Startlingly original stuff." – Bill Milkowski, JazzTimes Magazine
—-
"Rocked up, serene, hard-swinging, and avant leaning, with lots to savor and no missteps." – Tom Surowicz, Star Tribune
—-
Thank you to our partners: Summit Brewing, The Hive Realty, KFAI 90.3/106.7, The Beer Dabbler, MN Music Coalition, Music in Minnesota, Geek Love Cafe, Forest To Fork, Nobool Presents, Lake Street Council, & MN State Arts Board
COVID Safety
If you have any covid symptoms stay home!
Arrive early to allow time to get into the Theater.
Wear a mask to your table, seat, bathroom, bar and respect others space.
Tables are spaced 6 feet apart.
Table service is available to order drinks and snacks.
Enjoy The Show!
The health and safety of our guests, artists, and staff is our top priority. We are monitoring the situation closely and will continue to follow the guidance and recommendations of the Minnesota Department of Health. Thank you! 
You are solely responsible for assessing and implementing the appropriate safety and security measures for yourself.  Your participation in safe practices is required.  Continued violation of social distancing and unsafe practices may cause you to be asked to leave the event.  
What's expected of attendees:
The World Health Organization, Center for Disease Control and the Minnesota Department of Health all have resources and guidelines available to understand the risks of attending events.  Your understanding of this information provided by the above mentioned agencies is your responsibility.
We require that attendees self-certify that they do not have symptoms, have not been diagnosed with or had direct contact with a known or suspected COVID-19 case in the past 14 days, and will comply with the event's safety policies and procedures including wearing face covering, physical distancing, and other determined requirements. Violation of policies will cause removal from the event.
Waiver:
By purchasing a ticket and or attending the event automatically begins the Assumption of the Risk and Waiver of Liability Relating to Coronavirus/COVID-19.
Assumption of the Risk and Waiver of Liability:
The novel coronavirus, COVID-19, has been declared a worldwide pandemic by the World Health Organization. COVID-19 is extremely contagious and is believed to spread mainly from person-to-person contact. As a result, federal, state, and local governments along with health agencies recommend social distancing and have, in many locations, prohibited the congregation of groups of people. The Hook and Ladder Theater has put in place preventative measures to reduce the spread of COVID-19; however, we cannot guarantee that you will not become infected with COVID-19. Further, attending events could increase your risk of contracting COVID-19.
As our guest you will agree to the following assumption of risk and waiver of liability: "By purchasing a ticket, I acknowledge the contagious nature of COVID-19 and voluntarily assume the risk of being exposed to or infected by COVID-19 by attending events and that such exposure or infection may result in personal injury, illness, permanent disability, and death. I understand that the risk of becoming exposed to or infected by COVID-19 at the event may result from the actions, omissions, or negligence of ticket holders and others, including, but not limited to, employees, volunteers, and program participants and their families. I voluntarily agree to assume all of the foregoing risks and accept sole responsibility for any injury to my guest(s) or myself (including, but not limited to, personal injury, disability, and death), illness, damage, loss, claim, liability, or expense, of any kind, that I or my guest(s) may experience or incur in connection with my guest's attendance at the event or participation in concert programming ("Claims"). On my behalf, and on behalf of my guest(s), I hereby release, covenant not to sue, discharge, and hold harmless The Hook and Ladder Theater, its employees, agents, and representatives, of and from the Claims, including all liabilities, claims, actions, damages, costs or expenses of any kind arising out of or relating thereto. I understand and agree that this release includes any Claims based on the actions, omissions, or negligence of the The Hook and Ladder Theater, its employees, agents, and representatives, whether a COVID-19 infection occurs before, during, or after participation in any event program."
To ensure the safety of our staff and guests, we are asking you to assess any symptoms you may have prior to attending the Event. Please review each symptom listed below and answer "yes" or "no" if this is a symptom that you or your guest(s) are experiencing and cannot attribute to another health condition. You must simply answer these questions for yourself.
Do you have:
* Fever or feeling feverish?
* Chills?
* A new cough?
* Shortness of breath?
* A new sore throat?
* New muscle aches?
* New headache?
* New loss of smell or taste?
If you answered "Yes" to any of the symptoms listed above, please contact us for options. Please send an email to tickets@thehookmpls.com or call us at 612-345-7166. We are looking forward to seeing you at the The Hook and Ladder Theater!