Description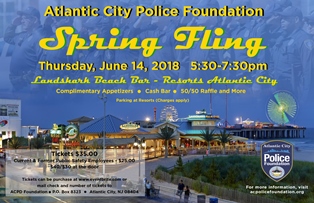 Please join the Atlantic City Police Foundation for its Second Annual Spring Fling Event benefitting the Atlantic City Police Department. While right on the world famous boardwalk on the beautiful Atlantic Ocean, the Landshark beach bar is covered and the fun will happen rain or shine between 5:30-7:30 p.m. on Thursday, June 14th. Complimentary appetizers. Cash bar with special Blue Line drink crafted especially for the Foundation. Parking available at Resorts (charges apply for parking). Chinese auction and more.
Tickets purchased in advance are $25 for current and former members of the public safety community and $35 for all others. Tickets will be available at the door for $30/$40.
You may also send a check for tickets to the Atlantic City Police Foundation, PO Box 8323, Atlantic City NJ 08404 noting your name, # of tickets and contact information.
The Foundation was established to improve public safety in Atlantic City by assisting the ACPD with programs, initiatives, training and equipment not feasible under the budget. Please help our men and women in blue who risk their lives to protect us.
See you at the beach!!!
Organizer of Atlantic City Police Foundation Spring Fling Event
The Atlantic City Police Foundation was established in 2014 by current and former police officers and community leaders to improve public safety in Atlantic City by assisting the City and the Atlantic City Police Department in funding worthwhile programs, initiatives, training and equipment that would otherwise not be feasible under the City budget.  During the short time the Atlantic City Police Foundation has been in existence, we have had a meaningful impact on the safety of Atlantic City Police officers through the purchase of 57 rifle resistant bulletproof vests designed to provide first responders protection against rifle rounds, vest mounted tourniquets for the SWAT team, 100 self-aid kits, acquired EpiPen's, acquired bicycles, bike equipment, uniforms and racks to support the ACPD's Park and Ride Program, helped equip the Police Surveillance Center with monitors, furnishings and necessary equipment, improved the Police Press Room, purchased a surveillance system for the PAL Building, purchased gym equipment for our officers, purchased an amplified speaker system to host outdoor movies with the community, purchased orthopedic beds for all current and retired ACPD K-9's, purchased two new K-9 dogs, provided 170 coats to Atlantic City children as part of the warm coats initiative, paid for the printing of the Atlantic City Merchants Guide and 2017 Annual ACPD report and continuously supported various community policing initiatives of the Police Department, PAL and the Police Explorers.