| | |
| --- | --- |
| ATLANTAs Super Epic & Lit HENNY & PAINT GLOW! | |
Event Details
Henny & Paint Inc has made it back to ATLANTA!
This is the BIGGEST Sip & Paint in New York City and now we bring our talents again  to ATL for one WILD Wknd.

 This is an exciting not so Average sip & Paint with a limited Hennessy Open Bar, Glow in the dark Painting, Henny Wings, Hennessy cupcakes & more. There will be celebrity Live DJs during the sessions, with multiple professional instructional artists. 

Super Lit Epic
Henny& Paint  GLOW! ATLANTA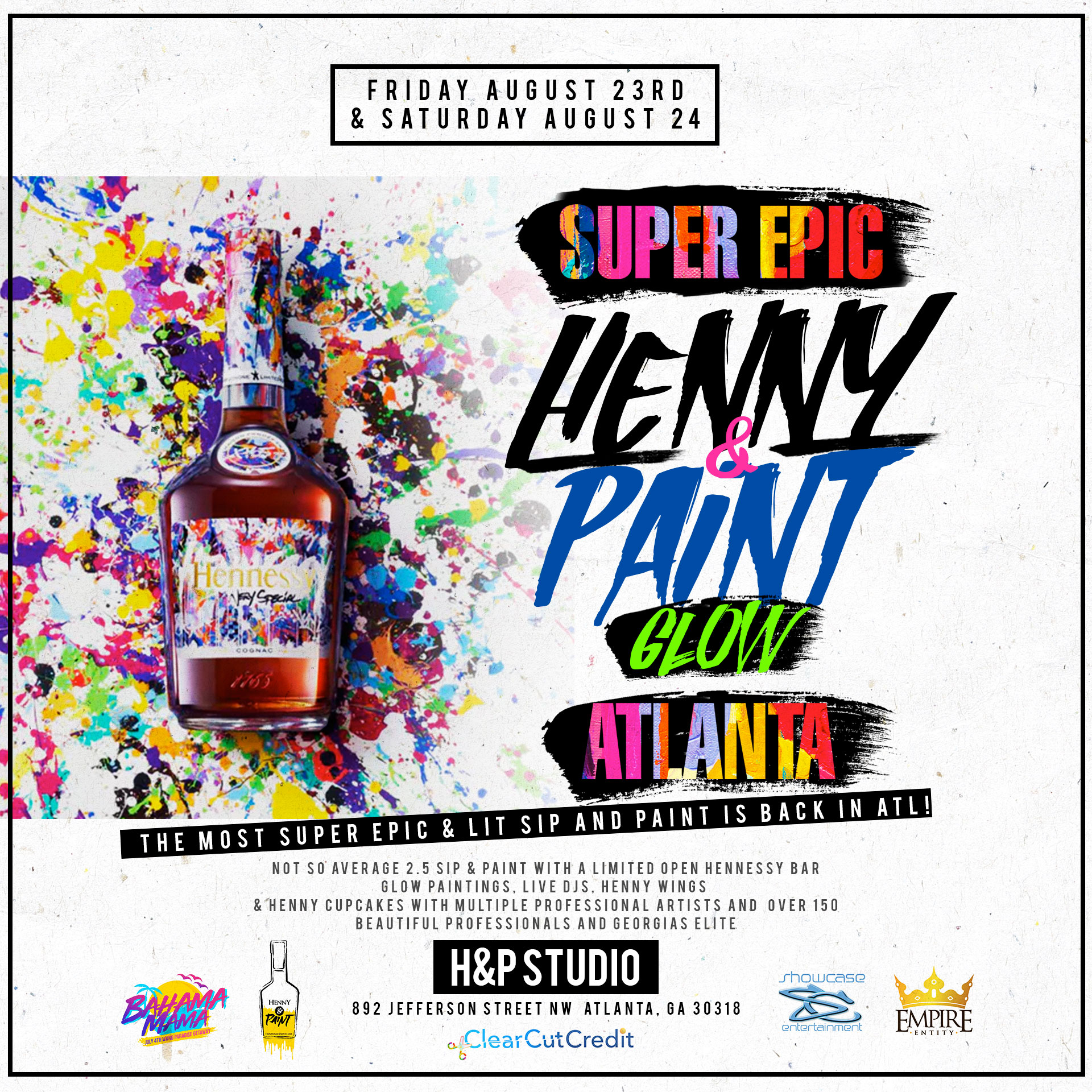 Friday August 23rd 2019
1 Session 8:00pm - 10:30pm
&
Saturday August 24th 2019
2 Sessions  6pm-8:30p, or 9:30p to 12am 
Join Over 200 beautiful people painting alongside you at H&P Studios  one of the most luxurious paint studios located in the heart of Westside Art District of Atlanta.

 ----  892 Jefferson Street ----
Atlanta, GA 30318
____________________________________


Enjoy Henny Shots, Henny Wings & Henny Cup Cakes 
All other Alcoholic  Beverages will be available for  Purchase on site 


Enjoy A Fun and Trendy 3 Hour Painting Class with multiple talented and Friendly Instructors(Paint, Easels & Canvas Included)  with complimentary Hennessey Cognac

Less Henny More Paint Package - $40  
Entry for 1, includes all painting materials &
a Signature Souvenir cup
Drinks not included but available for purchase

Henny n' Paint General Admission $50 
Entry for 1, Includes 2 Signature Hennessy Drinks
& Signature Souvenir cup, all Painting Materials 

Group Option: Buy 4 Henny n' Paint Packages Get 1 Free
Perfect Group Night out, Date Night or Epic Birthday Celebration

Henny Black n Paint Package - $80 
Entry for 1, includes 2 Henny Black Signature Drinks, Henny Cupcake
& Signature Souvenir cup & all Painting Materials

Deluxe Henny n' Paint General Admission $80 
Entry for 1, includes 4 Signature Hennessy Drinks, Henny Cupcake,
& Signature Souvenir Cup & all Painting Materials

Henny Black Bottle Package for 2 People - $150 
Entry for 2, Includes 1 Bottle of Hennessy Black (375ml), 2 Henny Cupcake,
& 2 Signature Souvenir Cups & all Painting Materials for 2 people

For more Info Call or Text 646-717-4430 |  646-942-3024 | 646-342-7419
or go to www.HennyandPaint.com
When & Where

H&P Studios
892 Jefferson Street
Atlanta, GA 30318


Organizer
You've heard alot about  our  fun and trendy Henny & Paint sessions held around Brooklyn, Manhattan, New Jersey and now ATLANTA. But have you ever experienced a Henny & Paint?
Every Thursday - Saturday this Summer 2019
in East Flatbush Brooklyn & UpperWestside Manhattan
Henny & Paint Inc is hosts a 2 Hour exciting and Not so Average sip & Paint with a inclusive limited Hennessy Open Bar & more. There is GREAT Music, Unlimited Vibes, Flowing Drinks & the occasional Turnup during the sessions and even a LIVE Celebrity DJs at times with multiple professional artists. 

Our Manhattan Location is home to a cozy intimate Loft  w/ Great Music & Vibes
on 400 West 145th St Lower Level ( btwn Convent & St Nicholas) 

Our Brooklyn Location is a bigger loft with a Live DJ in the heart of East Flatbush
located on 1637 Utica Ave ( Btwn Ave H & Avenue I). 


This is the perfect Group Night out, Date Night or Epic Birthday Celebration outside of the club that you were looking for. 

Brooklyn Times
Fridays 7pm & 10pm  | Saturdays 7pm & 10pm
Manhattan Times
Thursdays 8p-10p | Fridays 7pm & 10pm
Saturdays 4pm | 7pm | 10pm
_____________________________________________ 
Our Sold-out Paint Mixers are always a hit!


For more Info Call or Text 

646 342 7419

| 646-717-4430 
THis Event is Powered by #EmpireandShowcase and #HennyandPaint Inc