Sales Have Ended
Ticket sales have ended
Thank you for supporting the mission of The National Black Men's Health Network. Please purchase tickets at your local theaters to support Marvel's Black Panther movie. The festival will continue throughout the month of February which is Black History month at Metro Fun Center on Sundays. Please visit their website for details. https://atlantafamilyfuncenters.com/metro/
Sales Have Ended
Ticket sales have ended
Thank you for supporting the mission of The National Black Men's Health Network. Please purchase tickets at your local theaters to support Marvel's Black Panther movie. The festival will continue throughout the month of February which is Black History month at Metro Fun Center on Sundays. Please visit their website for details. https://atlantafamilyfuncenters.com/metro/
Description
"Atlanta's Black Panther Movie Festival" aims to empower the family during Black History Month!
Guest Speakers, Master Teachers, and STEAM (Science, Technology, Engineering Arts and Math) activities will be held on Monday, February 19, 2018, from 11 am - 5 pm at 250 Georgia Avenue, Atlanta, GA.
Register today and enjoy activities such as yoga, dancing, jewelry making and more with our distinguished guests. Each registered guest will receive one free pass to enjoy Metro Fun Center throughout the month of February on any Sunday through Thursday only.
KIDS DRONE ZONE (KDZ) serves as a Global resource for youth and adults to learn about all aspects of Drones and Unmanned Systems Technology. Their mission is preparing scholars to be CAREER READY in Unmanned Systems Technology. Kids learn to hang ten in the air in Drone STEAM After School, Camps. Science, Technology, Engineering, Aviation, and Math are used to add to the FUN!
Engineering For Kids® of Metro Atlanta is a non-profit 501(c)3 organization that brings the wonder and excitement of S.T.E.M. education (science, technology, engineering, mathematics) to children ages 4-14 through a variety of hands-on learning experiences. Create your own video game! Design a hot air balloon! Build rockets, roller coasters, and robots! All of this is possible with Engineering For Kids®! We offer classes, camps, parties, workshops, and more.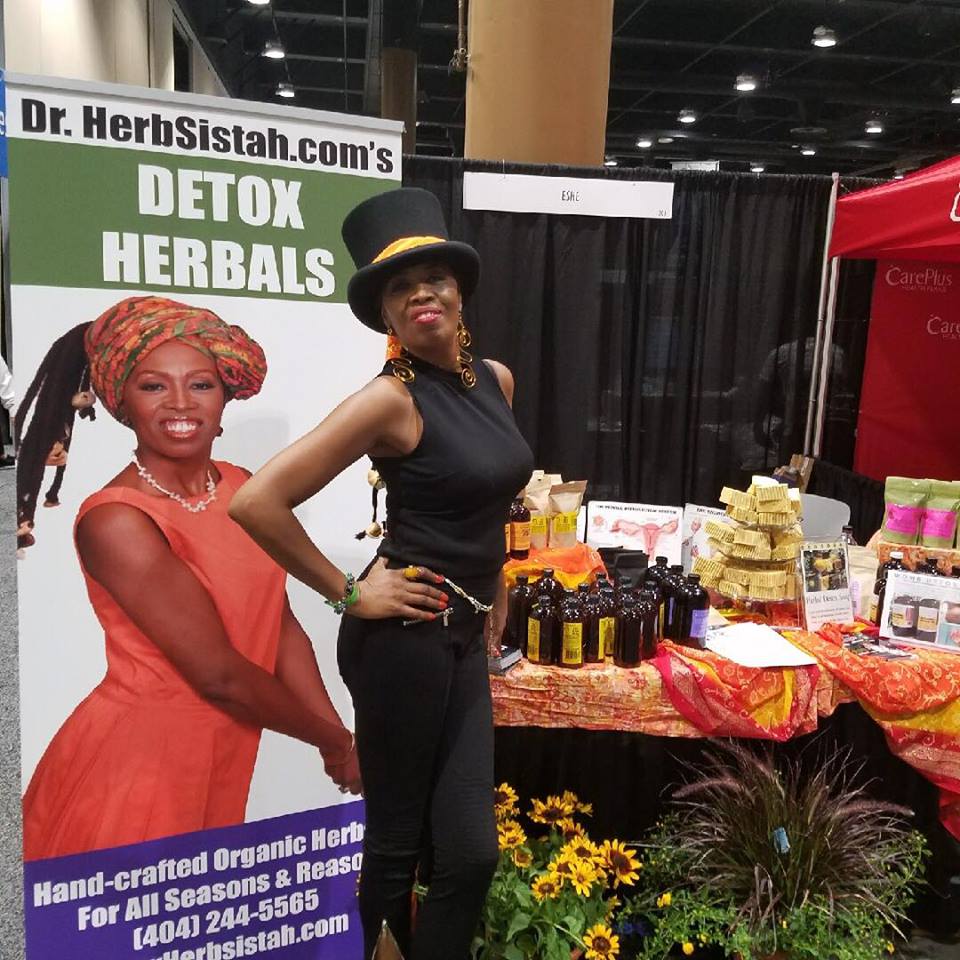 Dr. Eshe Faizah will join us at 12 noon! She is a Master Formulator, Master Herbalist, Organic Master Gardener, Wholistic Lifestyle Consultant, Creator and Mother of 4, has empowered people in taking control of their Natural gift of Health for over 25 years.
Dr. Eshe studied as an undergraduate at the University of California-Berkeley, honed her herbal interest at Dominion Herbal College and received her doctorate from the University of Sedona.
She has created a "WombLoveology" line of herbals that has created empowering, healthy womb lifestyles for thousands of Women. The incredible Womb Detox Tonic has helped Women to remove fibroids, cysts, BV and create babies where Women were told none would ever grow. http://herbsistah.com/
EZtransition offers web design and development of custom software. They provide website services with high quality and affordability for Solopreneurs and Small Businesses with prices starting at $39/mo. Contact Juanita Cato for a free consultation: juanita@eztransition.com
Wow That's Amazing Airstream offers mobile photo booth services on site for indoor and outdoor events. Thank you for setting the scene for our events. The chair was the coolest edition for our pre-screening. Please contact them for your upcoming events by visiting https://www.facebook.com/WTF-Airstream or calling 678-772-3700.
Isna Tianti is the Creative Executive Officer of ITS Unlimited LLC. She is a Motivational Activist and a 2x Published Author, Spoken Word/Visual, Jewelry Artist and ITS Ginger Tea Maker. Her mission is to create one of a kind jewelry, art, poetry, and nutritional tea.
www.followisnat.com Facebook: Isna Tianti Instagram: Istian.creations
Sikari Henry who owns KariJgraphics, is a young entrepreneur that does visual art. She is a graphic designer who does photography/Videography, Paint, digital art and tribal make-up. IG: karijgraphics https://www.facebook.com/KARIJGRAPHICS/
Ric Mathis is a 2017 recipient of former President Baraka Obama's Lifetime Achievement Award. He is also independent visual storyteller adept in areas of photojournalism and video production. As a former attendee of Fort Valley State University and alumnus of Georgia State University, he acquired an educational background in music management and marketing. His appreciation for the artistic craftsmanship of lyricists led to his first visual production entitled "Word", which featured The Last Poets, Cee-Lo Green, Sonya Sanchez, Amiri Baraka, and more.
Digital Business Card Ric.idsuite.me
HaziQ ALi is a serial entrepreneur and business coach specializing in revenue acceleration for black Owned businesses because he finds the mom & pop mentality most of them function under to be tragic. Once a victim of this mentality himself, Mr Ali used the same techniques he now teaches to go from bankrupt & homeless to generating millions of dollars with 5 different businesses he now runs, including Race Consulting (his coaching company) and Novae- a credit repair and hard money lending firm- both dedicated to increasing the life expectancy of black businesses worldwide. http://wearemillionaireminded.com/
Dr. Jean Bonhomme MD is a physician in the areas of Public Health, Preventive Medicine and Addiction Medicine and is President and co-founder of the organization.
The National Black Men's Health Network, Inc. (NBMHN) was founded in June 1987 to raise public awareness about high illness and death rates in the African-American community in general and among African-American males in particular.
Focus areas: AIDS education, the importance of involved fathers, veteran's issues, nonviolent conflict resolution, youth entrepreneurship in the African-American community, and tobacco use prevention and cessation.
The mission of the National Black Men's Health Network is to provide health education for the black community.
The National Black Men's Health Network addresses the health needs of both men and women, believing that the health of the entire community depends upon a positive balance between men and women. NBMHN.org
Kendrick Love Dance Company is led by Mr. Kendrick Love Sr. He offers 20 years of experience in teaching Contemporary, Jazz, Modern, and Ballet. He is a Teacher for Cobb County Schools and has a Bachelors in Therapeutic Recreation and experience teaching classes for males, children & adults and seniors.
His training has been influenced by various styles of dance including Katherine Dunham, Alvin Ailey and African dance.
We honor his student Ian Hopgood who transitioned on January 8, 2018. Mr. Love assisted with Ian meeting a real superhero Mr. Chadwick Boseman, our beloved Black Panther.
Mr. Kendrick continues to serve his students with love and compassion knowing that pain will come but you must breathe through and relax back into the flow of life. His motto is, "Let all your life be music, so just dance!"
Like his Facebook page: https://www.facebook.com/kendricklovedance/
Quy-Yuim Baba Yoga Bey - The African Godfather. Chairman of the Board for the National Black Men's Health Network. He is a Wellness practitioner for over 40 years teaching Yoga Qi-Gong, Tai-Chi instructor, and a community Activist. He spent six weeks at the Providence Baptist Church in Accra, Ghana West Africa offering community outreach and educational wellness. He is certified as a Qigong instructor of the Erie-Mei System of Tibet China and is a skilled master drummer who performed in the 1996 Olympic opening and closing ceremonies in Atlanta, GA. He will lead our libation ceremony today.
Contact him by visiting NBMHN.org
Jay White is a brick n mortar and click n order businessman rooted in black economic elevation. His commUNITY cafe and event space (640 West) is the business he uses as an economic launchpad for other dreamers and is the headquarters for his company Vision Cafe LLC that is the umbrella for Destiny Brands LLC (apparel, fragrance and soap line) His wine line (UNCOMMON), Nation Of Gentlemen Inc. (501c3), and Destiny Publishing LLC that umbrellas JayTheDreamer.com and houses his 10 books, 2 movies and manages his speaking engagements. For booking: book@JayTheDreamer.com https://www.640westatl.com/
Shavon Toombs is the creator of Reflective Soul Series an event that thrives to provide an awesome open mic experience. Enjoy a night of featured artists, spoken word, live music, art, comedy, and more! Free food and free parking! $12 cover! Fun times and great vibes guaranteed
IG: reflectivesoulseries Twitter: Reflectivesouls https://www.facebook.com/reflectivesoulseries/
Dondre Anderson is the owner of Symphony Chips which is the only black-owned Gourmet Seasoned Potato Chips in the World. We are also a family owned business that believes that every bite should be harmonious which is why we call our chips the Symphony.
Website: www.symphonychips.com Contact: info@symphonychips.com
Dee Cephas, President of BInfluenced is a not-for-profit organization whose mission is to turn interns into entrepreneurs, by assisting them with the skills, experience, mentoring, and financial assistance they need to turn their dreams into fruition. With the assistance of our multimedia interns, we have created a fresh new online platform, a more eclectic platform that speaks to today's creatives, millennials, influencers, and culture. Both our online platform and our live stream radio program on Hot Noize Radio each Thursday evening is dedicated to empowering the Black community by spotlighting all those in our communities who influence us all. https://bnfluenced.wixsite.com/binfluenced Email Address: bnfluenced@gmail.com IG: b.influenced
Fashion designer Kevin Mayes has worked on big movie and TV projects such as, including "Selma," "Keeping Up With the Joneses," "Devious Maids," "Being Mary Jane," the reboot of "Roots" and more Tyler Perry projects than he can remember. Mayes worked as the head tailor and says excitement about the costumes is something he hadn't seen before.
"It's the first time many people are seeing anything like this on screen, and they're loving it," says Mayes, who says early inspiration came from "Coming to America," the 1988 comedy starring Eddie Murphy, James Earl Jones and Madge Sinclair about African royalty who move to New York City.
"It's time for us to be recognized for who we are," he says. "When you see 'Black Panther,' you see what has always been inside of you. IG: thekevinmayes
Metro Fun Center is owned by Mr. Greg Alexander and we thank him for his support. Metro Fun Center is a 120,000 square foot mega entertainment complex that offers a myriad of fun activities for the whole family. We feature 38 lanes of bowling, a billiards area with a sports bar and a roller skating rink. We also feature Playland which includes an arcade with a redemption center, a laser tag arena with a party area and don't forget our inflatable bounce houses. Our newly renovated Metro Bar and Grill with its outdoor patio as well as our VIP Loft are ideal venues for your parties, fundraisers, corporate events, family reunions and much more. MetroFunCenter.com
Minister Server Tavares has spent over 25 years dedicated to the growth, development, and preservation of Hip-Hop culture. Since 1992, he has worked with Nation Time Syndicate, Inc.; a faith-based Hip Hop collective in Atlanta, GA. In 2003, he became a spiritual adviser for Hip Hop pioneer/icon KRS-One, where He was appointed to Lead Minister and National Organizer with the Temple of Hip Hop movement. He has served as a spiritual adviser with the Universal Zulu Nation, International Hip Hop Council, many individuals, and groups.
In 2005, Minister Server founded HIPHOP Ministries, Inc., a multi-faith ministry which uses the elements of Hip Hop culture to "enlighten, inspire and empower" people to live their divine purpose. The international Hip Hop community is anticipating the release of his first book, "Minister Server's 7 Suggestions for Spiritual Development", where he shares spiritual lessons, personal experiences and practical advice about living your divine purpose through a Hip-Hop lifestyle. https://www.facebook.com/minister.tavares
Join us on Monday, Feb. 19, 2018, from 11 am - 4:30 pm to enjoy! Freeze Cream is a new phenomenon. The Dairy-free, gluten-free, vegan-friendly coconut base frozen treat, they also make a milk base; that is prepared from scratch right before your eyes! http://www.freezecreamusa.com/
Susie Waver is owner of House of Suna. She will join us a Master Teacher for hand-made jewelry and one-of-a-kind treasures. Her passion is designing and customizing jewelry with an Ethnic flare. Contact her (404) 767-7672 https://www.instagram.com/houseofsuna/