Sales Have Ended
Registrations are closed
Thank you for registering to attend the 2021 Atlanta Veteran Entrepreneurship Forum hosted by Fiserv and the Warrior Alliance. Please share the event with your friends, family, and professional contacts! We look forward to seeing you virtually on Feb. 2nd!
Sales Have Ended
Registrations are closed
Thank you for registering to attend the 2021 Atlanta Veteran Entrepreneurship Forum hosted by Fiserv and the Warrior Alliance. Please share the event with your friends, family, and professional contacts! We look forward to seeing you virtually on Feb. 2nd!
The Importance of Veteran and Black-Owned Businesses
About this Event
The Importance of Veteran and Black-Owned Businesses
Small businesses are an integral part of the American economy and, Pre-Covid, they accounted for 48% of American jobs and over 43% of the GDP. Veteran and Black small business owners are especially vital because they bring differing backgrounds, unique perspectives, and diverse experiences to their business and to the community. When veteran and black entrepreneurs thrive, their success trickles down and positively impacts their community and the country as a whole. During this event, we will focus specifically on The Importance of Veteran and Black-Owned Businesses in Georgia.
Date/Time: February 2nd, 4-6 p.m. EST
1st hour – Full panel together on one platform/link
2nd hour – Each panel organization will have a breakout room to discuss a chosen topic
Moderators:
Olivia Garrison - The Warrior Alliance
Meg Hendricks - Fiserv
Panelists:
Bunker Labs - Valerie Lavin & Dean Bundschu
Village Market Atlanta - Lakeysha Hallmon
RCIE - Jay Bailey
Vets2Industry - Brian Arrington
Breakout Sessions:
Fiserv - Recruiting and hiring qualified candidates in a changing landscape
Village Market Atlanta - Turning an Idea and Skill into a Business
RCIE - Changing the Narrative for Minority Business Owners
Vets2Industry - Net worth of your Network
Bunker Labs – Leveraging the Entrepreneur Ecosystem
Speakers & Panelists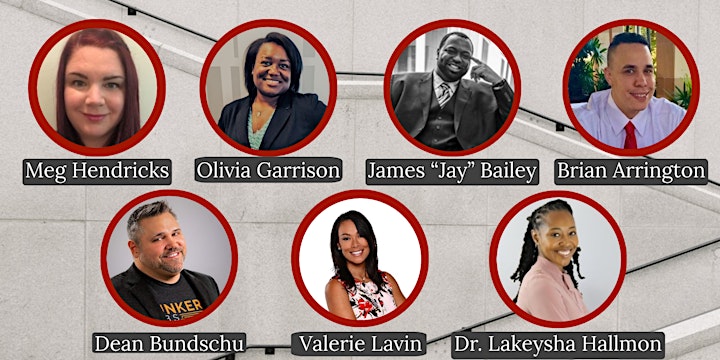 FISERV
Meg Hendricks - Senior Director, Head of Military and Veteran Affairs
For more than 12 years, Meg Hendricks has been honing her skills as a Human Resources professional. She launched her career serving as a Human Resources Officer in the U.S. Army. In 2012, she transitioned to the corporate sector and has had the pleasure of partnering with organizations in the manufacturing, financial services, and human capital management space.
Over the last five years, Meg has focused her expertise in Diversity & Inclusion and in Military recruitment and retention. This experience has included contributing to First Data and then Fiserv being ranked in the top five for the past four years on the Military Times Best for Vets list. Meg is currently a Senior Director and Head of Military & Veteran Affairs on Fiserv's Corporate Citizenship team.
Meg holds a master's degree in Industrial/Organizational Psychology from Northcentral University, a bachelor's degree in Psychology from The Colorado College, and the Professional Human Resources (PHR) certification.
Meg has a strong commitment to civic duty. As such, she was an active member of the Junior Woman's Club of Williamsburg (JWCW) from 2014-2020, volunteers regularly at a local foodbank, with The Mission Continues, and participates in additional local volunteer opportunities. Meg is married to a fellow Army Veteran, with whom she has one daughter.
THE WARRIOR ALLIANCE
Olivia Garrison, MPA - Senior Outreach Lead
Raised in an all-military family, Olivia Garrison brings eight years of experience facilitating collaborations of Metropolitan Atlanta-based Veteran Serving Organizations.
She began her service to others as an AmeriCorps Volunteer In Service To America (VISTA) alumnus in 2012 and is especially passionate about providing support for Veterans. Hired as the Service to Armed Forces Regional Program Manager for American Red Cross in 2013, she was tasked with facilitating a grass-roots effort, Community Blueprint, a volunteer, 39-member Veteran Service Organization group. This collaboration spawned partnerships with both Vetlanta and The Warrior Alliance in 2018.
She has a Bachelor of Science degree in Psychology and Masters in Public Administration degree from Troy University.
Russell Center for Innovation & Entrepreneurship (RCIE)
James "Jay" Bailey - President & CEO, H.J. Russell Center for Innovation & Entrepreneurship
Committed to living by his personal motto, "Build As We Climb", change agent, thought leader, entrepreneur and emerging philanthropist, James M. Bailey has dedicated his life to serving others.
James serves as President and CEO of the Russell Center for Innovation and Entrepreneurship (RCIE). Honoring the great legacy and visionary business leadership of Herman J. Russell, Sr., he will lead the development of the largest center in America, driven by impact, dedicated to empowering Black entrepreneurs and small business owners; over 50,000 square feet designed to inspire ideas, create jobs, grow companies, and increase wealth in the community.
An Atlanta native and die-hard Georgia Bulldog, James has a proven track record of success, recognized by 3 U.S. Presidents for his leadership and community efforts. In 2012, James was one of eight Americans honored at the White House as a "Champion of Change: Following in the Footsteps of Dr. Martin Luther King, Jr."
Dedicated to service, James is a National Point of Light Award and Presidential Lifetime Volunteer Service Award recipient. James has served on numerous boards including the Metro Atlanta and the Georgia Chamber Board of Directors, the Atlanta Beltline TAD Advisory Committee, a Georgia Forestry Foundation Trustee, and Chairman of Citizens Trust Bank's, Next Generation Advisory Board.
A graduate of Leadership Georgia, Leadership Atlanta, and the Regional Leadership Institute, James was also named to both the Atlanta Business Chronicle and Georgia Trend Magazine's "40 Under 40 Best and Brightest Leaders of the Future". He is a recipient of the coveted Whitney M. Young National Community Service Medallion, the Dr. Martin Luther King Jr. Drum Major for Service Award, a New Leaders Council Fellow, member of Alpha Phi Alpha and the 100 Black Men of Atlanta.
James and his wife, NBC news correspondent Blayne Alexander currently reside in East Atlanta.
VETS2INDUSTRY
Brian Arrington, USAF (ret), M.S. - CEO of Vets2Industry
Brian is CEO/Founder of VETS2INDUSTRY LLC, President/Founder of Vets2Industry Foundation Inc. and is a Business Initiatives Consultant with Wells Fargo.
Brian retired July 2019, from the United States Air Force with Robins AFB, GA as his final duty station. His distinguished career led him to deploy to Iraq, Afghanistan, and Qatar and provide humanitarian relief throughout SE Asia during the tsunami, Haiti during the earthquake, and in Turkey supporting refugee evacuations during the Israel-Lebanon Mideast Crisis. Brian's career has taken him to 90 countries and 5 of the 7 continents.
In his last year of 20-years devoted service to the U.S. Air Force, Brian learned there were over 45,000 Veteran Service Organizations nationwide that provided free services and support to U.S. military families and realized a huge gap existed between available free Veteran, Military Spouse, and dependent children resources and benefits and the knowledge of their existence among our nations heroes and their families.
With this newly discovered knowledge, Brian vowed to eliminate the knowledge gap and ensure the success of every veteran and their families by creating an online library, a free single-site repository of every free Veteran Service Organization to include providing mentorship and information services to each knowledge-seeker.
Since the library's creation, March 2019, Brian has led VETS2INDUSTRY's growth by reaching 45,000 veterans and military spouses with over 100,000 page-views and he continues to supply employment opportunity success with the ever-growing grassroots volunteer force of over 100 veterans and military spouses he leads.
Brian is married with 6 children, resides in Atlanta, is an active alumnus of Centurion Military Alliance, Hiring our Heroes Corporate Fellowship Program, FourBlock, American Corporate Partners, volunteers with VETLANTA, the National Black MBA Association Atlanta Chapter, and is a student veteran leader and student ambassador at Syracuse University where he is currently pursuing his MBA.
He holds 2 A.A.S. from the Community College of the Air Force, a B.A. in History, a Graduate Certificate in Homeland Security, and a M.S. in Management from Thomas Edison State University and is a certified Georgia State Hostage Negotiator.
VILLAGE MARKET - ATLANTA
Dr. Lakeysha Hallmon - CEO & Founder, The Village Market | ED, Our Village United
Dr. Lakeysha Hallmon is a transformational leader, speaker and educator. She is the Founder and CEO of The Village Market, an Atlanta based business dedicated to empowering entrepreneurs by connecting them to engaged consumers, impactful resources and investors. A leader in bringing national exposure to black-owned businesses, The Village Market reaches small businesses in 21 states and 4 countries and has an official partnership with The Bahamas.
An educator by training, Hallmon has more than 15 years of experience in the classroom and as an administrator. She has been a speaker for numerous organizations, events, and conferences including the Steve Harvey Foundation, Clark Atlanta University's Fall Commencement, Power Rising Conference, Hope Global Forum, EnricHER Conference, Atlanta University Center's Financial Literacy and Innovation Conference, and more.
Hallmon has been featured in Forbes, Essence, Black Enterprise, CNN, Rolling Out Magazine, The Atlanta Voice, and The Source.
Hallmon has been honored by Walker's Legacy and an inductee of the 40 under 40 Society at Tougaloo College. She is a member of Alpha Kappa Alpha Sorority, Incorporated and has received degrees from Tougaloo College, the University of Mississippi, and Liberty University.
BUNKER LABS - ATLANTA
Valerie Lavin - Director, Ecosystem Development, Bunker Labs
Valerie Ellis Lavin is a retired Army First Sergeant and now serves as Director, Ecosystem Development for Bunker Labs. After an honorable career in the Army, Valerie has become known as a connector of people and resources in the entrepreneurial ecosystem in support of entrepreneurs. Additionally, she herself is an entrepreneur and co-founder of a non-profit teaching entrepreneurship to veterans and military family members. Valerie is a certified Ice House Entrepreneur Program facilitator from the Entrepreneurial Learning Initiative as well as a certified CO.STARTERS facilitator. In recent years, Valerie has been recognized by a number of organizations for her community-building efforts to include Gasparilla Community Hero (Seminole Hard Rock Gasparilla Pirate Fest and Gasparilla Parade of the Pirates), Business Woman of the Year honoree, category finalist and winner of the "Roar" Award (Tampa Bay Business Journal) and the Army Noncommissioned Officer of the Year (Greater Tampa Chamber of Commerce).
Dean Bundschu - National Director, Ecosystem Development, Bunker Labs
Dean currently serves as the National Director, Ecosystem Development for Bunker Labs. Additionally, he is an entrepreneur, accomplished sales professional and business advisor to numerous high growth startups. Prior to venturing into the business world, Dean served 8 years as an Infantry Officer in the United States Army; his service included a combat tour in support of Operation Iraqi Freedom. Upon returning from the war Dean had the honor to work at Orion International where helped hundreds of veteran's transition from the military to corporate America. As the Founder and CEO of PrepChamps, Inc., Dean successfully raised $2.2M in private equity capital, PrepChamps was recognized as the 2007 North Carolina "Fast Trac Tech Company of the Year" and ultimately the became the 2nd largest site in the high school sports recruiting space before being acquired.
Dean is also extremely active within the Raleigh business community. He has served as a business consultant and adviser for numerous high-growth companies and he is one of the founders of the Triangle Veterans Network, an RTP based veteran services group comprises of 40+ local VSOs and VRGs. He is also an active member of numerous organizations supporting the veteran and entrepreneurial community to include the North Carolina Defense Business Association, NCIDEA Ecosystem Partner Program, North Carolina Council for Entrepreneurial Development and North Carolina Technology Association.
Dean received his bachelor's degree from Ohio Northern University. He attended ONU on a full-ride R.O.T.C. scholarship and he was a Distinguished Military Graduate.