Atlanta Veg Fest is back for 2021, this time as a market-style outdoor experience!
About this event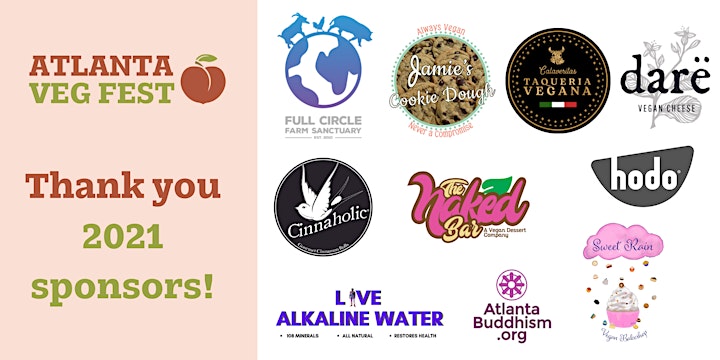 The Atlanta Veg Fest mission is to support our community while promoting the benefits of a vegan and plant-based lifestyle founded in compassion for animals, people and the environment.
Since 2012, people from Metro Atlanta and beyond have gathered at Atlanta Veg Fest to enjoy vegan food and products, learn from renowned speakers, enjoy entertainment, build their social circle, and have a really great time. Won't you join us as we make 2021 even better?
Our event draws a crowd from across Georgia and beyond. With a fun, exciting atmosphere and engaging presentations, Atlanta Veg Fest is a "must-attend" event every year for those interested in veganism. Our 2021 event is our very first time being an outdoor, evening event, and just for this year we have traded our usual speaker presentations for a roomier, market-style outdoor experience.
The tenth annual Atlanta Veg Fest will be held on Saturday, November 6, 2021 from 3:00pm-7:00pm, in the North Lot of the Atlanta Expo Center. We hope to see you there!
*COVID ANNOUNCEMENT* This is event is outdoors for 2021 for added safety. The city of Atlanta requires outdoor events to have a health plan that includes Face Masks to be worn by all patrons, staff, vendors, and/or volunteers. In addition to this, vendor tents will be spaced with more than 10' between them, with ample walking aisles. Hand sanitizer will be available at every tent.