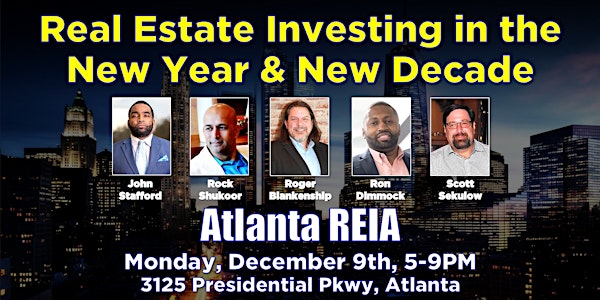 Atlanta REIA: Real Estate Investing in the New Year & New Decade
When and where
Location
City of Light 3125 Presidential Parkway Atlanta, GA 30340
Description
Atlanta REIA Main Meeting & Vendor Trade Show
Expert Panel Discussion on...
Real Estate Investing in the New Year & the New Decade!
with REI Experts

John Stafford

,

Rock Shukoor

,

Roger Blankenship

,

Ron Dimmock

&

Scott Sekulow
The end of the year is here. The end of the decade is here. It's that time of the year when we look backwards, revisit the past and where we've been and plan for the future.
If you'd like to make 2020 and the next decade your BEST EVER, please join us on Monday, December 9th from 5PM to 9PM at the Atlanta REIA Monthly Meeting at 3125 Presidential Pkwy, Atlanta, GA with an All-Star Panel of Real Estate Experts.
We will be discussing their (and your) real estate investing plans for the future and and where they see the market headed in the short-term and long term!
RSVP NOW and come join us to work together in the New Year and the New Decade to make our collective futures the best ever!
---------------
Meeting Before the Meeting
The High Tech Home Buyers Creative Deal Makers Subgroup
How to Better Manage Your Time & Priorities
with

Don DeRosa
Join Don DeRosa every month at 5PM SHARP at our Meeting-Before-the-Meeting that we like to call the High Tech Home Buying Creative Deal Structuring Subgroup one hour BEFORE the Atlanta REIA Main Monthly Event.
Where does your time go and how do you manage it? In this session, Don will discuss where your time goes and how to successfully manage it to put the MOST important things first. Don is going to show you how to organize you life using a simple to use system for organizing and prioritizing everyday stuff. He is going to show you how you can use simple apps, to eliminate all the paper in your life and become infinitely more organized. Here are some things you will learn:
How to identify your biggest time wasters and how to eliminate them once and for all
What apps he recommends to get organized
How to use a day planning system so that you never lose anything ever again
How to prioritize you daily action list using eight simple questions
Each month, Don will teach you about different real estate investing purchase and sale strategies to put more money in your pocket as as well as state-of-the-art tools and techniques you'll use to evaluate deals and figure out how to make them work. You'll learn to work less and earn more so you can spend more time where you want, when you want and with whom you want.
---------------
Atlanta REIA Diamond Sponsors
New Western Acquisitions - A full service Real Estate Brokerage that specializes in helping investors in acquiring inventory, securing contractors and lenders, as well as aiding in the liquidation of these assets.
#ATLANTAREIA