Description
Cator Woolford Gardens are a modern cultural landscape secluded in 39 acres of untouched forestland in the heart of Druid Hills. Originally the estate of Cator Wooldford, founder of the Retail Credit Company (now called Equifax), the space now houses the Frazer Center (which offer research-based education, vocational support, and therapeutic intervention to children and adults with all levels of ability and disability). A desire for preservation has led to the gardens being conserved and used by the center as well as the 1900s mansion being used by the Atlanta Hospital Hospitality House.
Join us for a forum on preserving cultural landscapes

Cultural landscapes are a type of historic resource that seem mysterious. What are they? How do you define them? How do you put a boundary around them? Can they be nominated to the National Register of Historic Places? How do you evaluate landscapes for authenticity and integrity? What are current and future management challenges? Who do I talk to or where do I look for references and guidance if I want to learn more?

The intent of this forum is to demystify cultural landscapes. As such, three speakers with cultural landscape
expertise will answer the questions above, as well as explore the types of cultural landscapes in Georgia. This forum will provide an overview of the concept of cultural landscapes and their role in the field of historic preservation. Current references to active cultural landscape documentation programs and methods for identifying and evaluating cultural landscapes will also be discussed. The future of managing cultural landscapes will touch on challenges familiar to the preservation community and look toward how the future must engage youth and make use of new technologies.

Preservation of Cultural Landscapes will feature presentations from Beth Byrd, Section 106 Coordinator, Atlanta Regional Office, National Park Service,Cari Goetcheus, Associate Professor of Historic Preservation, College of Environment and Design, University of Georgia and Leslie Johansen, Environmental Protection Specialist, FEMA, Region IV; formerly Compliance Archaeologist, Historic Preservation.
Proposed Schedule:
8:30 am Arrival Time and Leisure walk through the grounds
9:00 am Introduction in the Atrium
PAST
9:30 am Cari Goetcheus - History of Cultural Landscapes
PRESENT
10:00 am Leslie Johansen- Cultural Landscape Current Issues
FUTURE
10:30 am Beth Byrd- Future Challenges for Cultural Landscapes
11:00 pm Discussion
11:45 pm Walk through the gardens and forest
Free and Open to the Public
Parking: parking is limited. We encourage participants to park on South Ponce and enjoy a walk through the garden in advance of the forum Attire: The gardens will be open for touring therefore appropriate footwear is recommended.
Questions or Concerns? Please contact Allison Duncan at ADuncan@atlantaregional.com or Dana DeLessio at DDelessio@atlantaregional.com.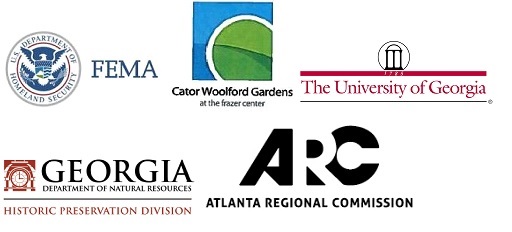 Date and Time
Location
Cator Woolford Gardens at the Frazer Center
1815 S. Ponce de Leon Ave NE
Atlanta, GA 30307