Atlanta Plays It Forward Presents "Chukkar Farm TGIF Concert Series: Divas"
Description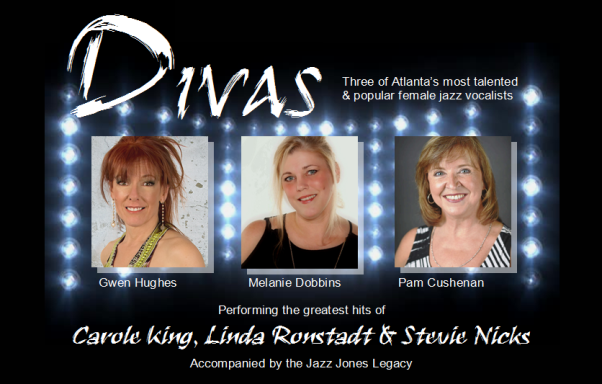 Back by popular demand, Divas will do a repeat performance of lasy year's sell-out show. This enormously popular show filled to capacity and we had to turn concertgoers away. So we are repeating the show which features three of Atlanta's most talented and popular female jazz vocalists!
This year we are honored to have Gwen Hughes, Melanie Dobbins and Pam Cushenan as our headliners. These ladies have picked the great hits of Carole King, Linda Ronstadt and Stevie Nicks!! The musical accompaniment will be by the renown jazz quintet, the jazz jones legacy!
The setting, as always, will be intimate and cabaret-style.....but there will be plenty of dancing!...at the beautiful and comfortable Chukkar Farm Polo Club pavilion. The ladies will thrill you with their talent, but also reveal their musical stories, and the stories behind thsee three great musical stars! And, we are fairly confident the "Divas" will play nice!
Concerts are "Chastain-style" meaning bring your own picnic, tablecloths, candles, etc. There is no food or beverage service at the venue.
For our may charity, Atlanta Plays It Forward will feature and support STARHouse Foundation. Part of your ticket price goes directly to this wonderful charity.