Atlanta Magazine's Women Making A Mark Awards recognizes twelve women who have made a significant impact on our community.
About this event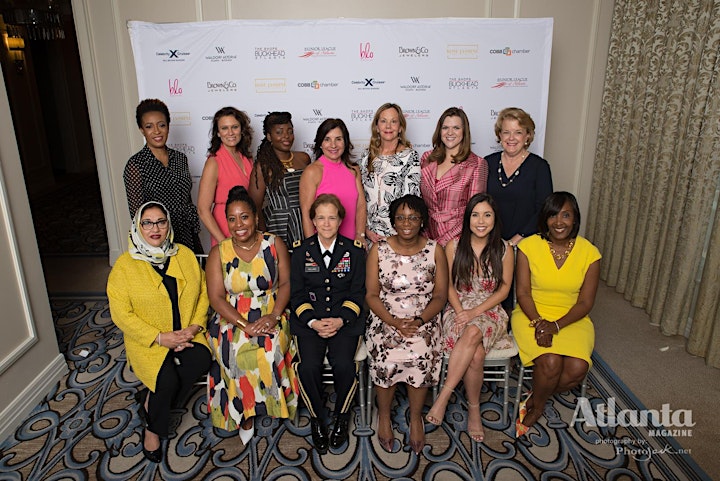 Atlanta magazine is pleased to announce the 2021 Women Making A Mark honorees. We invite you to celebrate these honorees with us on Friday, June 4, 2021. The celebration will begin with a champagne reception and networking session in the 10,000-square-foot open-air Plaza at the reimagined Colony Square, the iconic mixed-use destination in Midtown, followed by an awards luncheon.
Ticket prices include all food and beverages. By purchasing a ticket to this event, you will be opted in to receive email messages from Atlanta magazine and this event's sponsors.
For the luncheon, seating will be general admission at shared dining tables. Each table will seat 6 attendees.
Please note Colony Square's COVID protocol and plan accordingly: We are continuing to monitor COVID-19 closely and the wellbeing of our community is always our top priority. For your own safety and the safety of those around you, we require that you wear a mask until you are safely set up in your designated spot. We will have complimentary face coverings available if you do not have one.
About Women Making A Mark:
"We are fortunate and extremely excited by this year's group of honorees. Not only are these women leading some of Atlanta's finest corporations, they serve as role models and mentors to all of us who strive to give back, contribute to others, and do work tirelessly for causes they are passionate about," says Sean McGinnis, President and Publisher of Atlanta magazine.
Look out for the special commemorative section with profiles of each honoree in the June 2021 issue of Atlanta magazine.