Description
What are you doing on Saturday, May 21st from 9am to 5pm?
Whatever you're doing that day...
CLEAR IT!
I'll tell you why... It's not every day you have the opportunity to pick the brain of a thirty-year veteran real estate investor who also happens to reside in one of the hottest cities in America for real estate investors. John Mangham is the investors investor. He's a broker, a CPA, and a specialist in 1031 Tax Free Exchanges. Providing property management services for clients since 1982, John stays extremely busy. He has been President of Georgia 1031 Exchange Services, Inc., past President of both the Georgia Chapter of the Real Estate Educators Association, and the Atlanta Chapter of the National Association of Residential Property Managers (NARPM).
He's an active member of many investor orgainizations and today, while being an extremely active investor, he also consults and provides education services to investors. What does someone with John's extensive real estate experience have to say to you?
The landscape is changing...
The days of the "mom and pop" real estate investor are quickly coming to a close. You either know this already, or get left in the dust as the largest urban redevelopment project in the nation (4.4 billion dollars) takes place right under your nose in Atlanta! With encroaching hedge funds and the like, one thing is for sure. It's time to not only know your market, but build a TEAM that knows it too.
Why haven't you started your real estate investing career yet? Was it due to lack of money? Was it lack of time? What about a lack of knowledge, or FEAR of the changing market? Whether it was one of these, or none of these, you'll want to join us as we continue where we left off...
Some time ago, as a team we bought a house for $15,000, renovated it in less than sixty days, and sold it for $48,000 and generating a 67% cash-on cash ROI! That was then...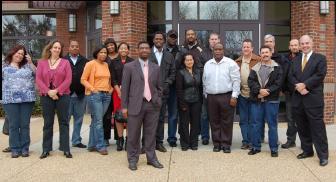 In 2016 it's time we learn how to fish and take the principles learned from that Community Project to a new level. Whether it's FORECLOSURES, renovations, or property management, you'll value what John shares with you on Saturday:
* Analyzing The Deal: Why A Cheap Deal Doesn't Mean A Good Deal
* Knowing Your Market: How To Decide Where To Invest and Why
* The Tools of Your Trade
* The Building Of Your Team
* And More!
Your training will start on Saturday, May 21st at 9am. Check in begins at 8:30am, and is $49* for you and a free guest. This early-bird registration rate will expire on Friday, May20th after 11:59pm EST. Reserve your seat right now. There are less than 30 days left to hold your seat, learn the next level of investing, and learn the business from John Mangham, for just $49. After 11:59pm EST on Friday, May 20th, all registration rates will increase to $59. Lock in your $49 rate and get your seat right now.
It's MAY already. The first quarter of 2016 is already gone. Sharpen your investing knowledge and learn the trend investors are doing from Atlanta, to Chicago, California, New York and more...