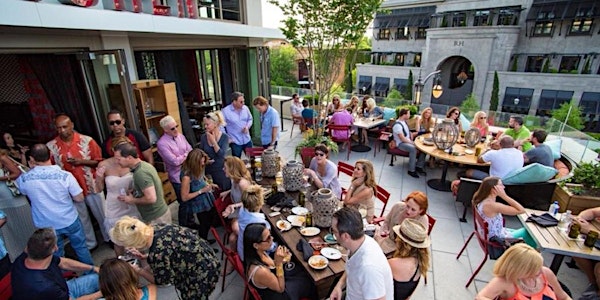 Atlanta Investors & Biz Owners Happy Hour - DiffuseTap & ATL Investor Club
Join great Atlanta Investors, Business Owners and Friends for an awesome Happy Hour! Sponsored by DiffuseTap, Stanton Law & VentureSHOT
Date and time
Wednesday, May 17 · 5:30 - 8pm EDT
Location
Stanton Law LLC 410 Plasters Avenue Northeast ##200 Atlanta, GA 30324
About this event
Hello Atlanta Investors, DiffuseTap Guests, ATL Business Owners, and Friends,
It's Spring and time to meet up for some awesome networking and collaboration with Investors and other people making things happen here in ATL.
We're hosting a "Happy Hour with Atlanta Area Investors, Business Owners and Friends" on May 17th starting at 5:30pm.
The Happy Hour is led by some awesome DiffuseTap participants, ATL Investors and Business Owners and Georgia Bulldogs Alumni. We're hosting the event at Stanton Law in Atlanta thanks to our great friend Todd Stanton and his awesome Stanton Law crew, which includes some awesome Bulldogs.
Assuming the weather is NICE, we'll be outside enjoying the weather in their great outdoor area. Feel free to dress for the weather!
All DiffuseTap friends, ATL Investors, Business Owners, Business Leaders, and Guests are welcome to attend! (We're shooting for about 50 Investors / Biz Owners.)
The Atlanta Entrepreneurs & Investors Club and the local ATL Bulldogs Investors & Entrepreneurs Club are also supporting / promoting this awesome event.
We'll make introductions and everyone will have a chance to meet the great investors and other people attending. Bring a friend (or two) and Celebrate with awesome DiffuseTap Investors and great ATL Business People and some awesome GA Bulldogs now that it's nice enough to Network outside.
Todd Stanton and Stanton Law have volunteered to host this event at their awesome location and provide some wine, beer, other drinks and finger foods for the event...so make sure to get there early / on time before the food is gone. :-)
The event is Co-hosted by Stanton Law, DiffuseTap, VentureSHOT and we're building an Awesome Ecosystem of Atlanta Investors, Business Owners, UGA Alumni and Other Friends and Supporters in ATL, who want to help Grow the Atlanta Investor Ecosystem and help Atlanta Based Businesses Succeed.
Stanton Law is in Downtown Atlanta is located in a small Office Park behind Main Street and has a nice open green area out in front of it. Join us for our Third Happy Hour event of the year supporting Atlanta Investors, Business Owners and fellow Bulldog Business Leaders.
410 Plasters Ave. NE #200
https://stantonlawllc.com/
Many people will be Business Casual, some may be coming from work and a bit more dressed up. Jeans (or shorts) and Golf Shirts are completely fine, wear whatever you are comfortable with, especially if it's WARM outside...it's a Happy Hour and we will probably be outside.
Please register your guest in Eventbrite, so we can let Stanton Law know approximately the number of people that are coming and appetizers to expect.
Cheers!
Dave
For more Info about the event or to become a Sponsor, please contact:
David Culver
Chief Collaboration Instigator - VentureSHOT
Venture Advisor - Propellant Ventures https://www.propellant.vc/
David@VentureSHOT.com
Text 312-953-9919 for fastest response!
Sponsored by:
Stanton Law - https://stantonlawllc.com/
VentureSHOT - Strategic Growth Program & Investors Network
DiffuseTap - https://diffusefunds.com/
About the organizer
The VentureSHOT Community is a group of Entrepreneurs & Investors that are focused on growing successful, revenue producing businesses. The community focuses on growing revenue, getting funded and scaling businesses.  
VentureSHOT has a Strategic Growth Program (SGP) for early stage startups and fast growth companies, typically doing between $0 and $5 Million per year in revenue. Also a Middle Market Acceleration Program (MMAP) for Companies doing between $5 Million and $50 Million+ per year in revenue.  
VentureSHOT has a large number of investors in its network and hosts or co-hosts investor events and helps connect companies in its programs to great investor connections.  Investors in the VentureSHOT Investor Network range in size from Individual Angel Investors, Angel Groups Micro VCs Angel Syndicates and other alternative funding sources, suitable for Startups and early stage companies...to larger VCs, Private Equity and Family Offices for larger deals and investments.
VentureSHOT also can supply Fractional C-Level support and advisors for companies in both early stage $0 to $5MM Revenue and early middle market $5MM to $50MM+ Revenue. (Chief Revenue Officer, Chief Strategy Officer, COO, CMO, etc.)