About this Event
Global Evangelistic Missions is hosting author/speaker Kat Kerr and the revivalist Jeff Jansen to the Atlanta metro area for a weekend event, February 15-17, 2019.
This HEAVEN INVASION weekend will build your faith in so many ways, as you hear Kat Kerr talk about her deep personal knowledge of God, Heaven and the Power that believers are destined to have at this time. You will feel the manifest presence of God as she shares what it is like to stand before the living God in the Throne Room. Jeff Jansen has an international ministry with a goal to pave the way for personal, regional, national and World revival. Jeff ministers in the Glory of God which brings healing, signs & wonders. He was mentored by the prophet Bob Jones and now is a Father to younger ministers.
SEATING IS LIMITED so ticketing is required. Join us for 4- meetings over the weekend
Friday 7pm
Saturday 2pm and 7pm
Sunday 6pm
Location: 5175 Performance Drive, Cumming, Georgia 30040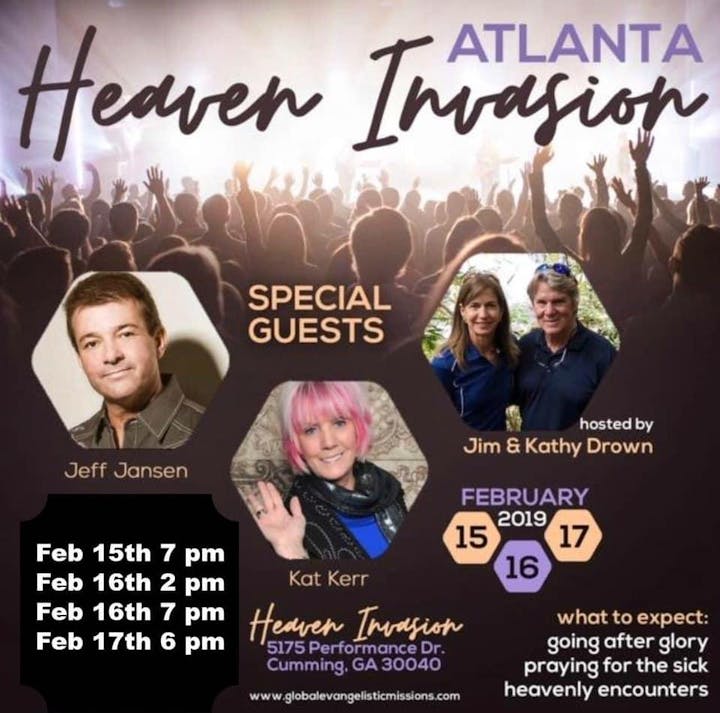 Global Evangelistic Mission
Jim Drown and his wife Kathy have deep spiritual roots in evangelism and desire to see God's kingdom here on earth. Jim ministers in large crusades and to Pastors as they travel internationally and has seen thousands saved, healed and delivered through God's power. Now they are focusing on bringing Heaven to Earth in America to see His name be lifted high.
www.globalevangelisticmissions.com