Description
Atlanta Food Festival & The Entrepreneur Experience Conference hosts A Time to Shine Red Tie Gala
You are invited to enjoy an afternoon of good food and entertainment as we shine the spotlight on our community partners, corporate sponsors and supporters by recognizing their outstanding dedication, benevolence and commitment to making a difference in our community.
The Gala will take place during The Entrepreneur Experience Conference (TEEC) weekend at the DoubleTree by Hilton Perimeter Dunwoody Hotel in the Azelea Ballroom.
Attire: Men: Business w/ red tie; Women: Business/ Cocktail (red attire)
Sponsorship packages available.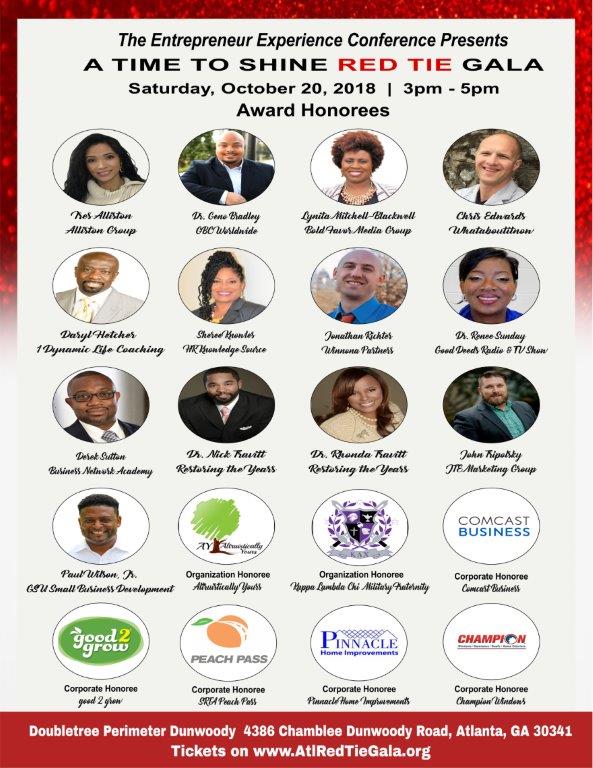 2018 Red Tie Gala Honorees:
Ires Alliston, CEO of Alliston Group
Lynita Mitchell Blackwell, CEO of Bold Favor Media Group
Dr. Geno Bradley, CEO of GBC Global
Chris Edwards, CEO of Whataboutitnow
Daryl Fletcher, CEO of 1 Dynamic Life Coaching
Sheree Knowles, CEO of HR Knowledge Source
Jonathan Richter, CEO of Winnona Partners
Dr. Renee Sunday, CEO of Good Deeds Radio & TV Show
Derek Sutton, CEO of Business Network Academy
Dr. Rhonda Travitt, Founder of Restoring The Years Ministries
Dr. Nick Travitt, Pastor of Restoring The Years Ministries
Paul Wilson, Business Consultant for Georgia State University Small Business Development Center
Organization Honorees
Altruistically Yours - Founder Dr. Tonya Howard Calhoun
Kappa Lambda Chi Military Fraternity
Corporate Honorees
Comcast Business
good 2 grow
SRTA Peach Pass
Pinnacle Home Improvements
Champion Windows