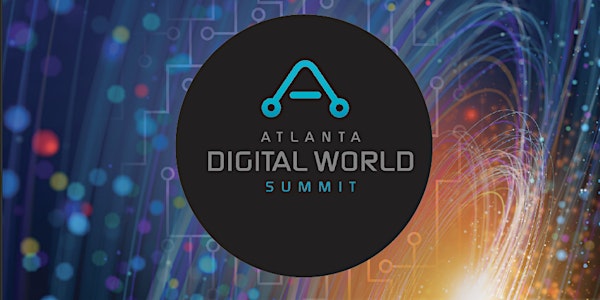 Atlanta Digital World Summit
Atlanta's Digital World Summit premiere's in 2023 with its inaugural summit on October 4 - 2023. Network with industry pro's!
Date and time
Wednesday, October 4 · 7am - 1pm EDT
Location
Skillshot Media (Esports) 2470 Lindbergh Lane Northeast Atlanta, GA 30324
Refund Policy
Contact the organizer to request a refund.
Eventbrite's fee is nonrefundable.
Agenda
7:00 AM
ATLANTA DIGITAL WORLD SUMMIT, OCTOBER 4, 2023
About this event
ADWS will be a half-day Summit, featuring the people who drive Atlanta's digital revenue streams – entertainment, gaming, and financial technology.
Through three panel presentations, the summit will cover the current state of Entertainment, Gaming & Fintech – and answer the most important question – WHAT'S NEXT??!!
ADWS will be the first event of its kind to include academic internships and scholarship with its hosting companies. Collaborating with The Georgia Film Foundation, ADWS will co-fund paid internships for students interested in entertainment, gaming, and financial tech!
ENTERTAINMENT
"Georgia Made Film & TV Productions Generate $4.4B for State in Yet Another Chart-Topping Year. ATLANTA – August 1, 2022 – Governor Brian P. Kemp today announced a chart-topping year for the film and television industry as productions spent $4.4 billion in Georgia during fiscal year 2022 – a new industry record."
August 1, 2022, Georgia Department of Economic Development
GAMING
WASHING TON, Dec. 3, 2020 /PRNewswire/ -- The video game industry is really bearing fruit in the Peach State.
A new study from the Entertainment Software Association (ESA) shows the video game industry in Georgia generates $801.4 million in annual economic output, either through direct industry output ($370 million) or via other participants in the video game ecosystem, such as suppliers and other supported output ($431 million). That ranks the state #13 nationally in economic output.
FINTECH
When people and businesses around the U.S. need to conduct an online transaction, they go to Georgia.
More specifically, their payment passes through a Georgia-based company that is part of Transaction Alley, where 70% of all transactions in America pass through daily.
How significant is that? Consider this: 118 billion transactions annually go through Georgia. So many financial technology (fintech) companies have located here that the state has rightfully earned the nickname "Transaction Alley."
More than 170 fintech firms call Georgia home and cumulatively generate annual revenue of $72 billion.
"Metro Atlanta is a global fintech and payments industry capital, so it is the right place to expand our business. We are pleased to tap into the deep fintech talent pool, industry coalitions, business-friendly environment, and supportive university system in the region."
— Barry McCarthy, President & CEO, Deluxe
Also, the video game industry accounts for about 5,000 jobs in Georgia, either directly through industry jobs (about 2,200) or through supplier and other supported jobs (about 2,800). That ranks the state #11 nationally in terms of jobs supported by the industry.
Overall, the U.S. the video game industry's annual economic output is $90.3 billion and accounts for nearly 429,000 jobs.
Sponsor ADWS
Contact: Sarah Smith, 404-788-9650, sarah@atlantadigitalworldsummit.com