Atlanta: Colorist Flight School BYOL - DaVinci Resolve Lite

Thursday, May 30, 2013 at 9:30 AM

-

Saturday, June 1, 2013 at 6:00 PM (PDT)
Who's Going

Loading your connections...
3 of your friends are going.
Share it to get more people on board!
Share

Sara Haughty
San Francisco, California

Luke Picard
London, United Kingdom

Rick Vespucio
Florence, Italy
Event Details
TaoOfColor.com & Biscardi Creative Media Presents:
Colorist Flight School - LIVE!
In-person, small group training. Learn the craft of color grading while getting up-to-speed on DaVinci Resolve (and Resolve Lite)
Have you ever been frustrated while color correcting a shot?
Do you want to learn a simple, repeatable approach to color grading?
Are you struggling to master DaVinci Resolve's interface?
Is there an organized system for dealing with DaVinci Resolve's nodes?
The answer: The Tao Colorist 3-Step Technique for Color Grading
Over the past three years, Tao of Color.com has been refining our teaching methodology for color correcting. We call it The Tao Colorist 3-Step Technique. And now we're taking our training on the road to teach you this system, LIVE!. In two days of in-person small group training you'll:
Learn our The Tao Colorist 3-Step Technique; a repeatable approach to color grading
Build confidence and improve your technique
Get comfortable with Resolve's interface
Start building essential 'muscle memory' skills
Learn how to wrangle DaVinci Resolve's nodes
Take home a short film to continue your practicing
If you take the 3-Day version of Colorist Flight School LIVE!:
In addition to a day of advanced training, you also get complimentary access to the online version of Tao of Color's Colorist Flight School (which includes a second short film to download and color grade) that reinforces everything you learned during the Live event.
What is Colorist Flight School and how is it different?
Colorist Flight School is a systematic approach to teaching color grading technique using a real-life project. You'll grade a short film live and in class—with immediate instructor feedback from Patrick Inhofer, founder of TaoOfColor.com. In the process you'll learn DaVinci Resolve / DaVinci Resolve Lite! There are three elements to Tao of Color's Colorist Flight School training (both LIVE! and online):
Learn your instrument panel - Currently, the instrument panel we're teaching is DaVinci Resolve and DaVinci Resolve Lite.
Practice in a 'Flight Simulator' - Our training is nearly 100% project-based. The key to becoming confident in color correction is by knowing you can match dozens of shots into a seamless continuous whole. And the only way to gain that confidence is to grade dozens of shots telling a single story. We provide a short film with notes from the Director—the 'Flight Simulator'—and you'll start developing the muscle memory and confidence to do it on your own.
Feedback - Our training (LIVE! or online) always provides you with actionable feedback of your work.
Colorist Flight School LIVE! works like this:
2 weeks before the event, you'll get access to a special website with audio and reading material to prep you for your Flight School LIVE! experience
1 week before the event you'll get a special 1-hour video teaching why color grading is so hard... and how colorists use scopes to make our jobs easier
During the event you'll grade a short film that the entire class color corrects togetherover 2-3 days!

You'll work from beginning to end: Importing through final render
You'll learn how to evaluate a shot
Then you'll use the evaluation to create a plan of attack
As a class we'll execute that plan of attack... all while keeping in mind the creative intent of the Director
In the process we'll systematically explore DaVinci Resolve, digging deeper into it's toolset while learning each step of The Tao Colorist 3-Step Technique
We provide a USB 3 hard drive with the short film and project files—for you to take home and continue practicing
You are licensed to use excerpts of the short film in your color grading demo reel and in private client demos!
During class you'll also:
Learn to use DaVinci Resolve in context of an actual real-world job
Solve real-world problems while learning to grade for shot continuity, context and emotion
Take the 3-Day class and you'll get an extra day of training for you to:
Learn advanced keyframing and tracking techniques
Work with RAW and LOG camera formats and adapt The Tao Colorist 3-Step Technique for these specific workflows
Extensive Q & A Session, working through color grading questions you have
Receive special bonuses that will continue your education for several more months (details below)
Who should consider participating in Colorist Flight School LIVE!?
Colorist Fight School is practical training designed to further your career:
Assistant Editors and Assistant Colorists - If you want to properly prep a job for your editor or colorist, you can't do that if you don't understand their workflow and concerns. This class is a great way to get up-to-speed fast—on both the craft and the software.
Editors - Are you looking to expand your skill set or perhaps offer up your clients a sub-specialty? This class is a very low-pressure way of getting introduced in the world of professional color correction. And you'll learn a great piece of software while doing so.
Colorists - Are you looking for more material for your demo reel? Or maybe you want a more interactive learning experience than a book or online video training and online forums can provide? This is a great opportunity to see how another colorist works, ask questions and pick up a few valuable tidbits that you can 'take with you' and make a difference in your job.
Beginning to Intermediate Resolve Users - We start with the fundamentals. Even if you've never worked on DaVinci Resolve you'll feel comfortable. If you're experienced on Resolve we'll systematically delve into details that may have escaped you before.
BYOL: Bring Your Own Laptop . . .
Colorist Flight School LIVE! is going around the United States to offer color grading training in smaller markets. For the Atlanta event, to keep your cost down we are NOT providing computers. You'll need to bring a DaVinci Resolve or DaVinci Resolve Lite capable-computer to this event.
Before paying you need to be sure your computer can run Resolve. Click here for a rundown of the minimum specs from the latest DaVinci Resolve Configuration Guide for iMacs and PC / Mac Laptops.
Don't have a laptop? Or one that runs Davinci Resolve? No problem. We've teamed up with a computer rental company that will provide you with a laptop for a reasonable fee!
What Film Are We Color Grading?
We'll be grading an original short supernatural suspense film under license from the filmmakers at BloodyCuts.co.uk. Specifically, we'll be grading a PG (no blood / gore) version of their film, Death Scenes.
This film has tons of mood. It requires us to create three completely different Looks to tell the story and many opportunities to practice working with masks and keys. You will receive this material on a small hard drive that you can take home with you- to continue practicing... or even open up the unedited version of this film and grade the original, slightly more disturbing version of this film. This film features:
Three different Looks (including two distinctly different flashback sequences)
Basic and advanced tracking challenges
Basic and advanced key framing opportunities
Many emotional moments for the colorist to accentuate
Effective uses of Vignettes and HSL keys
Shot-to-shot color matching problems
Shot on a Sony F3, flat profile, direct to ProRes422HQ with some pickups on a Canon 7D
Watch: Death Scenes
The film we will be color correcting in class is a cut-down (PG-Rated) version of the short film, 'Death Scenes'. Produced by a team of filmmakers practicing their craft in London–by creating 13 short horror films as an anthology series–the producers have graciously licensed their film to TaoofColor.com (since we did the original color grade) for use as color correction teaching and practice material. That's right... a portion of the proceeds from this event go back to BloodyCuts.co.uk, which they'll plow back into their next short film (these guys NEVER stop working). Sit back and watch the version of 'Death Scenes' that you'll be color correcting in class!
An interview with Patrick Inhofer talking about Colorist Flight School Live!
This interview contains a quick look at the Resolve project we'll be working on and what you can expect to learn.
When is the Atlanta's Colorist Flight School Live!?
May 30 - June 1, 2013: Atlanta, Georgia
Our Host: Biscardi Creative Media
World renown editor and Creative Cow Leader Walter Biscardi is hosting Colorist Flight School LIVE! at his brand-new facility, about 30 minutes outside of Atlanta, Georgia. If you're not from the area and need accomodations...
In the Mall of Georgia area (restaurants and shops very convenient): Holiday Inn Express, Springhill Suites, Wingate Hotel, Hampton Inn, Country Inn & Suites, Courtyard by Marriot.
Closer to Walter's shop, but in a quieter area: Comfort Inn
How much is Colorist Flight School Live!?
You have two options:
3-Day Class: $1650
Includes everything from the 2-Day Class plus an extra day of training focused on:
Bagel Breakfast (each day)

Lunch ordered from a local restaurant (each day)
Your own USB-3 Hard Drive with a 7-minute short film we'll be color grading, including project files and XMLs that you get to keep and take home and use in your demo reels and private client demos.
Access to a mini-website on Tao of Color to prepare you for the film we will be grading
1-hour video presentation: Why Is Color Grading So Hard (and what you can do about it)
Audio podcast of the discussion with the Director about his creative goals for the short film

Working with LUTs and Log footage (with an emphasis on Arri footage) and adapting

The Tao Colorist 3-Step Technique

to these unique workflows.

RED best practices
Working with Cinema DNG footage
Advanced Keyframing and Tracking Techniques
Extended Q&A working with specific questions or problems of class members
Attendees also get these special bonuses:
Complimentary access to Tao of Color's 'Dead Man's Lake: The Grade-Along' online training ($269 value) which features:

Over 6 hours of Resolve 9 Fundamentals video training
10 hours of shot-by-shot color grading training on a 130+ shot film
Includes a 1 hour video on prepping a timeline for DaVinci Resolve
Includes a 1 hour video on working with LUTs and generating LUTs from ARRI's website
Note: you need a fast internet connection for a good experience downloading over 20 GB of source footage and training videos we provide
Complimentary 2-month access to MixingLight.com, a new color grading monthly membership website ($38 value)
A 10% discount on ANY Flanders Scientific gear! Up to a $550 savings! Valid through December 31, 2013.
Special Raffle: DaVinci Resolve Full Version ($999 value)
BlackMagic has generously donated a full license of Resolve which we'll raffle off to one of our lucky attendees!
3-Day Class with Laptop Rental: $1999
If you don't have a laptop capable of running DaVinci Resolve, you can rent one for the class for all three days. We are providing these laptops at nearly our cost of renting them. They'll have Resolve pre-installed and when class is over you can export out your Resolve project to the hard drive we give you - and then import those projects so you can keep working at home or in the office!
Note: Sales of the Laptop Rental end 1 week before the Workshop. If you want to sign up with this option, do so immediately - there are a limited number of laptops available for rental.
Refund Policy
Life happens. Business happens. We get it. In the event you need cancel, here's our refund policy:
100% refund (minus credit/debit card fees and bank expenses) before May 16th at 9am (two weeks before the event)
50% refund  (minus credit/debit card fees and bank expenses) between May 16th at 9am and May 23rd at 9am (one week before the event)
No refund after May 23rd, 9am
No refunds for the laptop rental portion of the Workshop price ($350) after May 23rd.
If you cancel after May 16th and we are able to fill your spot, at our discretion we may provide a full refund minus credit/debit card fees, bank expenses and a $150 handling fee.
No Shows: If a student doesn't attend, there is no refund. Payment is forfeited.
No 'Early Termination': Once the class starts, if you are unable to finish the 2-day or 3-day classes the entire fee is due. There are no pro-rated refunds.
Meet Your Teacher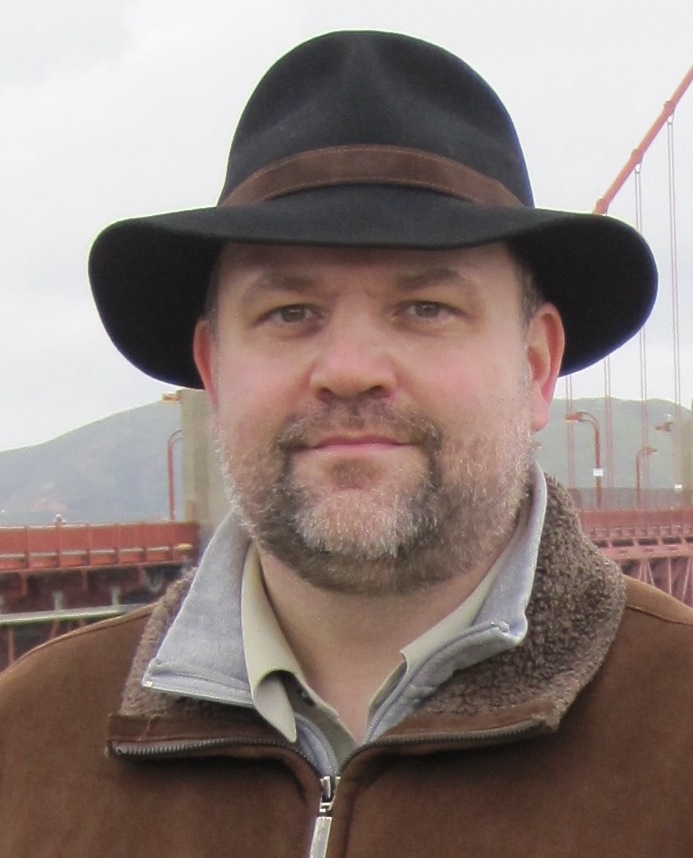 Patrick Inhofer is a professional colorist / finisher and owner of the New Jersey-based boutique Fini.tv. He's a 23-year veteran of the New York City post-production community. Patrick takes his experience working at high-end full-service post houses and delivers those same services to low- and mid- budget productions, bringing them high-quality workflows at competitive prices.
Patrick has worked on films, documentaries, television series, corporate videos, promos, and ID packages for a range of clients ranging from broadcast / cable networks, to indie films making the festival circuit, to corporate giants. He's worked with directors Barry Levinson and Bruce Sinofsky. Other clients include: HBO, NBC, ABC, Showtime, ESPN, Oxygen, AMC, Lifetime, TNT, TBS, National Geographic Channel, Starwood Hotels & Resorts, AOL, TV One, Virgin Records… and many more.
Patrick's first worked on Avid Media Composer as an Assistant Editor on HBO's 'The Babysitter's Club' in 1991. His first freelance gig in 2001 was to color correct a food documentary using Avid Media Composer's 'Levels' filter (a practice he does not recommend!). He founded his first post-production boutique in 2002 and is currently the Owner / Colorist at Fini.tv, Inc.
He began teaching color correction standing before the New York Final Cut Pro Users Group in 2005 (where he subsequently became its Treasurer and, later, President). In 2010 Patrick founded the software agnostic color grading website TaoOfColorGrading.com and recently published the 125th edition of his free weekly email newsletter 'The Tao Colorist'; which focuses on the Art, Craft and Business of professional color grading. In 2012 Patrick co-founded the website MixingLight.com with two other colorists, which launched in April 2013.
Patrick is also an Adjunct Professor at Hofstra University teaching Digital Color Correction for Television. He contributed to the book Color Grading with Avid Media Composer and Symphony 6 by Bryan Castle.
Request A City
Can't make this Atlanta event? Click here to fill out a form and request that Colorist Flight School visit your city! Once a city gets enough requests, we'll start exploring the possibilities.
When & Where

Biscardi Creative Media

Buford, GA


Thursday, May 30, 2013 at 9:30 AM

-

Saturday, June 1, 2013 at 6:00 PM (PDT)
Add to my calendar
Organizer
Patrick Inhofer, TaoOfColor.com
Atlanta: Colorist Flight School BYOL - DaVinci Resolve Lite