Atlanta Black Theatre Festival Staged Reading Series (Fri. Oct. 4)
Description
he Atlanta Black Theatre presents incredible LIVE theatre for less than a movie!
Atlanta Black Theatre Festival's popular staged reading series features original works from the minds of some of the most prolific wordsmiths of our time! Writers have a rare opportunity to test or share original content for live stage and/or digital platforms (tv/film). Each reading gives patrons a glimpse into the development process and an opportunity to give feedback.
Spread the word. We must tell our stories!
---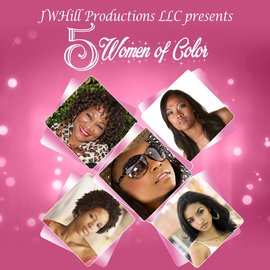 5 WOMEN OF COLOR
Date/Time: Fri. 10/4/19 @ 1pm - 12:30pm (Black Box)
Synopsis: Multiple-award winning playwright Jeanette W. Hill is back with the story of five professional women who work at an urban community center. Each believes that domestic abuse only happens to 'a certain kind of woman'. After receiving news that their friend and neighbor, a young mother of three, has been killed-the victim of domestic violence-each woman reflects on the path 'love' has taken in her own life. And the realization that it's the scars you can't see that hurt the most.

Written by: Jeanette W. Hill
Directed by: Jeanette W. Hill

City of Origin: Austin, TX
Suitability: Mature (Under 14 yrs NOT permitted.)
Warning: Violence or Hypersensitive Triggers; Sexual Situations/Dialogue
Genre: Drama (Staged Reading)
---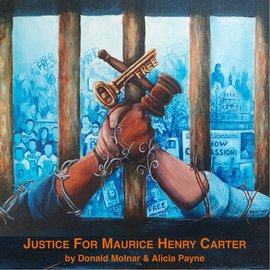 JUSTICE FOR MAURICE HENRY CARTER
Date/Time: Fri. 10/4/19 @ 3pm - 4:30pm (Black Box)
Synopsis: Justice For Maurice Henry Carter is based on the true story of the enduring friendship between Maurice Carter and Doug Tjapkes. Maurice spent 29 years in prison for something he didn't do. Woven throughout the play are a cappella hymns, songs, and traditional spirituals. While seeking justice, the two men became brothers.

Written by: Donald Molnar and Alicia Payne
City of Origin: Toronto, Ontario, Canada
Suitability: Mature (Under 14 yrs NOT permitted.)
Genre: Musical/Drama with Music (Staged Reading)

---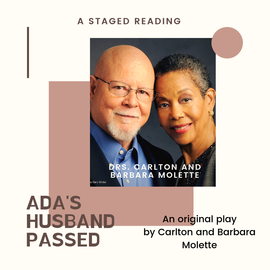 ADA'S HUSBAND PASSED
Date/Time: Fri. 10/4/19 @ 4:00pm - 5:30pm (Main Stage)
Synopsis: Until the 1967 Loving v. Virginia ruling by the U.S. Supreme Court, state laws defined "mixed-race" marriages as a crime in many states. CLARENCE and ADA Tolliver married in 1937. They tell each other and people they know very well that, because their jobs keep them apart so much, they are still on honeymoon after 29 years of marriage. When they met in 1936, ADA was a senior at D.C. Teachers' College and CLARENCE was a "peace-time" Army lieutenant, stationed in the Washington, D.C. area. A week after ADA graduated (June, 1937), they married in a civil ceremony in D.C. where official observers assumed Clarence was a light-skinned Negro. Later that summer, there was a "church wedding" at ADA's "home" church where Virginia's anti-miscegenation law deemed their marriage illegal.
Written by: Barbara and Carlton Molette
City of Origin: Atlanta, GA

Suitability: Mature (Under 14 yrs NOT permitted.)
Genre: Drama
---

KINGS WITHOUT A QUEEN
Date/Time: Fri. 10/4/19 @ 6:30pm - 8:00pm (Main Stage)
Synopsis: David is a forty-eight-year-old man whose wife of twenty-two years divorced him for a variety of reasons. He cheated, stayed out late, and worked nights for most of their marriage. To make matters worse, almost immediately after his wife divorced him, David impregnated the mother of his son's girlfriend. Overall, David is struggling to accept his part in the divorce as well as the realities of parenting his two sons without the help of his ex-wife.

Written by: Kenyatt Godbolt
Music by: Abraham Burton, Eric McPherson, Nasheet Waits, Heather Austin, Kenyatt Godbolt, Sharif Waits
City of Origin: Charlotte, North Carolina
Suitability: Mature (Under 14 yrs NOT permitted.)
Genre: Drama with Music (Staged Reading)
---
---
NOW is the best time to get the BEST price and guarantee availability for this event! Prices will increase with demand.
---
The Atlanta Black Theatre Festival is committed to providing a world-class experience for you, our guests. If you're dissatisfied for any reason, please notify the attendant at Guest Relations and we'll work with you to make your experience better.
Late seating is NOT permitted. Visit AtlantaBTF.org for a full schedule and details.
---
---
PLAN YOUR VISIT/FAQs
What is your late seating policy? Doors open 15 minutes prior to each show. VIP GUESTS and PRIORITY EXPRESS ticket holders are admitted first, immediately followed by General Admission. Please arrive early. LATE SEATING IS NOT PERMITTED.
What about parking? Parking is plentiful and free. YES, FREE!
What are the box office hours? NEW! The Box Office is open for your convenience 4pm - 8pm daily (NEW HOURS!) during the festival. Tickets are available online 24/7 at abtf.eventbrite.com
Are tickets available online? Yes! In fact, you can save more by purchasing your tickets online. You can either 1.PRINT your tickets at home or 2.PRESENT the bar code on your phone at the door. CAUTION: Duplicates will be voided. Save money by purchasing your tickets online.
What methods of payments are accepted? We accept CREDIT/DEBIT CARDS only. Due to safety and security reasons, WE DO NOT ACCEPT CASH AT THE BOX OFFICE.
Are discount tickets available? Yes! Group organizers of 10+, please email us for special rates: atlbtf@yahoo.com. Group rates for four (4) or more tickets are available on the ticket page and varies for each show.
Does the festival have a dress code? No, not really. Most people dress causal and comfortable. Some may step it up a bit in the evening. NOTE: Auditoriums are temperature controlled for the comfort of the majority — please dress according to your personal preference.
Do you have any dining suggestions? Dining is available on site at the BackStage Cafe where you can enjoy delicious, light southern fare. Some our café favorites include grilled wings, gourmet sandwiches, home-made potato salad, and fried fish! Vegetarian options are also available.
What about shopping? THE BEST! You can visit our popular International Vendor's Market for one-of-a-kind selections from our local artisans and vendors. In fact, we encourage you to get an early start on your Christmas shopping with our version of #BlackFriday special discounts and offers.
Is there a host hotel nearby? Yes! We have negotiated a discount rates with two host hotels. Visit AtlantaBTF.org/hotels for more information.
What if I leave something in the theatre, where is the lost and found? Personal items found in the theatre are kept in Guest Relations. Please check there first.
What is your policy on the use of electronics? NO STRICTLY, NO — using devices with screens (and particularly ones that also make sounds) disrupts the cast and other patrons (they are very visible from the stage). We suggest you power off everything before entering the theatre. We reserve the right to dismiss anyone caught using an electronic device.
Social Media Exception: We absolutely hope that you tweet/share/text everyone you know after the performance to let them know what a wonderful time!
Can you accommodate people with disabilities? Yes, we have wheelchair access for those who are in wheelchairs. Ask Guest Relations for assistance if needed.
What is your refund policy? All sales are NON-REFUNDABLE; however, tickets can be exchanged as credit for another show. Stop by the Box Office or Guest Relations for assistance. There is a $2 exchange fee.
What about smoking? Smoking is NOT allowed in OR outside of the building including bathrooms, theatre, cafe, patios or lobby at any time. That includes e-cigarettes.