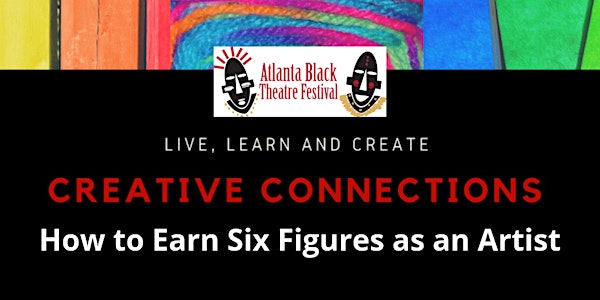 Atlanta Black Theatre Festival- CreativeCon: Earn Six Figures as an Artist
Event Information
Location
Porter Sanford III Performing Arts Center
3181 Rainbow Drive
Decatur, GA 30034
Description
CREATIVECON: HOW TO EARN SIX FIGURES AS AN ARTIST
"Imagine a place where you can share your wildest dreams and the challenges that accompany them. Imagine being with a group of people who have achieved respect and success in the industry; yet they're willing to share their secrets. I really wish this was available when I got started in this business 15 years ago. That's why I created Creative Connections" ~Toni Simmons Henson, Founder ABTF
---
The Atlanta Black Theatre Festival presents four days of creative workshops, round-table discussions, forums and panels geared towards practical ways to earn a full-time living as an artist. Get the inside scoop from this incredible line-up packed with celebrities, experts and insiders. We call this Creative Connections! Come see what your missing.
CONFIRMED CELEBRITY TALENT & REPS FROM: OWN NETWORK, ASPiRE TV, UPTV, NBC, UNIVERSAL STUDIOS, TYLER PERRY STUDIOS, TBS NETWORK, MARVEL STUDIOS, WALT DISNEY STUDIOS, FOX NETWORK,
---







DAILY SCHEDULE
WED.10.2.19
Master Class: 10:30am - 12:45pm
Tools of the Trade: Actor's Boot Camp Pt. I
Featuring: T'Keyah Crystal Keymah
Studio
Master Class: 10:30am - 11:45am
Drama in Drama: Developing Authentically
Dramatic Characters
Facilitated by: Andrea Clinton, MFA
Classroom
Networking: 12:00pm - 1:00pm
Meet the 2019 ABTF Producers!
Networking Lunch
(Bring or Grab your lunch @ Food Trucks!)
Backstage Cafe
Workshop: 1:15pm - 2:30pm
Opportunities in Georgia's Film Industry
Facilitated by: Forrest Tuff
Studio
Workshop: 1:15pm - 2:30pm
Find Me the Money to Produce My Work
Facilitated by: Jeanette Hill
Classroom
Staged Readings & Special Events
3:00pm until
(Free for Pass-holders. See Festival Program)
---
THUR.10.3.19
Workshop: 10:15am - 11:30am
How to Show Up: Advice to Change Your Future
Facilitated by: Andre' Minkins, MFA

Studio
Seminar: 10:15am - 11:15am
Culture and Clarity: Under-valued &
Under-paid
Moderated by: Carlton Molette, PhD
Classroom
Workshop: 11:30pm - 12:30pm
Writing for Aspiring Storytellers
Featuring: A'ndrea Wilson, PhD
Classroom
Master Class: 1:00pm - 3:30pm
Tools of the Trade: Actor's Boot Camp Pt. II
Featuring: T'Keyah Crystal Keymah
Studio
Roundtable: 1:30pm - 2:45pm
Black Female Writers: How to Find Your Voice
Featuring: Shirlene Holmes, PhD
Moderated by: Andrea Wilson, PhD
Classroom
Staged Readings & Special Events
1:00pm until
(Free for Pass-holders. See Festival Program)
---
FRI.10.4.19
Roundtable: 10:00am - 11:00am
#MeToo: Standing Your Ground w/o Loosing Your Soul
Featuring: DeEtta West, Tiffany Roberts, and Maria Howell
Moderated by: Angela Ray
Studio
Master Class: 10:00am - 11:00am
Airing the Drama: Earn Money PodCasting
Facilitated: Valencia Griffin Wallace
Classroom
Panel: 11:15am - 12:15pm
Black Panther: Behind the Scenes
Featuring:
J. Wells Jr.
2. Jachin "JJ" Myers
3. Marcus Adair
4. Denisha Gillespie
5. Gary Pebbles
Cast & Crew Members of Marvel's Blockbuster Movie
Moderated by: Ursula O. Robinson
Studio
Roundtable 11:15am - 12:15pm
Scams & Schemes: Are You Ready for this Industry?
Featuring: Palmer Williams Jr., Keith Arthur Bolden, Javon Johson and Reginald Wilson
Moderated by: Valencia Griffin-Wallace
Classroom
Industry Talk: 1:15pm - 2:30pm
Navigating the Industry with Jay Wells (1:15p - 1:45p)
Goals, Fear, & Faith, with Shaneisha Dodson (2:00p - 2:30p)
Studio
Roundtable: 1:15pm - 2:30pm
Money Making Backstage
Featuring: lark hackshaw,
Shawncy Moon, & Tommy Butler
Moderated by by Ronn Greene
Classroom
Staged Readings & Special Events
Friday, 10/4/19 1:00pm until &
(Free for Pass-holders. See Festival Program)
---


SAT.10.5.19
Staged Readings & Special Events
Saturday, 10/5/19 10am until
(Free for 4-day Gold Pass-holders. See Festival Program)
---
For a detailed program schedule visit: AtlantaBTF.org
---
---
We are committed to providing a world-class experience for you and your guests. If you're dissatisfied for any reason, please notify the attendant at Guest Relations and we'll work with you to make your experience better.
---
---
Plan Your Visit: FAQs
What is your late seating policy? Doors open 15 minutes prior to each show. VIP GUESTS and PRIORITY EXPRESS ticket holders are seated first immediately followed by GENERAL ADMISSION. Please arrive early. Late seating is NOT permitted.
What about parking? Parking is plentiful and free. YES, FREE!
Are tickets available online? Yes. In fact, you can save more by purchasing your tickets online. You can either 1.PRINT your tickets at home or 2.PRESENT the query "Q" code on your phone at the door. CAUTION: Duplicates will be voided.
Can I purchase tickets at the door? Yes, although the price is slightly higher. The Box Office is open for your convenience 11am -5pm daily during the festival. Tickets are available online 24/7 at abtf.eventbrite.com
What methods of payments are accepted? We accept CREDIT/DEBIT CARDS only. Due to safety and security reasons, WE DO NOT ACCEPT CASH.
Are discount tickets available? Yes! We also have special rates for groups, seniors, students or veterans. The specialty rate is available on the ticket page and varies for each show. For groups of 10 or more email us at atlbtf at yahoo dot com.
Does the festival have a dress code? No, not really. Most people dress causal and comfortable. Some may step it up a bit in the evening. NOTE: Auditoriums are air conditioned/heated for the comfort of the majority — please dress according to your personal preference. EXCEPT: The closing event theme is 1960's Black is Beautiful.
Do you have any dining suggestions? Dining is available on site at the BackStage Cafe where you can enjoy delicious, yet light, southern fare. Some our café favorites include grilled wings, gourmet sandwiches, home-made potato salad, and artisan cheese platters. Vegetarian options are also available!
What about shopping? THE BEST! You can visit our popular International Vendor's Market for one-of-a-kind selections from our local artisans and vendors. In fact, we encourage you to enjoy our version of "Black Friday" and get an early start on your Christmas shopping.
Is there a host hotel nearby? Yes! We have negotiated a discount rate with Holiday Inn Express & Suites East in Lithonia (approx. 15 mins from the venue). Please call 678-325-4830 to make your reservation. Mention: "Atlanta Black Theatre Festival Group"
What if I leave something in the theatre, where is the lost and found? Personal items found in the theatre are kept in Guest Relations. Please check there first.
What is your policy on the use of electronics? They are prohibited. Using devices with screens that light, noise or buzzing creates a disruption for guests and actors. We suggest you power off everything before entering the theatre. We reserve the right to dismiss anyone caught using an electronic recording device during the performance.
Social Media: We absolutely hope that you tweet/share/text everyone you know after the performance to let them know what a wonderful time you had here!
Can you accommodate people with disabilities? Yes, we have wheelchair access for those who are in wheelchairs. Ask Guest Relations for assistance if needed.
What is your refund policy? All sales are NON-REFUNDABLE; however, tickets can be exchanged as credit for another show. Stop by the Box Office, Guest Relations or send us an email for assistance. There is a $2 exchange fee.
What about smoking? Smoking is NOT allowed in the building including bathrooms, theatre, cafe, or lobby at any time. That includes e-cigarettes.
Location
Porter Sanford III Performing Arts Center
3181 Rainbow Drive
Decatur, GA 30034
Refund policy