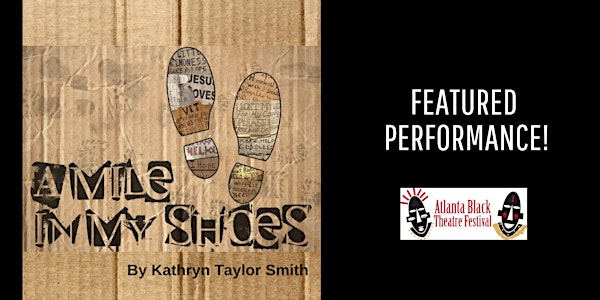 Atlanta Black Theatre Festival - A Mile in My Shoes
When and where
Location
Porter Sanford III Performing Arts Center (FREE parking!) Black Box Stage 3181 Rainbow Drive Decatur, GA 30034
Description
"Smith's show has intelligence, compassion, humor, pathos and insight but most of all... humanity." - TVolution
"Grounded and real.. her characters [are] so relatable and specific...she absolutely shines." -Matt Richley, Gina on the Move (Theatre Review)
"[A] fantastic piece of theatre... it got under my skin and into my heart." -Zahir Blue, Night Tinted Classes (Theatre Review)

---
A MILE IN MY SHOES
Synopsis: Join Ester, an omniscient shoe whisperer, as she walks us through a day in her life on Skid Row. We meet a vagabond of characters: a transgender teen, a young mom, a mentally ill substance abuser, a high school valedictorian, a police officer, concerned citizens at a city council meeting and others.
"A Mile in My Shoes" is a mix of poetry, drama and comedy in consciousness raising theater. Creator Kathryn Taylor Smith portrays over 19 characters inspired by research and personal interviews with past and present members of the homeless community in LA as well as those who advocate for them. This socially conscious and social relevant piece speaks to the audience from a raw, uncensored, unapologetic perspective. It will compel you to do more, to be better and to act kinder to your homeless brethren; not because they are homeless, simply because they are human.
DONATIONS TO THE HOMELESS: Toiletry items and/or Shoes (new or gently used) will be collected and donated to the homeless after the show.
Written by: Kathryn Taylor Smith
Directed by: Zadia Ife
Produced by: Kathryn Taylor Smith
Other Credits: Lighting Designer - Andrew Schmedake / Projection Designer - Matt Ritchey & John Williams / Composer - Tony Tenneyson, Bobby Crear & Kenny McCloud / Graphic Artist - Edwin "EdVanz'd" Morrow / Wardrobe - Mylette Nora / Makeup - Sheila Dorn / Dialect Coach - John Sperry / Choreographer - James "Annex" Cleaver
City of Origin: Los Angeles, CA
Suitability: Mature (under 14 yrs NOT permitted)
Genre: Solo Performance
Booking Info: http://www.kathryntaylorsmith.com/
---
ABOUT THE PLAYWRIGHT: Kathryn Taylor Smith (Memphis, TN) holds a B.S. in Psychology and a M.S. in Clinical Psychology. Kathryn is a former Miss KS USA, a four-time NCAA All American in Track & Field and has been featured as one of KC Magazine's "Top 30 Under 30." Kathryn worked as a domestic abuse counselor at a battered women shelter in Kansas City, MO., before moving to LA to pursue acting. A Mile In My Shoes is Kathryn's first solo show. She was a receipient of the highly competitive "2018 Hollywood Fringe Festival Scholarship" and won the "Encore Producers Award".
Kathryn's most recent credits include: the plays For Colored Girls and Jesus Hopped The A Train. TV appearances include: Grey's Anatomy, Criminal Minds, Black-ish, Hawaii Five-O, Future Man, Famous In Love and Scorpion. She has also appeared in national commercials for Ford and Microsoft and a national print ad for T-Mobile and Auvi-Q. Kathryn also writes and produces independent projects: The Marriage Lottery, Homeless Destiny, Kai and Mouthpiece. Kathryn's upcoming producing projects include the play, Platinum Club, web series TaylorMade and a film on Alzheimer's disease entitled Forget-Me-Knot.
Kathryn is a member of Toastmasters International, The Organization of Black Screenwriters, Mocha Moms, Inc. and Delta Sigma Sorority, Inc. Kathryn is a humanitarian and motivational speaker, offering her time, energy and voice to various charities and organizations nationwide. Kathryn has been married to Judge J. Christopher Smith for nine years. They are the proud parents of a 4 year old daughter, Jacqueline and a 4 month old son, Titan. Kathryn is a lifetime member of the prestigious Actors Studio – West.

---


NOW is the best time to get the BEST price and guarantee availability for this event! Prices will increase with demand.
---
The Atlanta Black Theatre Festival is committed to providing a world-class experience for you, our guests. If you're dissatisfied for any reason, please notify the attendant at Guest Relations and we'll work with you to make your experience better.
Late seating is NOT permitted. Visit AtlantaBTF.org for a full schedule and details.
---
---
PLAN YOUR VISIT/FAQs
What is your late seating policy? Doors open 15 minutes prior to each show. VIP GUESTS and PRIORITY EXPRESS ticket holders are admitted first, immediately followed by General Admission. Please arrive early. LATE SEATING IS NOT PERMITTED.
What about parking? Parking is plentiful and free. YES, FREE!
What are the box office hours? NEW! The Box Office is open for your convenience 4pm - 8pm daily (NEW HOURS!) during the festival. Tickets are available online 24/7 at abtf.eventbrite.com
Are tickets available online? Yes! In fact, you can save more by purchasing your tickets online. You can either 1.PRINT your tickets at home or 2.PRESENT the bar code on your phone at the door. CAUTION: Duplicates will be voided. Save money by purchasing your tickets online.
What methods of payments are accepted? We accept CREDIT/DEBIT CARDS only. Due to safety and security reasons, WE DO NOT ACCEPT CASH AT THE BOX OFFICE.
Are discount tickets available? Yes! Group organizers of 10+, please email us for special rates: atlbtf@yahoo.com. Group rates for four (4) or more tickets are available on the ticket page and varies for each show.
Does the festival have a dress code? No, not really. Most people dress causal and comfortable. Some may step it up a bit in the evening. NOTE: Auditoriums are temperature controlled for the comfort of the majority — please dress according to your personal preference.
Do you have any dining suggestions? Dining is available on site at the BackStage Cafe where you can enjoy delicious, light southern fare. Some our café favorites include grilled wings, gourmet sandwiches, home-made potato salad, and fried fish! Vegetarian options are also available.
What about shopping? THE BEST! You can visit our popular International Vendor's Market for one-of-a-kind selections from our local artisans and vendors. In fact, we encourage you to get an early start on your Christmas shopping with our version of #BlackFriday special discounts and offers.
Is there a host hotel nearby? Yes! We have negotiated a discount rates with two host hotels. Visit AtlantaBTF.org/hotels for more information.
What if I leave something in the theatre, where is the lost and found? Personal items found in the theatre are kept in Guest Relations. Please check there first.
What is your policy on the use of electronics? NO STRICTLY, NO — using devices with screens (and particularly ones that also make sounds) disrupts the cast and other patrons (they are very visible from the stage). We suggest you power off everything before entering the theatre. We reserve the right to dismiss anyone caught using an electronic device.
Social Media Exception: We absolutely hope that you tweet/share/text everyone you know after the performance to let them know what a wonderful time!
Can you accommodate people with disabilities? Yes, we have wheelchair access for those who are in wheelchairs. Ask Guest Relations for assistance if needed.
What is your refund policy? All sales are NON-REFUNDABLE; however, tickets can be exchanged as credit for another show. Stop by the Box Office or Guest Relations for assistance. There is a $2 exchange fee.
What about smoking? Smoking is NOT allowed in OR outside of the building including bathrooms, theatre, cafe, patios or lobby at any time. That includes e-cigarettes.
We are committed to providing a world-class experience for you and your guests. If you're dissatisfied for any reason, please notify the attendant at Guest Relations and we'll work with you to make your experience better.