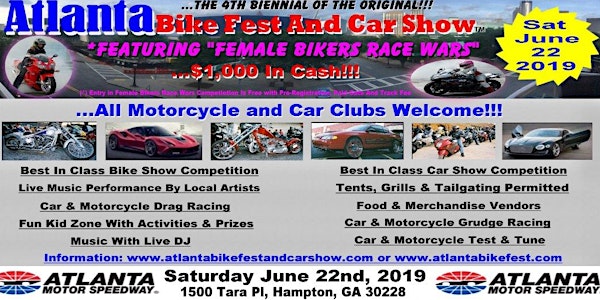 Atlanta Bike Fest And Car Show June 22, 2019 - NOW $300.00 Merchandise Vend...
Location
Atlanta Motor Speedway
1500 Tara Place
Hampton, GA 30228
Description
$200 ADVANCED VENDOR DISCOUNT REGISTRATIONS HAVE NOW SOLD OUT!!! THANK YOU ATLANTA AREA VENDORS!!. $300.00 REGISTRATIONS ARE STILL AVAILABLE UNTIL 12 NOON JUNE 22!!! 10FT DEEP BY 20FT WIDE FRONT SPACE. FOR MORE SPACE BUY ADITTIONAL REGISTRATIONS. NO CASH VENDOR REGISTRATIONS WILL BE ACCEPTED AT THE GATE. .
VENDOR REGISTRATION FEE DOES NOT INCLUDE GATE FEE. YOU MUST PURCHASE SEPARATE GATE TICKETS FOR YOU AND EACH STAFF MEMBER. YOU CAN PURCHASE $20.00 ADVANCED ON-LINE GATE TICKETS OR PAY CASH AT GATE.
DO TO THE HIGH LEVEL OF VENDOR RESPONSE, GATES FOR VENDORS WILL NOW OPEN AT 8AM INSTEAD OF 10AM. VENDORS MUST BE SET UP BY 12PM, NO EXCEPTION!!! RECOMMEDED THAT VENDORS GET THERE EARLY AND BE IN LINE AS SPACES ARE ON A FIRST COME FIRST SERVE BASIS. NO ELECTRICITY PROVIDED. VENDORS MUST BRING ALL EQUIPMENT NEEDED TO DISPLAY AND SELL THEIR MERCHANDISE. GENERATORS, TENTS, TABLES, CHAIRS, DISPLAY CASSES ARE PERMITTED. VENDOR VEHICLES CAN BE PARKED WITH SET-UP.
VENDORS CAN BRING THEIR OWN FOOD AND BEVERAGES OR PREPARE THEIR OWN FOOD AND BEVERAGES FOR THIER STAFF. NO FOOD OR BEVARAGE SALES TO SPECTATORS ALLOWED. MERCAHNDISE VENDORS OR OTHERS SELLING FOOD OR BEVARGES WILL BE REMOVED WITH NO REFUND AND MAY BE BANNED FROM VENDING AT FUTURE ABFACS EVENTS. THIS IS A RAIN OR SHINE EVENT, NO REFUNDS. THANK YOU FROM ABFACS 2019!! SEE YOU ON JUNE 22!!!