Description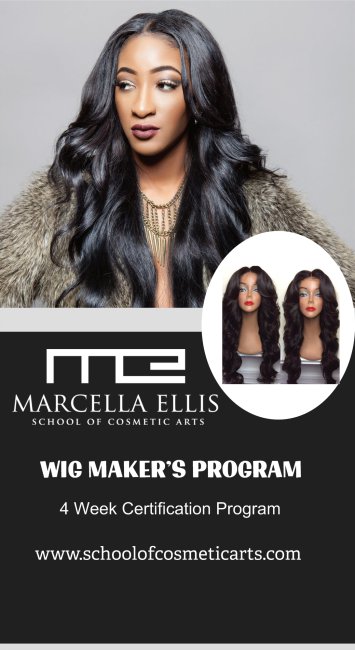 Wig Makers Program- Register now for early bird special! 4 weeks— every Sunday 12pm-4pm
*Learn how to create, full wigs, u-part wigs, combination bases
*Learn measuring and fitting techniques
*Solutions for covering clients with minor to severe hair loss
*Bonding and attachment techniques
*Tweezing, bleaching the knots on the lace frontal and customizing the unit
You will also learn:
-Understanding Proper Hair selection, color, textures, length. Making the right decision for your client.
-How to achieve a finished look. Blending, cutting, de-bulking to look and feel natural. Maintenance, repair, and removal of techniques.
In Addition:
You will learn the skills you need to build and maintain a customer base. You will learn in theory how to troubleshoot procedures, how to problem solve all hair types, how to provide the installment techniques in more than one method of attachment, from license and certified professional instructors.
All classes include your classroom supplies students are responsible for purchasing their own PRACTICE HAIR, mannequin and stand, pen, and, notepad. If you would like to purchase your own kit it is optional, supplies for working in this class checklist is below. The student will receive certification upon successful completion of training. There will be homework and repetition required by your instructor for each class.
IF YOU PAY THE EARLY BIRD PRICE OR ANY DISCOUNTED PRICE YOU WILL HAVE TO PURCHASE YOUR OWN SUPPLIES.
To register in other cities- FIND YOUR CITY AND PROGRAM HERE


We are registering students for our upcoming SPRING SEMESTER 2019! Our Wig making program is only 4 weeks and I am giving a huge discount to those who can register today! The normal tuition price for 4 weeks of certification training is $800.00 if you choose the early bird registration you will receive the discount. We only have 5 spaces for early bird registration so register fast! Register now for only $450 for this 4 WEEK program.
Discounted payment $450- Please bring your mannequin and stand, pen and notebook and kit supplies. (email or check our site for list)
Full tuition payment $800- Please bring your mannequin and stand, pen and notebook. You will receive a personal hair extension kit to use in class and is yours to keep.
If you pay the $800.00 full tuition you will receive a personal extension kit to use in class. Call or text for more information. 877-219-2229
Please register early we will not accept any last minute registrations. Class ratio is 10 students to 1 certified licensed instructor.
All instructors have over 10 years experience in the field of cosmetology, licensed and certified by the state and are employees of:
Marcella Ellis School of Cosmetic Arts
Cosmetology Licensed School in the state of VA
877-219-2229